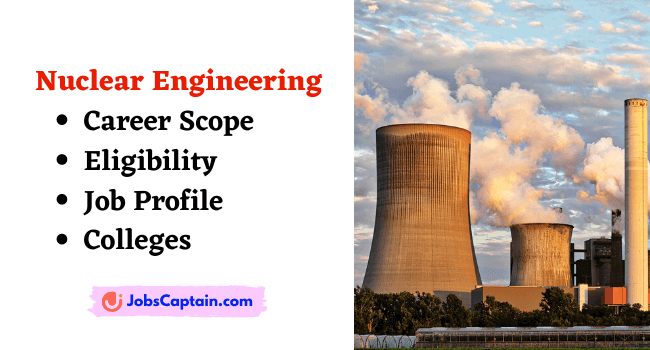 Nuclear engineering is a bright and interesting career for people who are full of enthusiasm and are eager to give the theoretical principles a practical shape in order to make and assist in the making of nuclear reactors, nuclear power plants and nuclear weapons etc.
The Nuclear engineering is a subdivision of engineering that involves the acquiring of knowledge regarding the breaking down of atomic nuclei or other sub-atomic physics which is based on the principles of nuclear physics.
Nuclear power unlike fossil fuels, does not increase the chances of acid rain, or the emission of greenhouse gases and it also does not contribute to the global warming which is a great threat to the life on earth. Therefore application of nuclear power wisely may produce innumerable benefits.
Scope of Nuclear Engineering
---
Research work in private and government laboratories.
Teaching in Colleges and Universities.
Jobs in nuclear power plants and factories which make nuclear equipment and weapons.

Job Profile for Nuclear Engineer
---
Designing, Developing, Monitoring and operating of new nuclear devices which can be utilized to generate nuclear power.
Assistance in the processing of nuclear fuels and disposal of radioactive waste materials.
Designing equipment that help in utilizing the radioactive materials in the field of agriculture, medicine and science.
Development of power sources for spacecrafts that use radioactive materials.
Developing and maintaining the nuclear imaging technology used to diagnose and treat medical problems.
Eligibility Criteria for Nuclear Engineer
---
(10+2) with mathematics and physics forms the base of becoming a nuclear engineer. The basic concepts of maths and physics should be clear in the mind of students to aim for a career in nuclear engineering.
Thorough knowledge and background in nuclear physics is also a prerequisite in obtaining a masters degree in nuclear engineering. It lays foundation for the master's course.
Strong basic knowledge regarding radiation sciences is also required in a detailed manner in order to have a strong hold over the subjects in nuclear engineering.
Bachelors degree in nuclear engineering is a formal requirement for a master's degree in nuclear engineering.
Types of courses included in Nuclear Engineering
---
Engineering Fundamentals in Radiation Production
Interactions and measurements
Design of Nuclear Systems
Thermal Fluid Engineering and so on
Salary Expectations in Nuclear Engineering
---
Very high paying jobs can be expected once a person acquires proper education and experience in the field. The demand for the professionals in this field is always high because of a scanty number of students opting for the course.
Other factors affecting salary of a nuclear engineering post graduate are the job type and the location of the job.
However, In the year 2020 average salaries earned by post graduate nuclear engineers was around United States is $71,900 and $88,000 which is a vague figure and can be maximized by a student's individual capabilities.
Other perks include pension plans, paid vacations and health insurance etc.
List of Colleges in India
---
List of International Colleges for Nuclear Engineering
---
Thank you for reading "Nuclear Engineering Career Scope, Job Profile, Eligibility and list of Colleges". If have any questions regarding the Nuclear Engineering Career Scope, please comment below, We reply you soon.