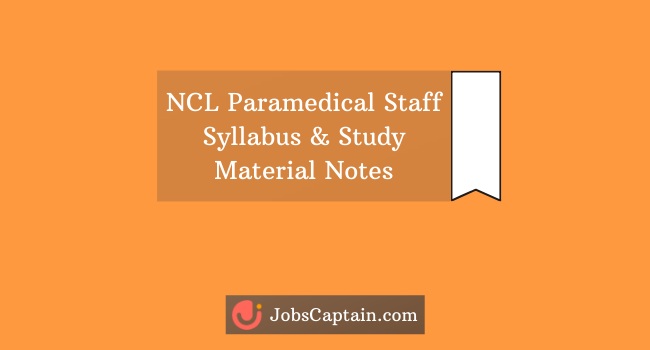 Hello Everyone! Are you looking for NCL Paramedical Exam Syllabus? Want best Study Material and Question Paper pdf for NCL Paramedical Staff Exam?
This article provides a one-stop solution to NCL Paramedical aspirant, who are searching for Syllabus and Exam Pattern 2020, NCL Paramedical Staff Study Material and Question Papers with Solution at single place.
Let's start with basic information of NCL Paramedical vacancies.
NCL Paramedical Syllabus and Exam Pattern
Section
Particulars
Marks
A
Questions related to technical knowledge of discipline
(Indicative syllabus has been given below)
70
B
General Awareness and Knowledge, Reasoning, Quantitative aptitude
30
NCL Paramedical Staff Exam syllabus 2020
Indicative Syllabus of Section A (Technical) of written test for appointment to different Para- Medical Staff posts.
Paramedical staff post wise Section A official syllabus and exam pattern pdf given below.
Section B – Syllabus for NCL Paramedical Exam
This section is common for all Posts, will carry 30 questions belonging to below listed subjects.
| | |
| --- | --- |
| General Awareness | About Sports, Defense, Books, Prizes, About Indian democracy, etc. |
| Reasoning | Verbal & Mental Ability – Synonym & Antonym (Hindi/English), Grammar, Relationship etc |
| General Knowledge | About India and its international relations, General Science etc |
| Quantitative Aptitude | Work relationship, Profit & Loss, Speed etc. |
Download NCL Paramedical Syllabus and Exam Question Paper Pattern Pdf
Read Official Notification of NCL Paramedical Examination
Study Material Notes for NCL Paramedical
As per the syllabus's Section A and Section B study material for examination of NCL Paramedical Staff given below:
General Knowledge
Download pdf Study Material in Hindi for NCL Paramedical
General Awareness
Cover all important of Sports, Defense, Books, Prizes, About Indian democracy etc.
Current Affairs -> Hindi  |  English  |  Gujarati
Reasoning
Relations Question with Answer
Quantitative Aptitude
Technical Subject Study Material of NCL Paramedical Staff
The recruitment in NCL Paramedical Trainee Staff for Staff Nurse, Pharmacist, Pathological Technician, Radiographer Technician, Jr. ECG Technician, Dental Technician, Jr. Technician (EEG) Trainee, Radiographer, Physiotherapist, and Dietician Technician Trainee. We here update soon all above listed posts with free pdf study material. Visit Again.
Question Paper of NCL Paramedical Posts
Team JobsCaptain soon update all previous OR old question paper set with answers for all job posts of NCL Paramedical. You can download it free of cost.
Therefore If you have any doubts or problem regarding the preparation of the NCL Paramedical exam, do comment below, our expert team sure help you. Meanwhile, NCL Paramedical syllabus, Exam Pattern and Study Material article surely help you in written/online exams.
Thank you for reading. Keep Connected with JobsCaptain.com