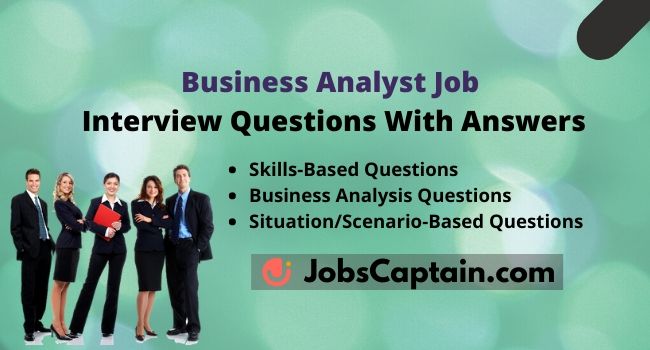 Are you preparing for a business analyst job interview and wondering what questions you might be asked? Your searching might be stopped here for business analyst interview questions with answers.
The article provides all the content and knowledge-base for individuals who are preparing to launch themselves as Business Analysts.  Here Team JobsCaptain brings forward all the Business Analysis questions with answers that are commonly heard of and are highly expected in job interviews.
Here we provide plentiful questions with answers, which, we hope may prove useful in your job interview preparation. A junior analyst/job seeker can practice these questions prior to their interview. 
Here we put business analyst Behavioral, Skills Based, Situation or Scenario-Based and experienced Questions interview questions with answers, which are also useful for experienced business analyst. Also added below entry-level business analyst interview questions and answers for the banking and corporate domain.
This article on Business Analyst Job Interview Questions With Answers divided into main 3 categories:
Skills-Based Questions
Those are the business analyst questions to ask during an interview. You can download agile 100 business analyst interview pdf of questions and answers. It will help you to crack interview of Business Analyst 2020.
This article may useful if you are a recent graduate or working towards completing a degree and are looking for a breakthrough as a Jr. Business Analyst/Business Analyst to jump-start your professional career.
Skills-Based Questions for Business Analyst
In the interview of Business Analyst, Below listed questions to ask during an interview. Find out how to impress potential employers with our business analyst interview tips and sample interview questions.
What are your strengths?
Explanation
Always discuss your Business Analysis expertise or related strengths. Strengths from other areas could be brought up as well, with greater emphasis to be given to highlight your forte in Business Analysis.
Remember to prepare at least 2-3 strengths ahead of the interview. Generally, strengths do not require an explanation as compared to weaknesses.
View Answer 1
While working as a BA for X years, I have sharpened my analytical thinking and problem-solving skills, along with my competent Business Analyst skills.
View Answer 2
I have also developed project management skills, including time and resource management. This has allowed me to manage project deliverables even under tight timelines and limited resources.
Sample Answer 3
I thrive on new challenges and look for avenues to gain as much knowledge as I can. I thoroughly enjoy reading business articles and connecting with industry experts to gain from their insights.
Sample Answer 4
I have postulated domain-specific expertise in the areas of banking, retail, and insurance, along with my technical skills.
---
What are your weaknesses?
Explanation
You may choose to talk about your weaknesses from other or related business areas, but it is recommended not to bring forward vulnerabilities from the Business Analysis profession.
It has been noted that employers/HRs do not appreciate 'disguised weaknesses' (attributes which truly are strengths, but one chooses to position them as weaknesses), such as:
I am too good to be true, and I think my team members have an issue with that, so I am trying to counterbalance my skills.
I like to make sure that I achieve surpassing perfection in my work; thus, many times, I find myself spending way extra time ensuring my work is error-free.
When I am working on a project, I just don't want to meet deadlines. Rather, I prefer to complete the project well ahead of schedule.
Being the perfectionist that I am, I do not just meet the deadlines; instead, I complete all my tasks way ahead of time as compared to my counterparts.
These will be a professional faux pas, so stay away from sugar-coated weaknesses!
This is the most asked in business analyst job interview questions with answers pdf.
View Answer 1
Sometimes, I spend more time than necessary on a single task or take on tasks personally that could easily be assigned to someone else.
Although I strive not to miss a deadline, it is still an effort for me to know when to move on to the next task. To overcome this, I have started assigning priorities to my tasks and organize project deliverables accordingly.
View Answer 2
I struggle with delegating tasks to team members, due to trust and performance reasons that they may not be able to accomplish the tasks within the given time frame and with the same quality.
To get rid of this weakness, I have started to define milestones and deliverables before handling work to anyone. This approach has hugely benefited me and others in my team as trusting working relationships are built.
Sample Answer 3
I have great experience working on multiple tasks concurrently, but there are some tasks that require extensive research, analysis, and undivided attention. In order to deliver all wide-ranging tasks within the expected timeline, often, I have observed that quality gets compromised.
To overcome such, I now ask for help early on or request extensions so that those tasks requiring expertise and extra due diligence, do not get compromised.
Sample Answer 4
When responding to stakeholders' requests/ requirements, I used to spend a lot of time discussing simple requirements, which had led to failure in accomplishing meeting agenda in a single workshop.
I have learned to prepare for a solution before the session, to eliminate extended discussions over simple requirements.
---
How do you handle failure as a Business Analyst?
Explanation
The way you answer this question could stand you out in terms of how you handle and resolve project or requirements failure. This question is disguised under two intentions:
How transparent are you in acknowledging your failures?
What have you learned, or what is your approach when you are struck by a failure?
You do not necessarily need to talk about project failure, but if you choose to, common examples can be – not meeting the timeline, not meeting the client's exact expectation.
Discuss your many skills such as organization, people, and task management skills, your proficiency in improving tasks and processes. You should sound honest and convincing at admitting your failure(s) while building the interviewer's confidence.
View Answer
I consider even a small issue in the project/not meeting the client's requirement on time as a failure. I like to be professional and proactive in terms of my work commitments, regardless of the methodologies and processes being followed.
This strategy allows me to stay on top of my tasks and strike a balance between project scope and timeline without getting failures affect my performance for long.
In my last project, we had missed the implementation date by two weeks, which was mainly attributed to unexpected personal issues faced by two of the key members in my team. I, being the lead Business Analyst, did not foresee that such a situation would have adverse consequences on the project delivery at the time.
As anyone going through a tough time may do, the performances of my team members started deteriorating. My mistake being, I failed to flag this situation to senior management early-on and not devising a mitigation plan.
Nevertheless, as we missed the 1st schedule date, after that I was quick enough to realize where we had gone wrong and asked for additional resources. Looking back, I can say, re-defining scope and asking for timely help were my two biggest learning.
I take pride in knowing that a calm and composed head and determination to strike back on, with improved zeal, are my mantras to handle any failure and for it to not become a repeated activity.
Team JobsCaptain provided Business Analyst Job Interview Questions With Answers for Analyst Junior and Experienced.
---
Where do you see yourself in the next five years? OR What is your career plan?
Explanation
If you are a Junior Business Analyst, focus your answer more on building Business Analysis skills. Saying something like, "I want to become a Project Manager, right away" may not be a great strategy.
Say something like you envision becoming a Project Manager in the long run (after three years or so). Mentioning of quick/immediate transition does not show long term affection/ connectivity/ commitment to the Business Analyst job.
If you are an intermediate/senior Business Analyst, then discuss how you want to avail experience in different domains, roles, and your commitment to achieve that. You can bring forward any certification you are preparing for or any efforts made to enhance your skills/education portfolio.
View Answer
I've been practicing Business Analysis for the last two years, and I want to grow as a Senior Analyst and eventually a Project Lead. To attain those roles, I am sincerely expanding my domain know-how and learning the duties/responsibilities undertaken by a Project Lead.
I just pursued my Scrum Master Certification, and I am now preparing for CCBA certification. I have recently started an online course to brush-up my technical skills.
---
What are the skills required by a Business Analyst?
Explanation
It is recommended to discuss the few skills listed in the first point below. In addition to that, you can (should) discuss other Business Analysis skills. Having stated positive skills does not require in-depth clarification. Simply stating them and/or elaborating in 1-2 sentences, is good enough.
View Answer
The most important skills required by a Business Analyst are communication skills (verbal and written), interpersonal skills, domain and technical knowledge, behavioral characteristics, and analytical thinking and problem-solving skills.
I have learned and developed different other Business Analysis skills like documentation, organization, and management skills and team management. I like to stay abreast of new tools as I thrive on learning new technologies.
This is the most important questions for business analyst interview questions with answers.
---
Why did you leave your last job?
Explanation
It is not recommended to talk about personal situations at the interview time. (e.g., conflict with team/manager).
View Answer 1
My recent project is over.
View Answer 2
Due to the simple and repetitive nature of projects, there is no opportunity to grow in my current job, and I want to further pursue my career as a Senior Business Analyst by facing newer challenges and expand my skill-set.
Sample Answer 3
I have worked at my current organization for the last four years and have honed my experience and skill set. I feel confident to take on more responsible roles that will steer me to think/act outside of my comfort zone.
Sample Answer 4
My company is downsizing currently, although, I have not been notified of any decisions, I am proactive in my job search to secure a position in an established and continuously growing organization, like yours.
My Project Manager is well aware of the situation, and I will be able to provide excellent references, if and when required.
---
Why are you a good fit for this job? OR Why should we hire you?
Explanation
You should match the job requirements, including education, certification, and experience, while discussing this question. If you can match the 'must-have skills' listed in the posting, it significantly improves your chances of landing the job offer.
If you are pursuing something (educational courses, honing a skill), you should mention that as well. Extra points can be accumulated if you can convince the hiring manager of how you would be an asset to the company.
In your answer, you should not sound too boastful/bragging about your experience, which may imply 'employer's loss' in not hiring you.
View Answer
As your company is looking for a candidate with decent experience in using CRM tools, I have been designing, customizing, and implementing CRM applications for the last X years. In particular, I have been credited with a successful CRM application customization in my last job, whose domain is similar to yours.
This position's educational requirements also assert a preference over someone with a bachelor's degree. I earned my bachelor's in Computer Science and went on to completing master's from XYZ University with a special area of emphasis in Business Improvement and Technology.
As stated in the job requirement, you are looking for someone who is an expert in the documentation. I am confident to say that I consider myself an expert in creating Business Analysis documents, including BRDs, UML diagrams, user stories, UAT plan, and training manuals.
In addition to bringing superior communication and proficient documentation skills to the table, I bring along the fine art of building and maintaining client relationships. I have demonstrated this ability in my last role by leading vendor procurement and project implementation activities.
---
Business Analysis Questions for Business Analyst
This is the main section for the business analyst job interview questions with answers 2020. Read these most popular business analyst interview questions and answers
How would you describe yourself? OR Briefly introduce yourself, elaborating on your experience & qualifications.
Explanation
Discuss your experience, education, and credentials/certifications to answer this question conclusively. Focus on summarizing your experience as a Business Analyst in various domains, projects, methodologies, tools & techniques, and documentation; mention important responsibilities.
Gain extra credit by matching your key skills to the job requirements, you are being interviewed for.
View Answer 1
I have been working as a Business Analyst for the last five years. While working with well-known organizations such as ABC1 and ABC2, I have strengthened my knowledge in Finance, Banking, Insurance, and Investment domains. As a Business Analyst, I have comprehensive experience in requirements gathering and analysis, creating context and technical documents, project management techniques, and testing & deployment areas of the project.
My recent project was with XYZ1 Company as a Business Analyst. The project aimed at integrating and customizing the CRM system. I was responsible for designing, analyzing, and writing all the specifications and business requirements for this project. I was also responsible for managing back-end system design as well as piloting other sub-modules of the project.
My key responsibilities included conducting meetings and JAD sessions with the stakeholders and analyzing and documenting requirements in terms of solution. I was involved in creating BRDs, wireframes, UML diagrams, test cases, and UAT plans as part of the document deliverables. I used different business and software applications such as MS Word, Excel, Visio, SharePoint, Access, and SQL. I was involved in all the major phases of the system development, right from initiation till deployment.
I graduated from ABC University with a master's degree in Business Administration (MBA). I am an active member of the IIBA community.
The following answer describes how a junior or non-experienced Business Analyst can answer the same question. You can discuss Business Analysis related responsibilities and skills you have performed in your previous job and co-relate the same as per the job requirements
View Answer 2
I have over two years of experience as a Software Developer in implementing, configuring and supporting business systems in multiple functional areas of the organization. I have closely worked with Business Analysts, Project Managers, and Quality Analysts throughout my current role.
I have experience in business requirements elicitation & analysis and technical documentation, user acceptance testing, and managing change requests as part of the post-go-live support.
At the same time, I have extensive experience in creating solutions to complex business problems through process analysis & design, process re-engineering, and process automation.
I have experience in conducting and facilitating workshops and sessions with SMEs for product integration, upgrades and enhancements, and continuous improvement initiatives using Lean SIX Sigma, BPMN, and UML toolkit.
I have an in-depth understanding of the complete SDLC (Software Development Life Cycle), and end-to-end project delivery processes in various environments, including waterfall, agile, and scrum.
I graduated from XYZ University with a bachelor's degree in Computer Science. Additionally, I have pursued CCBA certification from IIBA.
---
What are the problems solved by a Business Analyst?
Explanation
This question can be answered in multiple ways. Various perspectives and problem areas can be discussed. Focus more on addressing high-level business problems and discuss potential solutions as a Business Analyst.
View Answer
A Business Analyst is a bridge between the client and the IT team. Business Analyst solves multiple business and stakeholders' problems, starting from requirements identification, analysis, design, and implementation.
BA solves the business/clients' problems and defines solutions in terms of requirements and provides functional solutions to the IT team.
Business Analyst is also responsible for managing change requirements throughout the project lifestyle. Business Analyst is responsible for creating scenarios & narratives and derives various business strategies and processes for the successful project implementation.
Business Analyst micromanages the project deliverables and manages the team, which eventually leads to project success.
This entry level business analyst interview questions with answers.
---
How do the responsibilities of a Business Analyst differ from a Project Manager?
View Answer
Usually, a Project Manager is the one who attends to questions/matters relating to the 'project,' whereas, a Business Analyst is someone who focuses on the 'product,' aka solution. In certain organizations, there may be an overlap between the duties of a Business Analyst and Project Manager.
However, organizations do need both the roles to maintain a clear distinction between their activities. Generally, A Project Manager defines project milestones, deliverables, and timeline; outlines scope; creates acceptance and rejection criteria; builds resource allocation charts; while a Business Analyst is responsible for managing stakeholders and requirements as well as micro-managing the project for successful delivery.
A Project Manager develops project plan and scope documents, whereas Business Analyst develops requirement documents, BPMN, BRD, use cases, test cases, and UAT plan.
A Project Manager prepares stakeholder engagement and communication plan; in contrast, Business Analyst performs stakeholder analysis, defines techniques, including RACI and P to I (Power to Interest) matrices, and collaborates with stakeholders to finalize requirements.
There are times when a Business Analyst is expected to perform the typical duties of a Project Manager. It is a Business Analyst's core responsibility to understand the granularity associated with the business' needs and propose solutions capable of solving associated issues.
Moreover, Business Analyst facilitates requirements sessions, passes on reasoned, and final requirements to the development team.
---
What was your role and responsibilities in the recent project?
Explanation
Discuss the project highlights, major responsibilities and project deliverables, adding achievements and/or project success related to the project is a plus.
View Answer
My most recent project involved customization and software enhancement, aimed at improving the back-end system for a financial institution. I was responsible for defining the scope, requirements elicitation, analyzing needs and solutions, devising strategies, facilitating stakeholder collaboration, and ensuring milestones are achieved as per the defined timelines.
The purpose of the project was to enhance and streamline back-end processes. As a Business Analyst, I was liable to ensure that business stakeholders understood the requirements and necessary functionalities were built to support stakeholder's engagement with the system. With the project's successful implementation, we were able to provide a consolidated and flexible back-end system, which met the initial needs of our clients.
I was also in charge of ensuring change requirements were duly captured, reviewed, and approved by the management. The careful analysis was done to ensure new requirements did not lead to scope creep. I performed UAT and reported bugs for issue tracking.
Please share Business Analyst Interview Questions With Answers with your friends.
---
Do you have experience in Project Management? What project management tools have you used?
Explanation
Business Analyst may not have direct experience as a Project Manager, but generally, a Business Analyst reports/works closely with a Project Manager. This, in turn, provides significant insights about the duties performed and tasks undertaken by a Project Manager.
Provide more info on any Project Management tools that you have used, such as MS Project, JIRA, Clarity, Confluence, or Advanced Level Excel skills.
View Answer
As an experienced analyst, I've practiced and sharpened my interpersonal, communication, and behavioral skills to work with project team members and external stakeholders. My profession has allowed me to collaborate with Senior Management and recognize the principles of project management to practice successful team-leading techniques.
This has led me to hone my timeline management, resource & task allocation, and budget management skills. In the last (X) years, I've used a range of project management tools such as MS Project, Jira, Success Factor, and Workday. Exposure to such tools has allowed me to manage projects successfully.
---
What are the different documents a Business Analyst prepares?
Explanation
Business Analyst prepares a wide variety of documents throughout a project lifecycle, depending on the methodology followed/ practiced by an organization.
In a traditional (Waterfall) environment, a Business Analyst is responsible for the creation of Business Requirements Document (BRD); however, in an Agile environment, the focus is on the formation of user stories.
View Answer
Over the years, working as a Business Analyst, I have prepared various documents including Requirements Management Plan, BRD (Business Requirements Document), SRS (System Requirements Specification), User stories, UAT plan, Training manuals and UML (Unified Modeling Language) diagrams such as Use Case, Data Flow, Activity, Sequence and Entity-Relationship.
Business Analyst also assists the Project Manager in preparing the project plan and project scope documents. An experienced Business Analyst contributes till the testing phase by developing a test plan and test case documents along with Quality Analyst.
Business Analyst plays a vital role in a project team by producing additional documents such as Scope of Work (SOW), Request for Proposal (RFP), and Business Case, which are imperative documents for project delivery.
---
Explain SDLC. OR Explain the SDLC and role of a Business Analyst in each phase.
Explanation
This is a fundamental interview question and is not frequently asked in the interviews; still, you need to understand the basics of the complete SDLC cycle to be able to successfully answer this and other similar questions in a methodological manner.
The question is geared at you 'selling' why someone in a project management domain should hire you. Convince the interviewer how you as a Business Analyst, add unique value at every step of the way, and that your skills are transferable across lines of business, and varying methodologies adopted by the organization.
You can cut and trim the answer below according to your needs as it is written fundamentally and covers all phases in detail.
View Answer
Software Development Life Cycle (SDLC) is the most commonly followed process in any software project. It entails a thorough blueprint establishing in what ways to create, sustain, or improve a specific software or its components.
SDLC specifies an approach for developing the software by categorizing which tasks should be performed when and allows for monitoring of the overall development process. Software Development Life Cycle is used in nearly all project management environments (mainly by IT analysts) when building or re-engineering software systems.
Initiation & Planning
During this phase, high-level planning and scoping meetings amongst executives and project sponsors occur. These are done to obtain a clear understanding of what the project team will be set out to build.
Requirements Gathering and Analysis
During this phase, a Business Analyst works with business owners and stakeholders to elicit requirements that the solution must fulfill. It is the 'requirements analysis' phase with which SDLC truly takes the center stage.
Design & Development
After the requirements are finalized, design workshops are initiated by system analysts/architects to code the software solution systematically. Experienced Business Analysts with technical familiarity also contribute meaningfully along with system analysts during this phase.
Testing
After development, the prototype/code goes through different rounds of testing. Generally, there is an internal testing to check if the code works as expected and then system testing to ensure that the software solution works as per requirements when interfaced with other systems.
Deployment & Support
During the deployment phase, the solution is implemented and is made available to relevant stakeholders for use.
Based on its operationalization, the business users may come up with 'new or revised' enhancements (change requirements), which also get managed by a Business Analyst.
Please prepare well for Business Analyst Interview Questions With Answers.
---
What is the difference between BRD, SRS, and FRD?
Explanation
Start the answer by demonstrating your knowledge of these documents and explain in a few sentences what these documents are about, before discussing their differences. Depending on your business domain and processes and standards followed by your organization you may have noticed that some prefer one over the other.
The easiest way to do any theoretical explanation is by linking your content with how you have used it in your experience. Discuss which of these documents you have worked on previously and if you follow any structure (format).
While answering, try to be as close to the fundamental answer as in the sample below and, if asked for clarification, explain how a Business Analyst can make necessary adjustments to any of these documents to meet the organization's requirements criteria.
View Answer
A Business Requirements Document (BRD) intended to provide high-level business and stakeholder requirements is generally created by a BA during the initiation phase of a project, whereas a Software (system) Requirement Specifications (SRS) is intended to provide a detailed log of functional and non-functional requirements accompanied with use cases and can be developed by either a BA or a BSA. An SRS document is usually worked upon during the planning phase.
A Functional Requirement Specifications (FRS), alternatively called Functional Requirements Document (FRD), is created to comprehensively provide functional requirements to the reader. It is often accompanied with UML diagrams, including data flow and activity. Usually, an implementation lead, developer, or a BA is seen working on these documents.
A BRD can be prepared even when a BA may only have access to high-level project requirements; however, an SRS or an FRD can only be prepared when low-level (detailed) solution requirements have been fleshed out.
As a BRD contains information on the business's background, needs, existing requirements, and attempts to answer the 'why' a project or its requirements have been undertaken, its main review audience is middle and senior management. These decision-makers are predominantly concerned with understanding the true need of a project; hence, the document is kept at a high-level.
An SRS generally attempts to answer 'what' requirements should be fulfilled to achieve project goals; while an FRD attends to the 'how' those requirements are expected to function. These documents are system focused; hence, its audience generally is PMs, tech leads or SMEs.
In my previous role, I was assigned to create a BRD for a COTS project that my organization had undertaken. I ensured it covered enough context for an executive reader to grasp the content easily as well as be specific enough for use by the project team, including developers during the design and development phases.
I also took responsibility to maintain a version history with the document so that all major changes and updates to the business requirements can be captured in an organized way.
You can find best business analyst interview questions with answers.
---
Explain UML and your experience in developing Use Cases?
Explanation
Discuss your experience in developing one or more of UML diagrams, which includes: Use Case, Data Flow, Activity, Sequence, Entity Relationship diagram, etc.
Pay emphasis on known UML types and focus on Use Cases when discussing UMLs. These diagrams can be created using any UML creator/software, but the most recognized tool is MS Visio. Make sure to practice Use Cases before the interview, so you are better prepared to develop if asked.
This is the most important business analyst interview questions with answers.
View Answer
The Unified Modeling Language (UML) is a graphical representation of a system. It is a standard language for stipulating, visualizing, building, and detailing the artifacts of a software/system. The UML signifies the collection of best engineering practices that have proved to be successful in the modeling of vast and intricate systems. Various known types of UML diagrams are Use Cases, Data Flow, Activity, Sequence, and Entity-Relationship.
I have extensive experience in developing Use Cases. I created use cases to document the procedural flow of an actor's interaction with the system. Use Cases define system boundaries or high-level scope of a project and describe various functionalities by illustrating possible scenarios a system offers. Each scenario can be decomposed into the use case script(s), which mainly includes primary flow (main/standard/normal/happy flow), alternate flow, and exception flow.
---
Make a Use Case Scenario for an ATM.
Explanation
It is imperative to understand and demonstrate the users' expectations in use case modeling. A perfect use case scenario/diagram should depict and be able to achieve what the user wants in their interaction with the final system.
It is equally important to keep your use case diagram succinct by avoiding long names/elaborative descriptions in a use case and by employing 'noun + verb' rule. Actors in a use case model should not be personalized to an individual's interaction with the system; instead, it should be role-based.
Actor notation in a use case diagram must be used to define any specific role's interaction with the system and not the individual person's interaction. Below is a description/summary of commonly used Use Case Diagram notations.
View Answer
ATM Machine Use Case Diagram
---
Write a Use Case script for cash withdrawal from the ATM machine.
Explanation
Each use case scenario in a use case diagram can be decomposed into the use case script(s). Use case scripts should be written in a step-by-step manner, aiming to define one use case scenario from start to finish. Each script should contain elements as defined in the example below, focusing on three different flows; primary flow (main, standard, general, or a happy path), alternative flow, and an exception flow.
It is recommended not to include human errors outside the domain of a system while discussing alternate and exception flows.
View Answer
Use Case ID: UC0001
Use Case Title: Withdraw cash from ATM machine.
Date Created: MM/DD/YYYY
Use Case Description: This use case describes how a customer uses an ATM machine to withdraw cash from his bank account.
Actor(s):
~ Primary: Customer
~ Secondary: Bank Representative
System(s): ATM Trigger/ Pre-requisite/
Related Use Cases: UC0005, UC0007
Pre-condition(s): The bank customer must possess a valid ATM card.
Post-condition(s):
1. ATM returns the card and dispenses cash to the customer.
2. ATM registers the transaction to the customer's bank account.
Normal Flow:
S01: Customer inserts an ATM card
S02: ATM machine requests the PIN no.
S03: The Customer enters the PIN no.
S04: ATM authenticates the PIN no.
S05: Customer selects account type from available accounts (Chequing or Savings)
S06: Customer selects 'Withdraw' from the available menu options
S07: Customer selects/enters the withdrawal amount
S08: Customer confirms the amount
S09: Machine ejects ATM card
S10: Customer collects dispensed cash
S11: ATM offers an option to Print Receipt
S12: Use Case ends (exit)
Alternate Flow:
A01 @ S03: Customer enters wrong PIN no.:
1. The system prompts the customer to re-enter the PIN
2. Customer re-enters the PIN
3. Resume @S04
A02 @ S06: Customer enters an invalid amount
1. The system displays an error message "Invalid amount entered. Please enter a valid amount."
2. Resume @S07
Exception Flow:
E01 @ S03: Customer enters the wrong PIN no. for more than three consecutive times:
1. The system prompts a message "You have exceeded the maximum number of allowed attempts for PIN verification. Please contact your bank."
2. Use Case ends.
---
Explain Agile.
View Answer
Agile is an iterative, collaborative, and incremental approach/methodology/framework/process of software development. The agile methodology assumes rapid collaboration between cross-functional teams, promotes adaptive planning, is iterative in execution, and focuses on quality-driven solutions through continuous improvement.
In an Agile approach, product or process can be divided into small incremental builds/phases/iterations; each iteration generally lasting approximately 3-8 weeks; with every iteration involving cross-functional teams working simultaneously on various areas, such as; planning, requirements analysis, design, coding, unit testing, and acceptance testing.
Agile methodology promotes customer collaboration and rapid change request handling throughout the software lifecycle.
---
Define Scrum (OR Agile-Scrum).
View Answer
Scrum is a subset of Agile. It is a lightweight framework and the most widely used Agile methodology. A Scrum process is distinguished from Agile processes by specific concepts, practices, and methods. Scrum environments typically allot three key roles: A Scrum Master, Scrum Team, and Product/Project Owner.
A Business Analyst may play the role of a Scrum Master or can be a part of the Scrum Team, depending on the project.
The features/requirements to be developed are categorized as the product backlog. A complete product backlog can be divided into small sprint backlogs, and each sprint may range from 2-4 weeks. The features/requirements are described as user stories.
There are four different types of meetings that are typical in an Agile-Scrum environment:
Sprint Planning: This is the first meeting that is held at the beginning of a new sprint and typically lasts up to 2 hours. This is a very critical meeting where the scope of work is determined by planning and reviewing sprint backlog items.
Daily Stand-up: This is the foremost meeting that occurs every day and lasts for up to 15 minutes. This is when the Scrum team gathers to discuss their work; each team member shares their minutes regarding what they did yesterday. What the plan to do today and/or follow up reports on any special assignments or obstacles hindering their progress.
Sprint Review: At the end of the sprint, the Scrum team holds the sprint review meeting to discuss accomplished goals/milestones throughout the sprint. This meeting usually lasts for an hour but can be extended depending on the length of the sprint.
Sprint Retrospective: This is the last meeting, held after the completion of the sprint. This meeting gives an opportunity to the sprint team to review developed functionalities and derives lessons learned to be applied to future sprints.
---
Explain product and sprint backlog in a Scrum environment.
Explanation
The product backlog is generally a term used to define the number of requirements in an Agile-Scrum environment. This is usually managed by a Product Owner/Project Team. A Business Analyst is expected to pull many hats in an Agile Scrum environment; he/she could also be the one who manages the product backlog in the capacity of a Product Owner.
View Answer
The product backlog defines the requirements for the project. These requirements are generally written in the form of user stories, prioritized by the highest customer value. It is managed by the product owner, updated, and refined over the project cycle as information and requirements are gathered.
At the beginning of each sprint, the team reviews the product backlog and identifies the high‐priority user stories which are to be completed within the sprint timeline.
There are two types of Scrum backlogs:
Product Backlog: The total number of user stories to be developed for the entire project is called "product backlog." This is created once and maintained over the life of the project. The product backlog is usually updated/reviewed on a weekly basis.
Sprint Backlog: The number of user stories to be completed in one sprint is called "sprint backlog." This is created at the beginning of each sprint; it is managed by the project team and contains a detailed list of all the tasks that the team must complete for each user story in the sprint. The Sprint Backlog is updated/reviewed daily.
---
What are the different types of Scrum meetings?
View Answer
There are five different types of scrum meetings.
Sprint Planning: These meetings are held at the beginning of a sprint, where complete sprint activities are planned. Usually, all team members, including Scrum Master, Product Owner, and Project Team are the participants. In this meeting, the team discusses the major product Backlog items and estimates the delivery for implementation.
Daily Stand-Up: This is the first meeting of the day, scheduled every day, at the same time, with the same group. In this meeting, all project team members gather and discuss their major activities/involvements from the previous day, as well as their actions/ meetings/plans for the current day. Although not a common occurrence, any changes to objectives, milestones, or new obstacles found are discussed so that the entire team is aware.
Product Backlog Refinement/Backlog Grooming: This meeting is primarily aimed at addressing any changes or grooming of existing Backlog items. Here, the approach is to discuss and finalize any modifications required to the existing functionalities in the Backlog.
Sprint Review: This meeting is held at the end of a sprint, where discussions around deliverables and functionalities that were structured during the sprint cycle take place.
Lessons Learned/Sprint Retrospectives: The team discusses the sprint's successes and defines 'lessons learned' to avoid future failures.
---
What are User Stories?
Explanation
It is fairly common for beginner Business Analysts to mix up User Stories with Use Cases and Test Cases. All these are distinct terms with specific meanings. User Stories are used in an Agile-Scrum environment.
Use cases are a type of UML diagrams, which can also be written as Use Case Scripts to describe requirements. Test Cases are procedural flow for testing system functionalities, written by a Quality Assurance Analyst.
View Answer
A User Story is used in an Agile-Scrum environment to capture and describe a set of requirements. These are written, keeping end-users'/stakeholders' perspectives in mind. User stories should be written in a way that makes it understandable by both the development team and business users. A user story can be written on flashcards, which induces brainstorming activities within the stakeholders' group.
User stories should be prioritized according to the highest value they render to the stakeholders, paving a roadmap to product development. Each project may have several user stories which are categorized as a product backlog. The product backlog can be broken into small, multiple sprints, and stories to be developed in one sprint are called sprint backlog. Each sprint is usually 15 days long. Normally, a project team develops 30 user stories (approximately) per sprint.
The recommended format to write a user story contains the below components:
Who: This term describes a role/persona/user.
What: This term describes the requirement or a function or action.
Why: This term describes the value of implementing the user story.
---
Explain the role of a Business Analyst in different methodologies?
Explanation
Although the primary role of a Business Analyst does not change in different methodologies, the responsibilities may vary as per the method the organization is following. The Business Analyst's role differs mainly in the areas of documentation, client collaboration, team administration, and requirements management.
View Answer
The primary role of a Business Analyst does not change between different software development methodologies, although the tools and techniques used by a Business Analyst can fluctuate according to the needs and aspects of any given project or development life cycle.
Business Analyst's role in the predictive environment (Waterfall) is substantial in gathering, analyzing and documenting requirements into a BRD, whereas, in an adaptive approach (Agile), they would be more inclined towards facilitating conversations with stakeholders and developing user stories.
In a predictive approach, the Business Analyst connects with the stakeholders in the initiation, planning, and requirements phase of the lifecycle and does not respond to the changes until deployment. However, in an adaptive environment, the Business Analyst collaborates with the customers throughout the lifecycle, hence, responding to the change requirements at all phases of the lifecycle.
Business Analysts typically work individually and independently in a predictive environment. On the contrary, undertaking various roles and working in cross-functional teams is a crucial element in an adaptive environment. It is expected of a Business Analyst to operate in a prescribed manner in Waterfall as the duties are responsibilities are predefined, while in Agile, the role is evolutionary and pushes for innovation.
---
Discuss JAD (Joint Application Development/ Design).
View Answer
JAD stands for 'Joint Application Development/Design.' JAD is a requirement-design and software development methodology in which stakeholders, subject matter experts (SME), end-users, software architects, and the project team attend meetings to outline a system's high-level scope/requirements. JAD focuses on business problems rather than technical details. Harmonized group synergy, effective leadership, and the excellent coordination skills of the facilitator are all catalysts to a successful JAD session.
The purpose of JAD is to bring together IT and the business community in a structured workshop setting in order to extract high-level system scope/requirements.
JAD sessions are usually conducted during the initiation phase of the project. However, they can be held on a regular basis.
The key participants in a JAD include the Executive Sponsor, Project Manager, Business Analyst, Stakeholders, Scribe, and Development Team. Generally, JAD sessions are led by a Project Manager, accompanied by a Business Analyst, although, a Business Analyst can also facilitate JAD sessions on an on-going basis.
JAD leverages group dynamics, extensive use of visual aids, documentation, prototypes, and an organized process designed to gather and define requirements in a short timeframe. JAD reduces the amount of time needed to gather requirements, shortening the overall development duration.
---
What is a business case, and what is your experience in creating one?
Explanation
Mention having professional experience with creating business cases. Typically, a business case includes vital information related to the project, such as an executive summary, reasons (for undertaking a project), associated cost, timeline, risks, forecasted revenue/benefits, business options, and investment appraisal.
View Answer
A business case is a proposal document created by the project team to convince decision-makers or project sponsors to approve a project and/or funding.
A well-crafted business case explores all feasible approaches to a given problem and allows business owners to select the option that aptly attends to the organization's needs.
An ideal business case offers strategic solutions and benefits for the proposed problems; it contains the problem statement, objective, proposed solutions, analysis (SWOT, Market, PEST, Risk, GAP, Cost-Benefit, Financial Projections, ROI – Return on Investment, etc.), timeline & milestones, project management plan, recommendation, and conclusion.
I am proficient in creating a business case document, both for a new project or change management initiatives. In my last role, I was a part of the project team that created a Business Case document during our project initiation phase. I was the lead Business Analyst, responsible for conducting the market and financial analysis for the business case document.
---
What is your experience in business process analysis?
Explanation
Business process analysis is one of the core perspectives of Business Analysis. To conduct business process analysis effectively, it is imperative that a Business Analyst has a sufficient understanding of the current and future state of the project. BPMN and Activity Diagrams are the most commonly used tools to perform effective Business Process Analysis.
View Answer
Business process analysis is an imperative step towards the successful delivery of a project. It is performed for all types of projects, whether a project is aimed at system enhancement or system configuration or business process re-engineering.
Business Process Analysis can be undertaken at any stage of the system development life cycle, but it is primarily executed during the initiation & planning stage, where the scope is analyzed, and desired functionalities are discussed. Project scoping and requirements documents are also drafted and finalized for stakeholder reviews.
I have an all-embracing experience in business process analysis & management. In my most recent job, I conducted business process analysis using BPMN (Business Process Modeling & Notations) and designed various process flows. Based on these process flows, I performed a GAP Analysis to understand the current state ('As Is') of the system and created future processes ('To Be').
I followed a systematic framework while conducting the business process analysis, which included the following steps:
First Step: Careful analysis performed to design 'As Is' and 'To Be' process flows and analyzed pre-requisites, inter dependencies, and outputs.
Second Step: Used UML tools such as MS Visio to create process models.
Third Step: Continually implement changes in order to optimize the desired business processes.
---
Explain any two requirements gathering techniques?
Explanation
You can explain any requirements gathering techniques, such as interviewing, brainstorming, questionnaires & surveys, scenario building, task/document analysis, JAD sessions, use cases, focus groups, prototyping, observation sessions, etc.
Discuss any of these techniques used in your previous experience as a Business Analyst/related role.
View Answer
In my experience, multiple requirements gathering techniques can be used in a single workshop/session to gather requirements from stakeholders. I would like to suggest Interviews and Brainstorming techniques.
---
Explain BRD (Business Requirements Document).
View Answer
BRD is a 'Business Requirements Document.' A Business Analyst prepares this document based on the requirements gathered and analyzed from stakeholders. A Business Analyst may use different techniques to gather requirements such as brainstorming, interviews, JAD sessions, use cases, scenario building, task analysis, and focus groups.
Based on the Business Analyst's interaction with the stakeholders, he/she prepares a BRD, which contains business requirements, functional & non-functional requirements, system, and user specific requirements.
I have extensive experience in writing BRD. A typical basic structure of a BRD comprises of:
Introduction
This section includes objective, project scope, project background, document approach, business drivers, existing systems, risks, business assumptions, and acronyms & abbreviations.
Business Requirements
Generally, this set of requirements includes business needs, policies, guidelines and/or day-to-day business operations. In essence, this section provides insights into the business objectives and outcomes.
UML & Process Flows
This section mainly contains UML or BPMN diagrams to derive high and low-level business and functional requirements.
Functional Requirements
This section discusses how the system operates/behaves based on a specific input. Functional requirements can be illustrated using use case diagrams and can be further decomposed in terms of use case scripts.
Non-Functional Requirements
Non-functional requirements cover multiple criteria, such as adaptability, availability, certification and compliance, compatibility, extensibility, maintain-ability, manageability, performance, portability, privacy, reliability, security, scalability, usability, which the system must meet in order to operate efficiently.
Appendix
Any additional/reference data, screenshots, or related information is included in this section.
---
What is your experience in conducting UAT?
View Answer
I have remarkable experience in preparing and conducting UAT sessions with stakeholders. Typically, UAT sessions are conducted with users prior to system deployment.
In my recent project, we deployed system releases every three months, and I conducted UAT session(s) before each release.
In preparation for UAT sessions, I prepare a UAT plan document, which mainly covers project deliverables, change requirements management plan, test cases, and test data. Once prepared, I share this document with the stakeholders prior to the meeting and schedule a kick-off meeting, when/if required.
While in a UAT session, I provide a system walk-through and encourage stakeholders to perform testing by executing major test cases. I generally offer relevant test data and training manuals to support testing. The ultimate objective of this activity is to get the approval of stakeholders on the UAT.
Change requests derived from the session are analyzed carefully with the project team, and I conduct follow-up sessions to resolve these issues with the stakeholders.
Explain the defect Lifecycle?
Explanation
Discuss different defect statuses and defect management activities, along with defect tracking tools. The widely known tools are HPQC/ALM, JIRA, Bugzilla, and IBM Rational ClearQuest. Also, discuss any automation testing tools you have used; known automation tools are Quick Test Professional (QTP), Selenium, Load Runner, etc.
View Answer
Defect management is a vital phase of the Software Testing Lifecycle (STLC). As a Business Analyst, I have been an integral part of the testing process in most of my projects.
Defect/Bug lifecycle generally comprises of different statuses of a bug/defect. When an error is found, the status is set to 'New'; as soon as the defect is reported to a developer, the status changes to 'Assigned'; after being assigned, developers can choose to 'Accept,' 'Reject' or put the defect in a 'Deferred' status. If the defect is accepted, status changes to 'Open' or 'In Progress.' Sometimes, defects can be deemed "non-actionable" due to various project constraints; and developers can then choose to set the status to 'Rejected' or 'Cancelled.' Sometimes, a 'Deferred' status could mean canceled, but this is usually logged with a valid reason (i.e., it may still be a defect but is determined to be not feasible to resolve in the current iteration).
Once developers resolve the defect, the status changes to 'Fixed.' Most bug-tracking tools like Bugzilla, JIRA, or ALM will notify the testers about the updated status (i.e., bug resolution) and will create an action for them to 'Re-Test.' While re-testing, if the testers find a defect, yet again, they will reassign the same defect, and its status will be set to 'Reassigned.' After another fix by the developers and following a testing round by the testers, the final status will be set to 'Closed.'
---
What is your experience in risk management?
Explanation
Risk management is a core project management area usually directed by a Project Manager. As a Business Analyst, we are primarily involved in managing requirements risk and dealing with on-going project risk. A Business Analyst can manage and control requirements risk by developing a requirements management plan and/or risk registry.
View Answer
Risk management is one of the most important aspects of Business Analysis. It is one of the core responsibilities that a Business Analyst is expected to perform throughout the project lifecycle. Overhanging requirements, hybrid approach to software development, scope creep, or vague requirements can all lead to requirements risk.
A Business Analyst handles such risks by maintaining a risk registry. A risk register includes a risk ID, risk details, consequences, impact, priority, probability, risk level, risk modification plan, and information of a risk owner.
I believe a competent Business Analyst performs risk analysis by identifying areas that may adversely affect the solution by understanding their impact, communicating consequences, and developing a risk mitigation plan for the management. It is recommended to communicate newer risks or statuses on existing risks to the stakeholders.
I have confidently and effectively demonstrated these best practices of risk management in all my previous projects. This approach has led me to deliver the projects successfully and manage risk components efficiently.
---
Explain stakeholder analysis. What techniques have you used to perform a stakeholder analysis?
View Answer
Stakeholders are individuals who are a part of a project team with a vested interest in project development. The term 'stakeholder' generally refers to clients, users, customers, or SMEs.
Stakeholder Analysis technique defines 'how the stakeholders may impact solutions' or 'be impacted by them.' Business Analysts carry out a stakeholder analysis to determine stakeholders' interests, behavior, and level of involvement in a project. Stakeholder analysis can also be used to identify potential project risks in the early stages of project development.
I have used different types of Stakeholder Analysis techniques, including Stakeholder Matrix, RACI matrix, and Power to Interest ratio. RACI matrix is the most widely used stakeholder analysis technique, which correlates stakeholders' relationships with pre-defined project deliverables.
The roles are defined as:
R – Responsible
A – Accountable
C – Consulted
I – Informed
A Power to Interest/Influence grid is another stakeholder analysis technique that classifies stakeholders' power and interest in a project. It is represented in four quadrants, and each quadrant denotes power versus interest ratio, e.g., High Power – High Interest, High Power – Low Interest, Low Power – High Interest, and Low Power – Low Interest. Each stakeholder's name/position is added to each quadrant as per their power and interest distribution in the organization.
---
Situation/Scenario-Based Questions for Business Analyst
Situational interview questions provide an excellent way for an applicant to emphasize his/her past accomplishments and highlight outstanding professional skills and competencies. These questions also offer ample 'personality assessment criteria' for the Hiring Manager/Human Resources panel to make hiring decisions.
How do you resolve stakeholders' conflicts?
OR What if the stakeholders do not agree with each other's solution or have an internal conflict? How would you manage such a scenario?
Explanation
Situations or conflicts may arise due to different reasons. Sometimes various stakeholders may have varying understandings of a single component of a system, or simply put, some requirements are complex in nature. No matter what the situation is, exceptional coping and coordination skills can mitigate any conflicting scenarios.
Discuss having experience in resolving stakeholder conflicts. It is not always that you will have the exact same situation experienced from before; in that case, you can talk about any related or similar situation from the past.
View Answer
I would like to talk about my recent project, where I had to deal with the conflicting views of stakeholders during a requirement(s) gathering workshop. Our workshop intended to finalize the requirements related to the various roles associated with the staff management module of the project. Subject Matter Experts and technical stakeholders had dissenting views of the domain and project functionalities.
The domain group challenged the technical group's understanding, and their request was to accommodate ten generic roles in order to manage various hierarchies in the organization. Furthermore, these roles were not defined by the domain group, which led the technical team to question the implementation of such incomplete information.
I used my analytical and problem-solving skills to evaluate the entire situation and decided to gather information separately from both groups temporarily. This approach allowed me to focus on both groups' rationale for differing recommendations/requirements.
Using my proficient technical skills, I created wireframes to demonstrate the system design. Based on further discussions with the groups, I suggested four master roles – one for an Advisor, Supervisor, Manager, and an Additional role for contingency access. This additional role met the domain group's need for having the flexibility to create multiple roles within the system as required.
Both groups accepted this solution, and we were able to proceed with only well-refined requirements. This solution allowed the technical team to easily incorporate it with the back-end system design.
By channeling effective stakeholder management and communication skills, I was able to identify the right business
requirements, resolve conflict, and create an amicable work environment.
From all my past experiences, I can conclude that conflicts are inevitable in any project, but it is their thoughtful management that can harmonize relationships without risking the timely implementation of solutions.
---
Do you have experience in managing stakeholders who may change requirements frequently?
Explanation
Respond to this question in affirmation by developing a story (STAR technique of answering). The intent of this question is for the interviewer to figure out whether you can manage a project with the presence of 'various stakeholders with various needs.' Express yourself in a way that reinstates that you have 'people' as well as 'business' skills. Talk about the importance of staying on track with the project timeline and how you have achieved that by following a systematic strategy when challenged by stakeholders with uncertain requirements.
View Answer
In my last project, I worked with a team of advisors, most of who joined the project mid-way through the Requirements Gathering phase. As such, they did not possess the same understanding of the project as others who were on board from the inception.
As quite predicted, I had the struggle of bringing them on the same page as everyone else when running requirements workshops like focus groups and interviews. Often, I was given a set of requirements by the stakeholders, which were either already implemented or deemed out of scope.
When this started affecting the project timelines and deliverables, I had to rejig my requirements elicitation approach. I began to kick-off my meetings by going over the project scope document with the stakeholders and reiterate the objective that we were set to achieve.
I also have vast experience with Change Management/ Change Control Process in various methodologies. All these measures ensured requirements did not just 'wishfully' change, but in fact, were vetted through a formal and coordinated process.
---
Describe a time when you introduced a new idea or process to a project and how it improved the situation?
Explanation
This question is centered on knowing your interpersonal and decisive analytical/leadership skills more than knowing which organization/ position you were in at the time you suggested a new idea. This question can be answered in multiple ways.
You can either discuss a novel approach you took to something that was stagnated/ inefficient/ outdated, either in the work sphere or from personal experience. The question is aimed at knowing if you harbor innovation/creativity and can be a self-starter. Your answer should convey that you can identify an issue that needs improvement and act on it immediately to bring in heightened efficiencies.
View Answer
While working at XYZ, I was the lead BA on a COTS project implementation. As under any Business Process Management Perspective, the first and foremost issue at hand is to standardize and streamline many 'similarly aimed' processes into something which reduces un- advantageous dependencies and further refines the processes.
I started the project by inheriting many such redundant and time-consuming processes. As it had been a few years since any business process reengineering endeavored in the organization, I initiated discussions with key internal partners and drew people's attention to features that required updates.
I formed a mid-size team of 8 participants and created a GAP analysis document. I geared the review approach on items that had the most impact on COTS software implementation and gradually worked my way through areas that had less impact on it.
Regular process review meetings offered members a chance to brainstorm ideas designed at improving current processes and developing new processes that had clear lines of reporting, communication, and task assignment. By clearly defining roles & users and outlining associated tasks, it gave way to eliminate unnecessary requirements.
A pilot launch of the new initiative was undertaken for a six-month period, and adjustments were made to fine-tune ongoing review & monitoring activities. I am confident to say that the organization truly benefitted from my approach, and this was credited to be one of the significant reasons for the success of the project.
---
Describe a time/situation when you worked under a high-stress environment. How did you handle the high work-pressure and your workload?
Explanation
This question is asked because the hiring manager is interested in knowing how you can manage piled-up work. It is typical for certain positions (like Project Coordinator, Business Analyst) that you would be required to take on tasks that have not been done in a long time (such as backlog items).
Your answer should directly clue the employer into thinking that your organization skills are an excellent match for the position. It is also recommended to not 'pass on the blame' to others in your team, as it may look bad on you as a team player. Talk about the 'situational-reasons' for the overload and not 'personal.'
View Answer
I would like to discuss a situation when my previous company had successfully acquired a new business, and we were required to shift the new client-base to our existing database in a short period of time. These activities needed to wrap up around the same time as the implementation month of the project I was already working on.
As a Business Analyst, I was expected to handle my 1st project and supply new project's requirements to the technical team within the defined timeline.
I, along with the support of my Manager, planned for the work ahead of us and created a work-breakdown structure for both the projects. For the existing project, I delegated some of the responsibilities to my colleague Business Analyst and took upon more of an oversight role under my Project Manager's awareness.
I shortened the frequency of my touch-point meetings with the project team to every three days from weekly so that there is a fast turn-around, quick decision making, and early identification of matters requiring escalation. For my new project, I worked closely with the Project Manager, SMEs, and Database Architect on a regular basis. I assisted the Database Architect by developing Entity Relationship Diagrams to provide a technical relationship between the tables and data.
Careful planning and organization of tasks helped deliver both the projects within the allotted time. I learned how to effectively manage the project team and work as well as not let the high-stress environment affect my performance.
---
You are contracted to gather requirements for a software implementation project involving multiple divisions of an organization. Each division is going to provide requirements, and there are roughly eight divisions. How will you go about gathering the requirements?
Explanation
The answer to this question should establish your experience and know-how of conducting different types of requirement gathering techniques.
The employer wishes to learn how you would change your requirements gathering techniques when conducting sessions with small versus large groups, groups with similar versus distinct needs, and from experienced stakeholders to stakeholders who could be relatively new to the organization.
In your answer, mention how you facilitate different requirement workshops by gathering, analyzing, finalizing, and documenting requirements that you are given from the workshop sessions.
View Answer
In one of my projects, I served as a client Business Analyst for a solution provider company. For this project, I was required to gather requirements by working with several SMEs and analysts from multiple agencies – which were our clients and vendors.
I encountered challenges when big/large-sized agencies dictated the majority of the system requirements by virtue of their domination in the project. This was exerted by the high influence they had on the overall functioning of the solution when compared to agencies that were relatively smaller in sizes.
Nevertheless, each agency had a significant role and input to provide in the finalization of the project, and I made sure not to compromise that equation.
Initially, I worked with the SMEs and analysts from various agencies and vendor companies directly in the meetings. As consultations progressed, I used to discuss/brainstorm the requirements with all participants and analyze the given requirements in the meeting itself. Due to limited system familiarity/ knowledge possessed by the SMEs, workshops started running over the scheduled times and it became apparent that not all SMEs participated in the meetings.
As smaller agencies felt their input hardly got count in the meetings, they started to refrain from having active, engaging discussions. This in turn, temporarily resulted in moving at a slower pace than what we were required to.
To resolve the situation, I worked with the SMEs from each agency on a one-on-one basis. Prior to each meeting, I would create a presentation/deck by doing extensive document analysis (by researching the current artifacts) and gathered high-level requirements by holding virtual meetings with each agency separately through "GoToMeeting."
This approach of 'document analysis' and employing some 'interviewing techniques' allowed for every agency's requirements to be heard and provided ample time so that I can analyze and shape those requirements in ways that attracted the highest consensus.
Additionally, I provided those high-level requirements to agency analysts ahead of actual meetings, so they are just as prepared to navigate workshops in a direction that allowed for unanimous agreement.
Through my tact and judgment, I was quick to change gears on my requirements gathering style from JAD-like sessions to smaller, more personal, interview-style technique and finalized requirements without derailing the schedule from where recovery would have cost a fortune.
Frequently Asked Questions
Team JobsCaptain add some FAQs for Business Analyst Interview Questions With Answers. Frequently asked Business Analyst Interview Questions with detailed answers and examples.
What are the skills required by a Business Analyst?
Business Analyst should have Communication skills (verbal and written), interpersonal skills, domain and technical knowledge, behavioral characteristics, and analytical thinking and problem-solving skills.
What are the problems solved by a Business Analyst?
Good Business Analyst solved multiple business and stakeholders' problems, starting from requirements identification, analysis, design, and implementation.
Explain the role of a Business Analyst.
Discuss the project highlights, major responsibilities and project deliverables, adding achievements and/or project success related to the project is a plus.
How do you resolve stakeholders' conflicts?
Conflicts may arise due to different reasons. Sometimes various stakeholders may have varying understandings of a single component of a system, or simply put, some requirements are complex in nature. No matter what the situation is, exceptional coping and coordination skills can mitigate any conflicting scenarios.
Hope you had a wonderful time reading this article, we wish you the absolute best of success as a Business Analyst! Team JobsCaptain Thankful to Author Mr, Reelav Patel and Miss Kriti Rathi.