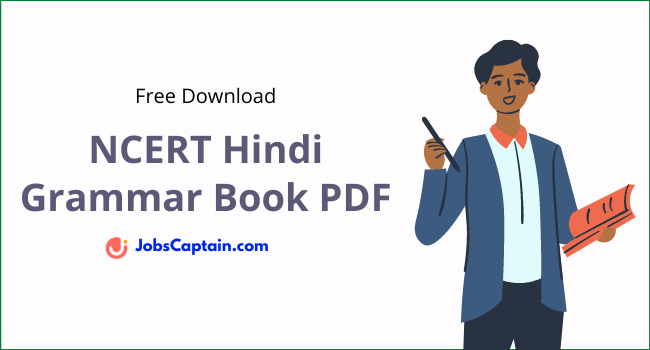 Are you looking for NCERT Hindi Grammar Book? If yes then you are right place. Here we shared a PDF book of NCERT Hindi Grammar.
This is Hindi Vyakaran Class 9 to 12 textbook and helpful to you in various competitive examinations such as SSC, RRB, UPSC and all state Sarkari Exams.
Let's read basic information and download book:
| | |
| --- | --- |
| Book Name | NCERT Hindi Grammar Textbook |
| Class | 9, 10, 11 and 12 |
| Language | Hindi |
| Organisation | NCERT |
| Board | RED (Rajasthan Education Department) |
NCERT Hindi Grammar Book
हिंदी भाषा व्याकरण के बिना अधूरी है। हिंदी भाषा का संपूर्ण ज्ञान इसके Grammar को समझे बिना पूरा नहीं हो पाता है। व्याकरण वह विद्या है जिसके द्वारा हिंदी भाषा का शुद्ध बोलना, शुद्ध पढ़ना और शुद्ध लिखना आता है।
In this post, we are shared NCERT Hindi Grammar book for Class 9 to 12.
Book Content
This book cover following topics of Hindi Grammar.
हिंदी के लिपि चिन्ह, वर्तनी नित्य नियम
वर्तनी की अशुद्धियां
निदान विराम चिन्हों का प्रयोग और नियम
अनुनासिक अनुस्वार
विसर्ग हिंदी के व्यंजन वर्ण
पंचमाक्षर और अनुस्वार
वर्णों का उच्चारण
स्वर वर्णों का उच्चारण संयुक्त अक्षरों का उच्चारण
वर्ण का स्वरूप
हिंदी के वर्ण
अयादि, व्यंजन संधि, विसर्ग संधि
घोष
संयुक्त संपृक्त और युग्मक ध्वनियां
बलाघात स्वराघात
संगम
अनुदान
स्पर्श व्यंजन
ऊष्म व्यंजन
ध्वनि
स्वर और उसके भेद
हृस्व स्वर
दीर्घ स्वर
अंतस्थ व्यंजन
संधि, स्वर संधि, दीर्घ, गुड, वृद्धि
अनुस्वार और अनुनासिक
हिंदी वर्णमाला
वर्तनी
विराम चिन्ह
सघोष
हल
हलंत
हिंदी के नए वर्ण
अल्पप्राण
महाप्राण
ध्वनि और लिपि
उच्चारण की अशुद्धियां और निदान
यह बुक आपको SSC, RRB, Police, UPSC IAS, State PCS, Defence, Bank, RPF, BSF, CISF,  जैसी परिक्षा के लिए बहुत जरुरी हैं |
Thank you for downloading NCERT Hindi Vyakaran Textbook.
To Practise More on Hindi Grammar, Please check the post on
Thank you for reading. Furthermore, if you have any questions regarding Hindi Grammar then do comment below.