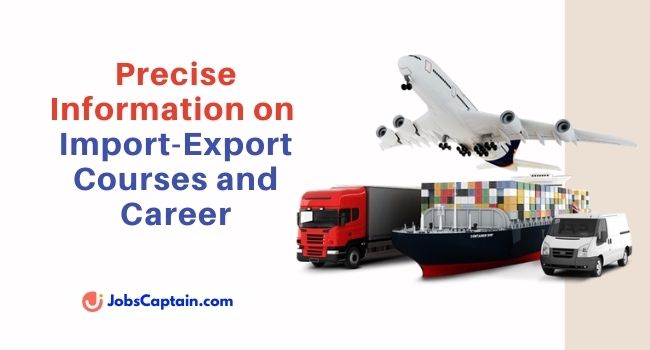 In today's world the entire world has turned smaller due to the evolution of technology.
Import and export sector is one of those sectors which are highly benefited due to the shrinkage of world size. Career in import and export is turning out to be a golden opportunity.

Courses
---
A number of private institutes offer varied full time or part time diploma/certificate courses in import and export such as course in Import and Export Management and Diploma in International Trade.
However, the best is to acquire higher degree from a recognized university or institute.
Eligibility Required for Import and Export Courses
---
To get admission into post graduate diploma course in import and export in reputed university or institution, you need to obtain at least 40-45% in graduation under 10+2+3 system.
Some private institutes in India, accept only 12th pass candidate as a Import-Export course criteria.
Eligibility to opt Import and Export as a Career or Business:
Degree or diploma in Import and Export Management
Master in Business Administration or International Affairs
Fluency in the Second Language is preferred
The experience of 2 to 3 years in addition to degree or diploma can get a good break in this sector.
Good Management skills
---
Aptitude or personal traits like good communication skills, an outspoken or extrovert and strong analytical and logical skills are required.
Do you have these 7 important Skill?  Every candidates should have these skills.

Job Prospects
---
There is no doubt to the fact that due to the instantaneous communication via computers, Indian companies are getting more and more active in this sector and even already have.
It in turn has lead to increased demand for professionals in import and export sector; undoubtedly, one is sure of getting benefited from numerous available opportunities.
Salary/Remuneration in India
---
You can start with 8000-25000 (INR) per month as a trainee.
Junior managers are eligible to get between 12000 and 30,000 (INR) or even more while senior managers derive 50,000 (INR) or more per month.
You can even start your own export firm.
We recommend you that, after getting job experience of 2-3 years, you should start your own firm. You definitely earn Lakhs of money through this sector.
Good Luck if you are going to make your career in Import-Export industry.
Thank you for reading. If you need more career guidance regarding this course, please do comment below.