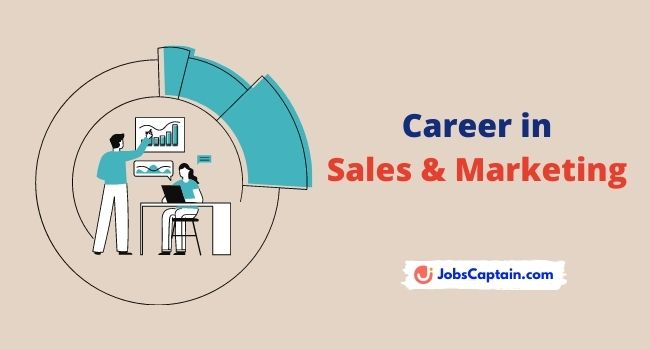 In response to highly diverse market of products and services today, it was quite obvious to notice involvement in sales and marketing sector.
To remain competitive, companies have to seek ways so as to increase the value of their products and getting consumers attracted towards them.
Undoubtedly, earning opportunities are high in this field.

Courses in Sales and Marketing
---
It is to be noted here that sales and marketing field is not just about selling door to door, instead, there are various options available to you choose from.
Basic employment settings in sales and marketing sectors include manufacturing, retail, wholesale and service which in turn comprise internal and technical sales and more.
Some of the course in sales and marketing are sales presentation, inventory management, marketing planning, positioning and marketing, internet marketing, service marketing and marketing research just to name few.
Eligibility for Jobs in Sales and Marketing Sector
---
The foremost eligibility to seek job in sales and marketing sector is the willingness to travel on frequent basis.
Strong communication Skills
Leadership traits
As far as education degree is concerned, it varies from company to company as per specific requirement of a company.
However, graduates and those with higher degree in sales and marketing find it easy to attract recruiters.

Job Prospects in Sales and Marketing in India
---
Considering the fact that competition in sales and marketing sector has grown harder, the demand for people with competitive selling skills are on high demand.
Job prospectus for those with appropriate personal traits or technical proficiency is always in full swing.
Salary
---
Always salaries are differ from industry sector to sector. We are describe below, approximately salary packages in various industry of India.
| | |
| --- | --- |
| Sector | Starting Salary (Per Month) |
| Banking & Insurance | 12,000/- (plus incentives) |
| IT | 15,000/- |
| FMCG | 9,000/- (plus incentives) |
| Luxuries Items | 25,000/- (plus incentives) |
| Manufacturing | 15,000/- (plus incentives) |
We hope this article will helpful to those candidates, who are seeking Career in Sales and Marketing.
Check out helpful Section -> Career Guidance & All Course Guide.
Thank you for reading. If you still have any queries/questions, please do comment below.