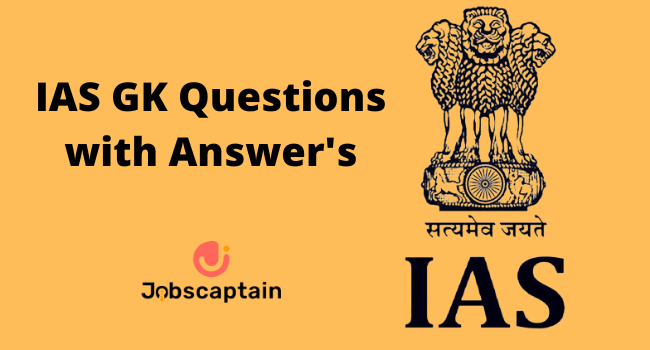 Hello Candidate, Today we will give the IAS GK Questions quiz. IAS General Knowledge Questions are important in exams because maximum students lose their marks because of their lack of GK.
In this post, we note some most important General Knowledge Questions for IAS Exam. Here are some of the most important General Knowledge Questions for IAS Exam that you must know in order to score well in the IAS Exam.
Let's try to solve the GK IAS Questions to test your efficiency:
UPSC General Knowledge Questions and Answers
Question 1: Which river among the following starts its Journey and ends its journey in India itself?
(A) Indus
(B) Brahmaputra
(C) Kosi
(D) Chambal
Question 2: Consider the following questions about 'Anti-tank Guided Missile HELINA'':
It is indigenously developed by DRDO.

It is the helicopter-launched version of NAG.

It has a range of 70-80km.
Select the correct answer using the code given below:
(A) 1 only
(B) 1 and 2 only
(C) 2 and 3 only
(D) All of the above
Question 3: The dam Krishna Raja Sagara is located in which state?
(A) Andhra Pradesh
(B) Karnataka
(C) Telangana
(D) Tamil Nadu
Question 4: What is the minimum age to be a Chief Minister of any state in India?
(A) 30 years
(B) 18 years
(C) 25 years
(D) 21 years
Question 5: Which day is known as World Pneumonia Day?
(A) December 21
(B) March 7
(C) September 3
(D) November 12
Question 6: 'Happiness Curriculum' recently seen in the news has been introduced by which among the following states?
(A) Madhya Pradesh
(B) Kerala
(C) Delhi
(D) Tamilnadu
Question 7: 'Aanayoottu' festival is celebrated in which state?
(A) Tamil Nadu
(B) Kerala
(C) Karnataka
(D) Andhra Pradesh
Question 8: In which year was the late Shri. Pranab Mukherjee awarded the Bharat Ratna?
(A) 2018
(B) 2014
(C) 2019
(D) 2016
Question 9: According to the Global Hunger Index, which among the following regions has the highest hunger and undernutrition levels in the world?
(A) Africa South of Sahara
(B) South Asia
(C) Europe
(D) Option 1 and 2
Question 10: Which statement is true among the following for the National Flag?
(A) The ratio of the length to the height of the flag is 3:2
(B) The ratio of the length to the height of the flag is 2:3
(C) The ratio of the length to the height of the flag is 3:3
(D) None of the above
Question 11: Which state of India is called the Land of Five Rivers?
(A) Haryana
(B) Punjab
(C) Maharashtra
(D) Gujarat
Question 12: With changes in the education policy, the 10+2 system was abolished and replaced by which system by the NEP 2020?
(A) 3+5+3+4
(B) 3+4+5+3
(C) 5+3+3+4
(D) 4+3+5+3
Question 13: National Science Day is celebrated to honour which Nobel Prize winner scientist?
(A) Abdul Kalam
(B) C.V. Raman
(C) Vikram Sarabhai
(D) Homi J Bhabha
Question 14: Soil-Transmitted helminth is a disease that is very common to humans. Which demographic segment is more prone to it?
(A) Senior citizens
(B) Adults
(C) Children
(D) All of the above
Question 15: Which US President initially worked to abolish slavery in the country?
(A) John F. Kennedy
(B) Abraham Lincoln
(C) Richard Nixon
(D) Ronald Reagon
Question 16: International Development Week is an initiative by which country?
(A) France
(B) U.S.A
(C) India
(D) Canada
Question 17: Who was the first woman Governor of India?
(A) Vijay Lakshmi Pandit
(B) Sarojini Naidu
(C) Kamaladevi Chattopadhyay
(D) None of the Above
Question 18: When is World Wildlife Day observed every year?
(A) August 12
(B) September 6
(C) March 3
(D) November 20
Question 19: India's Ordnance Factory is at which position in the world for defense equipment manufacturing?
(A) 24
(B) 50
(C) 41
(D) 37
Question 20: Which of the following statement(s) is/are correct in the context of World Tuberculosis Day?
Dr Robert Koch discovered Mycobacterium tuberculosis in 1882. This bacteria causes tuberculosis.

World Tuberculosis Day falls on 20th March each year.

It is an initiative by the World Health Organisation.
(A) 1
(B) 1 & 2
(C) 3
(D) None Of The Above
Question 21: What is the Convention on International Trade in Endangered Species of Wild Fauna and Flora (CITES)?
It regulates the international trade of wildlife and wildlife.

It came into being in 1973.

It discourages the exploitation of natural resources.
Consider the following and choose the correct answer
(A) 1
(B) 2 & 3
(C) 1 & 3
(D) 1,2 & 3
Question 22: Which United States President introduced the idea of Consumer Rights?
(A) Franklin D.Roosevelt
(B) George W.Bush
(C) John F Kennedy
(D) Richard Nixon
Question 23: Till 1912, Bihar was a part of which state?
(A) Uttar Pradesh
(B) Jharkhand
(C) Bengal
(D) Odisha
Question 24: The discovery of the Polio vaccine was made by which country?
(A) India
(B) China
(C) Russia
(D) USA
Question 25: International Mathematics Day is to celebrate which mathematics constant?
(A) Euler's number
(B) Pi
(C) Imaginary Unit
(D) All of the above
Question 26: Which organization is responsible for International Women's Day every year?
(A) Associated Country Women of the World
(B) International Women's Forum
(C) Women's Environment & Development Organization
(D) None of the above
Question 27: What is the aim of World Civil Defense Day?
(A) Highlight the importance of civil defense
(B) Raise awareness about disaster prevention
(C) Promote self precaution
(D) All of the above
Question 28: Which nazi concentration camp was liberated on holocaust remembrance day in 1945?
(A) Chelmno
(B) Auschwitz
(C) Belzek
(D) Majdanek
Question 29: When did India celebrate its 25th National youth Day?
(A) 2000
(B) 2010
(C) 2001
(D) 1999
Question 30: Which month is considered as national slavery and human trafficking prevention month?
(A) January
(B) March
(C) May
(D) June
Question 31: When is Army Day celebrated every year?
(A) January 13
(B) January 14
(C) January 15
(D) January 16
Question 32: International Day of Education is observed every year on which date?
(A) January 21
(B) January 24
(C) February 21
(D) February 24
Question 33: What was the theme for national tourism day in 2019?
(A) Tourism and development
(B) Tourism and jobs
(C) Tourism and digital transformation
(D) Sustainable tourism
Question 34: Lal Bahadur Shastri mysteriously died in Tashkent in 1965. Why was he in Tashkent?
(A) To sign the Indo – Pak war peace treaty
(B) To sign the Sino-Indian War peace treaty
(C) To sign the Sirima-Shastri Pact
(D) None of the above
Question 35: Who was the first president of the African National Congress?
(A) Nelson Mandela
(B) Thabo Mbeki
(C) Jacob Zuma
(D) None of These
Question 36: Which Indian leader was referred to as Punjab Kesari?
(A) Ranjit Singh
(B) Lala Lajpat Rai
(C) Bhagat Singh
(D) None of the above
Question 37: Pravasi Bhartiya Divas is celebrated to commemorate the return of which Indian entity to India?
(A) Subhash Chandra Bose
(B) Jawaharlal Nehru
(C) Mahatama Gandhi
(D) B.R. Ambedkar
Question 38: On which date, the Indian Coast Guard raising day is celebrated?
(A) January 29
(B) March 23
(C) April 6
(D) February 1
Question 39: Consider the following statements
This agreement was the first modern treaty signed to conserve natural resources.

World Wetlands Day is observed on 2 February.
(A) 1
(B) 2
(C) Both 1 & 2
(D) None of the Above
Question 40: Which organization started world peace and understanding day?
(A) Rotary International
(B) Toastmasters International
(C) Kiwanis
(D) None of the above
Post that will help in IAS Exam Preparation,
Thank you for practicing the IAS GK MCQ Quiz. Furthermore, If you guys have doubts about this IAS GK Questions and Answers then you can let us know in the comment section given below. We will be soon posting many MCQ quizzes, like those given above so keep visiting the site for more updates.