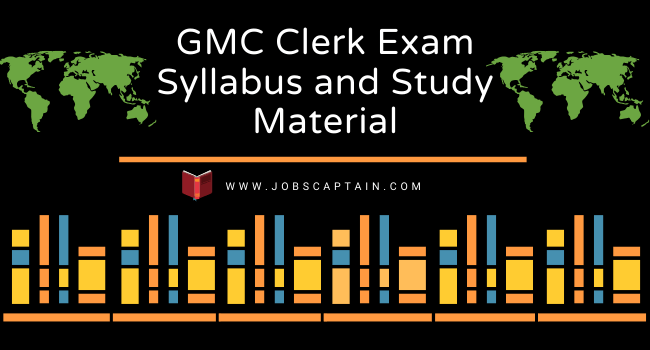 With the help of GMC clerk Syllabus and Exam Pattern candidate will get a clear idea about the weightage marks for individual questions of written exam. 
Gandhinagar Municipal Corporation has decided to conduct the written examination of GMC to recruit the eligible candidates into the various vacancies. So download and read GMC exam study material.
The GMC Clerk Recruitment Notification has been released by the responsible department to fill the various posts of Senior and junior Clerk, Sanitary Sub Inspector, Sanitary Inspector and Health Inspector many more.
Candidates who are looking for govt jobs in Gandhinagar can use this wonderful opportunity to get their dream job in GMC.
If you want to get more score in Examination you must cover each and every single topic in the syllabus of GMC (Gandhinagar Municipal Corporation) Clerk job. Then download GMC Syllabus 2020 PDF and start your preparation with the Syllabus.
GMC Clerk Syllabus
Candidates can get here the details of GMC clerk Syllabus Pdf as well as the other information. So go through the full notification and prepare well for the Gandhinagar Municipal Corporation clerk exam.
| | |
| --- | --- |
| No. | Subject |
| 1 | History and Culture of Gujarat |
| 2 | Gujarati Grammar |
| 3 | English Grammar |
| 4 | History |
| 5 | Current Affairs of India-Gujarat |
| 6 | General Science |
| 7 | Aptitude Quantitative |
| 8 | Computer Knowledge |
| 9 | Constitution of India |
| 10 | Public Administration |
| Total Marks | 100 |
Exam consists of Multiple Choice Question

Every question shall be of one mark.

Every attempted question with incorrect answer shall carry a negative mark of 0.25.

The candidate shall have to attempt all questions.

The Standard and the course content of the GMC exam syllabus shall be of a 12th Standard level.
GMC Clerk CTP (Computer Proficiency Test) Syllabus
Candidates should attend the Written Examination first. Then, the qualified candidates will be called for the next round Computer Proficiency Test of the GMC clerk.
| | | |
| --- | --- | --- |
| No. | Subject | Mark |
| 1 | Gujarati Typing Test | 20 mark |
| 2 | English Typing Test | 20 mark |
| 3 | Computer Practical Test | 60 mark |
| | Total | 100 Marks |
CPT exam time duration – 1.30 hours

The speed of typing not less than 5000 key depressions with accuracy per hour.
Computer Practical Test (60 Marks) includes MS Word, Ms Excel, MS Power point, MS Outlook, Usage of Internet, Email, Knowledge of Network, Creating Pdf and Computer Hardware knowledge.
Candidate also required the good knowledge of General Security concepts, Disk Cleanup, Regular updating of anti-virus software and Troubleshooting Tools.
Appendix F (60 Practical Test of CPT)
No.
Subject
Mark
1
Preparing a tender notice in word file
30 mark
2
Preparing a slide for presentation based on data provided
10 mark
3
Preparing an excel spreadsheet and answering an arithmetic problem
10 mark
4

Error check and spelling correction in given ward document and other functions
– Comment removes
– Spelling check
– Bold – Remove (Rewriting of paragraph), etc.

10 mark
Total
60 Marks
Download pdf – GMC Written Exam Syllabus and CPT Exam Syllabus
GMC Clerk Exam Material list
Click on Red link to download Gandhinagar Municipal Corporation GMC Clerk syllabus wise materials.
Education Qualification
12th Pass

Should have computer knowledge

Skill of Reading, Writing and Speaking in Gujarati, Hindi and English
Age
Exam Fee
If you have a problem with coming online frequently, you should download the Gandhinagar Municipal Corporation GMC Clerk Syllabus PDF which will help you study even when you are offline.
Did you find this article about GMC clerk exam pattern and syllabus useful? We hope our information and material might benefit you in exam.
If any help needed from our experts, we suggest you to contact us WhatsApp mobile number 7878101034 with your name. Thank You.