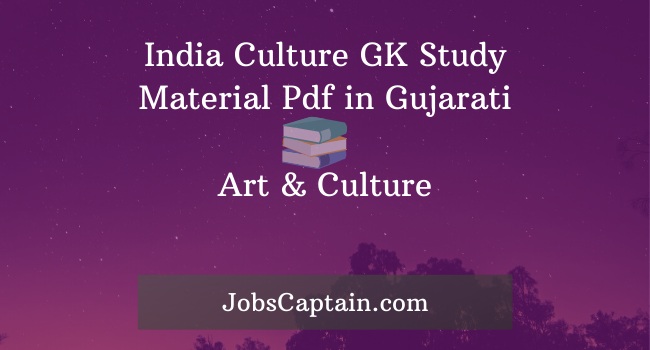 Today We are uploaded Indian cultural Questions and Answers for Competitive Exams. As you know Indian Cultural General Knowledge questions are the very useful topic for all Competitive Exams.
This Quiz consists of some facts about cultural heritage of India in the form of Questions which may help in the preparation of competitive examination. Cultural of India is something that belongs to our community.
Indian Culture represents past, present and future in the form of paintings, drawings, sculptures, manuscripts, photographs, documents, etc.
India Culture GK in Gujarati
Quiz on Indian Culture will give knowledge and helps in the preparation of various entrances and competitive exam.
Gujarat Culture in Gujarati
In India, Culture is the most important and unique feature about the people of a certain region. Each state has its unique culture which cannot be compared with any other state as these are very specific.
Gujarat has its own culture which varies from Art, food, faith, attire and tradition.
Here We are providing Gujarat cultural Questions and Answers for Competitive Exams. Download Here
In short, This all about the Gujarat and India Culture. These all pdf help you in various competitive exams like GSSSB, Talati, Bin Sachivalay Clerk, GPSC, DY. SO, CHIEF OFFICER, TALATI, RAILWAY, LIC, RBI, HTAT, TAT, TET, CAT, SPIPA Entrance or any type of Competitive Exam.