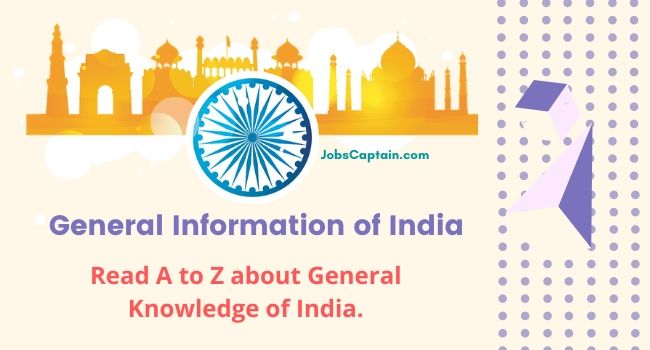 You have reached the Web's most comprehensive resource on General Information of India. And guess what! The entire section on General Knowledge of India is available for FREE!
This InfoBank is organized into Alphabetical Sections, each consisting of several entries which are updated regularly. A link has been provided with each alphabetical listing, for your convenience.
To get access to our complete General Information of India Info bank, just click here NOW!
---
A
Abul Kalam, Dr. A.P.J.: is credited with the advancement of missile technology in India.
Ambati, Balamyrali: is the youngest (17-year old) doctor of Indian origin, in the world who received his medical degree from Mount Sinai, New York.
Ambedkar, B.R.:was chairman of the drafting committee for the Constitution of India. He is known as the architect of the Indian Constitution.
He was elected to the Constituent Assembly from the then Bombay Presidency.
Anandmath: is a novel written by Bankim Chander Chatterjee. The song Vande Matram first appeared in Anandmath published in 1882.
It is known as the "Bible of Bengali literature".
Antodaya: is synonymous to the Minimum Needs Programme.
Apni Beti Apna Dhan: A scheme for the welfare of the girl child introduced by Haryana.
Apsara: is the first nuclear reactor of India.
Arctic Home of Aryans: This book was written by Bal Gangadhar Tilak.
Arjun: is the name given to India's Main Battle Tank designed indigenous.
Arunachal Pradesh: was formed as the 24th state of India as per the Constitution (55th Amendment) Act, 1987. This state is best suited for growth of some of the rarest orchids.
Aryabhatta: was India's first indigenously developed spacecraft launched in 1975.
Autobiographical Writings: is written by Lajpat Rai.
Autobiography of an Unknown Indian: is written by Nirad C. Chaudhary.
---
B
Bachendri Pal: First Indian woman to scale Mount Everest.
Bharat Bhawan: is the renowned multi-arts center, located in Bhopal.
Bhaskaracharya: Born in 1114 A.D., was almost the last great Hindu mathematician and astronomer until modern times. He was author of Sidhanta-siromani.
Biggest Advertising Agency in India: Hindustan Thompson Associates (HTA).
Bihu: is the popular dance form of Assam.
Bombay Samachar: is the oldest daily newspaper of India. It is a Gujarati daily published from Bombay (Mumbai).
Bose, Nand Lal: famous Indian painter who was invited to draw sketches on the theme of national integration in the first copy of the Constitution of India.
Brihat Samhita: is an encyclopedic work by Varahamihira (505-587) dealing with the study of omens from natural, especially celestial, occurrences.
Varahamihira was Indian astronomer, mathematician and philosopher, born near Ujjain.
Buddha Jayanti: is observed on full-moon day.
Bura: is the popular dance form of Andhra Pradesh.
---
C
Sorry, no entries yet under this category. But JobsCaptain's General Information of India InfoBank is updated often, so please check back soon.
---
D
Dabhol Power Plant: is in Maharashtra.
Dance Styles in India: Important classical dance form is Bharat Natyam which has derived its roots from Tamil Nadu but has developed in an all-India form. Kathakali is a dance form of Kerala and Kathak is a classical dance form revitalised as a result of the fusion of Mughal influence.
Manipur has contributed a delicate, lyrical style of dance, Manipuri, while Kuchipudi owes its origin to Andhra Pradesh, and Odissi from Orissa was once used to be practiced as a temple dance. Mohiniuttam is one of the classical dances of Kerala.
Dayanand Saraswati: He founded the Arya Samaj in 1874 in Bombay but its initital success was in the Punjab, and Lahore soon became its headquarters.
"Go back to Vedas" was propounded by him. He was responsible for the revival of Hinduism in the 19th century.
Destination India: India's first state-hosted international investment summit organised by Foreign Investment Promotion Board and FICCI.
Detroit of India: Pithampur in Madhya Pradesh where a large number of automobile industries have been set up is called the "Detroit of India".
Discovery of India: is a book written by Jawahar Lal Nehru.
Divya Yatra: A scheme to bring popular television to the masses with the help of video vans.
---
E
Eco Action: An experiment for building artificial reefs on the ocean bed in Kerala and in the Andhra Pradesh coast.
Eco-Mark: is the labeling scheme introduced in India for any product which is environment friendly from cradle to grave (entire life cycle).
---
F
Sorry, no entries yet under this category. But JobsCaptain General Information of India Info-bank is updated often, so please check back soon.
---
G
Garba: is a folk dance.
Ghoomar (Ghumar): is the popular folk dance form of Rajasthan.
---
H
Hazratbal shrine: The white marbelled Hazratbal shrine on the western banks of Dal Lake in Srinagar is famous for the holy relic of Prophet Mohammad brought and placed here at the end of the 17th century.
The holy relic of the Prophet Mohammad was brought to India by Syed Abdullah, one of the descendants of Hazrat Imam Hussain, who had inherited it from his forefathers in 1634.
Himsagar Express: runs between Kanyakumari and Jammu.
Hindu View of Life: is a book written by Dr S. Radhakrishnan.
Hirakud Project: is a multipurpose river-valley project in Orissa harnessing the Mahanadi river.
---
I
IDBI: Industrial Development Bank of India is the apex organisation for industrial finance in India.
Import items in India, Largest: The largest items of import in India in recent years are Capital goods and Petroleum products.
In Custody: is a book written by V.S. Naipal.
India Divided: is a book written by Dr Rajendra Parsad.
India Wins Freedom: is a book written by Abul Kalam Azad.
India World: India's first daily electronic news and information service on the Internet.
Indian river flowing westward: Narmada is a major river flowing westward in the Indian Peninsula.
Indira Gandhi Atomic Research Centre: was set up at Kalpakkam in 1971 near Chennai (Tamil Nadu). It relates to R&D relating to fast breeder development.
Indira Gandhi Canal project: is located in North-West Rajasthan.
Indira Gandhi National Open University: Its major objectives include widening of access to higher education by providing opportunities to larger segments of disadvantage groups of population.
INSAT: is a multipurpose operational satellite system for domestic telecommunications, meteorological observations and data relay. The system includes nation-wide direct satellite television broadcasting and radio and television programme distribution.
Integrated Mother and Child Development: is the new name of Integrated Child Development Services (ICDS).
Integrated Rural Development Programme: was introduced in India in 1980-81.
---
J
Jain Commission: is associated with probing the conspiracy angle of the Rajiv Gandhi assassination.
Jaipur Foot: has been developed by Dr Pramod Karan Sethi for the benefit of disabled persons.
Jamnapari: is the highest milk porducing breed of goat in India.
---
K
Kalpna Chawla: is the first India-born woman selected for space voyage by NASA.
Kathakali: is the dance style of Kerala.
Konkani: This language included in the Eighth Schedule of the Constitution is widely spoken in Goa.
Kuchipudi: is a dance style of Andhra Pradesh.
Kukis: is the name of tribal community of Manipur which is engaged in war against the Nagas.
Kumar Gandharava: earned a distinction in classical music.
Kurein, Dr V.: is associated with Dairy farming.
---
L
Sorry, no entries yet under this category. But JobsCaptain's General Information of India InfoBank is updated often, so please check back soon.
---
M
Maithon Dam: is constructed on the Damodar river.
Malavikagnimitra: one of the works of Kalidasa, deals with the story of a Sunga ruler.
Malayalam: is the official language of Kerala state.
Marmagoa: is known for India'a largest floating dock constructed here.
My Frozen Turbulence in Kashmir: is a book written by Jagmohan, former Governor of Jammu & Kashmir.
My Presidential Years: is the book written by R. Venkataraman, former President of India (1987-92).
---
N
Sorry, no entries yet under this category. But JobsCaptain's General Information of India InfoBank is updated often, so please check back soon.
---
O
ONAM festival: is celebrated in Kerala.
Operation Blackboard: aims at providing Primary Education in educationy backward areas. It also aims at providing non-formal adult education. Under this scheme, the states were advised to give high priority to SCs and STs.
Operation Flood: relates to dairy development industry. V. Kurien is actively involved in it.
Ottam Thullal: is a dance form of Kerala.
---
P
Panchali-nataka: is Puppet play,one of the age-old entertainment.
Panchatantra: is one of the most famous works of the Sanskrit katha (story), so called because it is divided into five sections, each dealing with a different subject. In these fables, human vices and foibles are exposed through characters of animals.
Panchatantra has been translated into forty foreign languages and fifteen Indian languages.
Panchayati Raj: was introduced in 1959, generally as a three-tier structure of local self-government at the village, block and district levels. These institutions are in existence in almost all states and union territories with variations in structural pattern. The first tier at village level is commonly known as Gram Panchayat, second (at block level) as Panchayat Samiti and the third (at district level) as Zila Parishad.
Rajasthan and Andhra Pradesh were the first states to implement the Panchayati Raj system. Panchayati Raj is a subject on the State List.
The Constitution (73rd Amendment) Act, 1992, imparted a constitutional status to the Panchayati Raj System.
Rajasthan and Andhra Pradesh were the first states to implement the Panchayati Raj system.
PARAM: is India'a first ingenuously-built super computer.
Param Vir Chakra: is the highest military decoration in India.
Population: India is the home of 16% of world's population. It, however, accounts for 2.42% of the total world area. In 1991 Census, Nagaland registered the highest growth rate of 56.86% while Kerala the lowest 13.98%. As per 1991 Census, Kerala has a higher number of females than males (1036 females for 1000 males).
U.P. continues to be the largest state, population-wise 16.44% people of the country living there, followed by Bihar and Maharashtra. Bombay continues to be the most populous city of India, followed by Calcutta, Delhi and Madras (Chennai).
Population in India (age-group-wise): The highest percentage of population in India according to the 1991 census is to be found in the age group of 35 to 55 years.
Population of Indian States: As per the 1991 Census, the first fifteen States in the descending order of the size of their total population are: Uttar Pradesh, Bihar, Maharashtra, West Bengal, Andhra Pradesh, Madhya Pradesh, Tamil Nadu, Karnataka, Rajasthan, Gujarat, Orissa, Kerala, Assam, Punjab, and Haryana.
Prahar: is the name give to the missile boat constructed for the Indian Navy which was successfully launched in September, 1995.
Prithvi Missile: is a surface-to-surface missile with a range of 40 to 250 km. It was inducted into the Indian army in June 1994. It uses a liquid fuel propellant and its direction can be changed in mid-course with the help of on-board computer.
---
Q
Sorry, no entries yet under this category. But JobsCaptain's General Information of India InfoBank is updated often, so please check back soon.
---
R
Reserve Bank of India: was established on April 1, 1935. It was taken over by the Government of India in 1948.
Formation of the monetary policy is not the function of the Reserve Bank of India.
Rupee convertibility: aims at (a) increasing the export, (b) reducing bureaucratic control and © decreasing incentive for Havala market. It also implies freely permitting the conversion of rupee to other major currencies and vice versa.
---
S
Satyameya Jayate: These words in the Hindi Devnagri script in the State Emblem, are taken from Mundaka Upanishad.
SEBI: Security Exchange Board of India was established in 1988. It has been assigned regulatory powers by the Government of Inda in order to prevent recurrence of scams in the Capital Market.
Space Programme of India: was organised in 1972 to provide space-based services in the areas of communication, meteorology, development of satellites and launch vehicles.
Sulabh International: is a body related to lavatory reforms. It is the largest sustainable voluntary movement in India with about 50,000 social workers. It has been granted "Special consultative status" by the UN Economic and Social Council (ECOSOC).
Surabhi: was a medicine prepared by Dhanvantri, according to ancient Indian legends.
Swaminathan, Dr M.S.: is associated with Green Revolution in India.
---
T
Tata Institute of Fundamental Research: is situated in Mumbai.
The Degeneration of India: is a book written by T. N. Seshan, former Chief Election Commissioner of India.
The Heart of India: is a book written by Mark Tully.
The Indian Struggle: is written by Subhash Chandra Bose.
The Indian Unrest: is the book written by Lokmanya Tilak.
Thumba: near Thiruvananthapuram (Trivandrum) in Kerala State, is known for India's rocket-launching station.
---
U
University Grants Commission: UGC was established in 1956 to take measures for promotion and coordination of university education and determination of teaching standards.
---
V
Vijay Diwas: is observed on December 16 every year.
---
W-X-Y-Z
Sorry, no entries yet under this category. But JobsCaptain's General Information of India InfoBank is updated often, so please check back soon.
---
Download
Read Online or Download General Information of India Pdf Book – Click Here
---
Thank you for reading an article on General Information. Please share this General Knowledge with your friends. If any queries or problems or add something, Do comment below.
Moreover, All kinds of important Pdf notes and around 10,00,000 questions and complete General Knowledge Material can be found here. Subject wise Download Links for Handwritten Class Notes and Quizzes in Hindi and English.
Subject Wise Study Notes and Quizzes 
| | |
| --- | --- |
| Computer Awareness Notes – Open | General Hindi Notes – Open |
| Reasoning Notes – Open | English Grammar Notes – Open |
| Maths Notes – Open | Economics Notes – Open |
| General Science Notes – Open | Indian Polity Notes – Open |
| History Notes – Open | Today History in Hindi – Open |
| Environment GK Notes – Open | Banking GK in Hindi – Click |
| Geography Notes – Open | Computer Gk in Hindi – Open |
| JEE and NEET Notes – Open | Class 11 & 12 Science – Open |
| English Grammar Quizzes – Play Now | General Knowledge Quiz – Play Now |
Disclaimer: All information's / materials available on this website or the links provided on the site are for educational and study purposes only. We provide the links which are already available on the internet. The content is meant for individual and non-commercial uses only. We don't want to violate any copyright law. These Pdf Notes provided for students who are financially troubled but deserving to learn. Thank you!