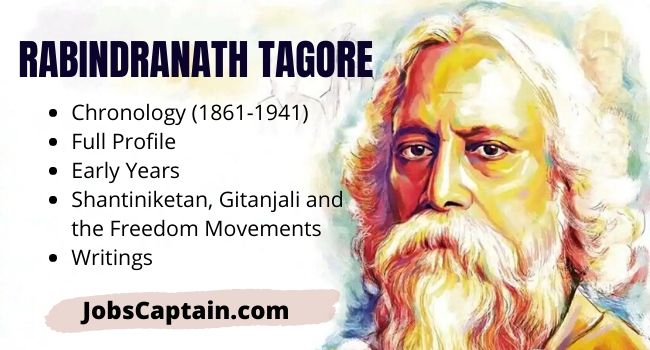 Gurudev Rabindranath Tagore, mystic, painter and Nobel laureate for literature is among the leading personalities of Modern India. He was awarded the Nobel prize in Literature for his collection of well known poems Gitanjali.
---
Chronology (1861-1941)
| | |
| --- | --- |
| 7 May, 1861 | Born in Calcutta, India |
| 1868 | Wrote his first poem when he was just 7 years |
| 1878 | Tagore's first book of poetries appeared |
| 1878 End | He went to England for higher studies |
| 1879 | Came back to India |
| 1883 | Got married to Mrinalini Devi |
| 1890 | Manasi – a collection of Tagore's poems were published |
| 1890 | Settled at Shilaidaha in Kushthia (now in Bangladesh) |
| 22 December, 1901 | Founded School at ShantiNiketan |
| 1902-1907 | Rabindranath's wife, father, daughter Renuka and son Samindra died |
| 1905 | Bengal was partitioned, Rabindranath was gripped by fever of Nationalism |
| 1910 | He got married his son to a young widow Pratima Devi. He was a staunch supporter of widow remarriage |
| 1910 | Wrote Gitanjali in Bengali |
| 1911 | Wrote Jana Gana Mana which later became our National Anthem |
| 1912 | Gitanjali was published in English |
| 1913 | Awarded Nobel prize in literature |
| 1915 | Knighted by the British king George |
| 1919 | Renounced his knighthood following Jallianwala massacre incident |
| 1924 | Tagore opened Vishva Bharati University at Shantiniketan |
| 1929 | Tagore began painting |
| 1939 | Tagore asked Gandhiji to lift the ban on Subhash Chandra Bose and have his cooperation cordially invited in the "supreme interest of national unity" |
| 7 August, 1941 | Rabindranath Tagore died in Calcutta, India |
---
Profile of Rabindranath Tagore
Gurudev Rabindranath Tagore, mystic, painter and Nobel laureate for literature is among the leading personalities of Modern India. Especially he was awarded the Nobel prize in Literature for his collection of well known poems Gitanjali.
Early years of Rabindranath Tagore
Born in Calcutta on May 7, 1861, Rabindranath was the youngest of fourteen children. His father, Debendranath Tagore, was a Sanskrit scholar and a leading member of the Brahmo Samaj. Rabindranath's early education was imparted at home. In school, while others use to learn their lessons, he would slip into more exciting world of dreams.
Inspired by his older nephew, he wrote his first poem when he was hardly seven. At the age of seventeen, his first book of poems was published. In 1878, he went to England for further studies but returned back in just seventeen months as he did not find the studies interesting.
Rabindranath now started devoting most of his time to writing poems, plays, short stories and novels. In 1883, he got married to Mrinalini Devi. Likewise he taught his wife Bengali and Sanskrit.
Period of 1891-1900
This period saw Tagore publish a series of works, many based on the traditional village society of contemporary Bengal. In 1891, Rabindranath went to Shileida and Sayadpur to manage his father's estates. In the same way living among the rural poor, he became acutely sensitive to their hardships.
Many of the Tagore's themes centre around village life, introduction of 'western' elements, and their natural surroundings. His 1912 collection Galpa Guccha is based completely on rural Bengal. Furthermore his other notable works in this period include Sonar tari, Kalpana and Chitra.
Shantiniketan, Gitanjali and the Freedom Movements
Tagore was keenly aware of India's socio-political condition under British rule. Likewise he supported the Swadeshi movement and had been deeply influenced by the religious renaissance of 19th century India.
Coming out strongly against orthodox ritualism he wrote, "Leave this chanting and singing and telling of beads! Whom dost than worship in this lonely dark corner of a temple with doors all shut? Open thine eyes and see thy God is not before thee!" (Vs 11, Gitanjali)
Meanwhile in 1901, Tagore established Shantiniketan, (near Bolpur, Bengal) an institution blending Indian and Western methods of education.
Tragically, between 1902 and 1907, Tagore lost his wife, son and daughter. But out of his pain emerged some of his most tender work, including "Gitanjali", published in 1910. This collection of verses, translated into English by the poet himself, non Tagore the 1913 Nobel Prize for Literature. Two years later, Tagore was knighted by the British Empire.
But in 1919, the horror of the Jallianwalla Bagh massacre stunned Tagore and he renounced his title. Although, in a letter to the Viceroy he wrote, "The disproportionate severity of the punishment inflicted upon the unfortunate people and the method of carrying it out, we are convinced, are without parallel in the history of civilized governments and these are the reasons which have painfully compelled me to ask your Excellency to relieve me of my title.. "
Moreover Tagore remained a true patriot, supporting the national movement and writing the lyrics of the "Jana Gana Mana", which is India's national anthem.
Between 1916 and 1941, Tagore published 21 collections of songs and poems and held lecture tours across Europe, the Americas, China, Japan, Malaya, Indonesia etc… In 1924, he inaugurated the VISVA BHARATI UNIVERSITY at Shantiniketan, an All India Centre for culture. In fact Tagore died in Calcutta on 7th August, 1941.
Tagore's works are classics, renowned for then lyrical beauty and spiritual poignancy. He is remembered for his literary genius and Shantiniketan remains flourishing institute. In Tagore's own words, "The world speaks to me in colours, my soul answers in music".
---
Rabindranath Tagore Writings
Specifically he was awarded the Nobel prize in Literature for his collection of well known poems Gitanjali.
Poems Books of Rabindranath Tagore
Manasi 1890
Sonar Tari (Golden Boat) 1893
The Evening Songs
The Morning Songs
Kadi O Komal (1896)
Gitanjali (1910)
The Cresent Moon
The Gardener
Stray Birds
Fruit-Gathering
Lover's Gift
Crossing
Karna and Kunti
Sacrifice
Chaitali (Late Harvest) 1896
Kalpana (Dreams) 1900
Ksanika (1900)
Naivedya (Offerings) 1901
Famous Novels
Gora
The Wreck
Raja Aur Rani
Muktdhara
Raj Rishi
Ghar Baire
Nauka Dubi
Bindoni
Tagore's Famous Two Stories
Kabuli Wallah
Kshidit Pashan
Lyrical Plays
Chaitrangada (1892)
Malini (1895)
Jana Gana Mana was written by Rabindranath Tagore in 1910 when India was undivided. He is also the author of Aamaar shonaar Baanglaa, the National Anthem of Bangladesh. The first verse of Jana Gana Mana was adopted as India's National Anthem. Following is all the five verses of the song Jano Gano Mano.
Jana Gana Mana (India's National Anthem)
Jana Gana Mana Adhinaayak Jaya Hey,
Bhaarat Bhaagya Vidhaataa
Panjaab Sindhu Gujarat Maraatha,
Draavid Utkal Banga
Vindhya Himaachal Yamuna Ganga,
Uchchhal Jaladhi Taranga
Tav Shubh Naamey Jaagey,
Tav Shubh Aashish Maange
Gaahey Tav Jayagaathaa
Jana Gana Mangal Daayak,
Jay Hey Bhaarat Bhaagya Vidhaataa...
Jaya Hey, Jaya Hey, Jaya Hey,
Jaya Jaya Jaya, Jaya Hey!
Written by – Rabindranath Tagore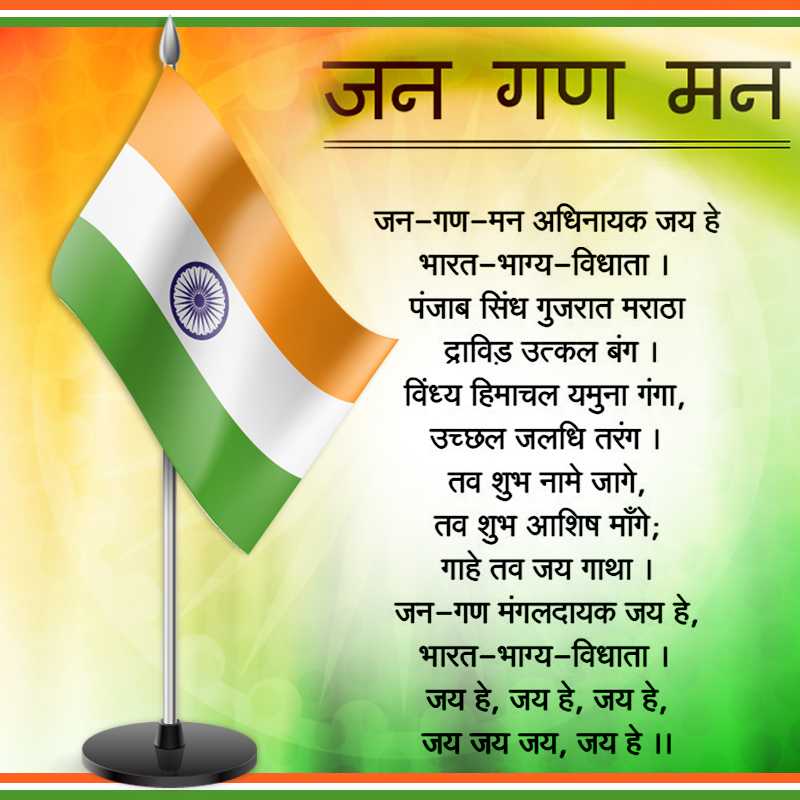 ---
Finally Thank you for reading article on Rabindranath Tagore. If you have more important information about Tagore's life, please provide to us.
Stay connected with JobsCaptain. For any suggestion do comment below.