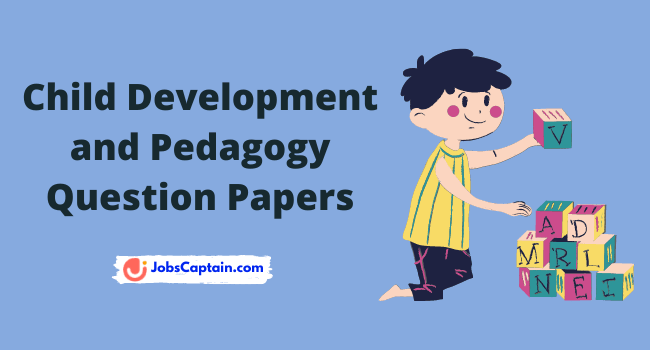 Are you looking for solved child development and pedagogy question papers? In this post, we have shared the last 10+ years PDF of child development and pedagogy objective question papers with answers.
In every CTET examination, 30 questions are asked from this subject. Before giving a government teaching examination, we suggest you refer to old question papers on this subject. It will give you competitive advantage, help you to understand the nature of the examination and help you to score good marks.
Let's read basic information and download child development and pedagogy question paper with answers pdf.
| | |
| --- | --- |
| Topic | Child Development and Pedagogy Question Paper (10 Years) |
| Exams | TET, CTET, UPTET, STET, UGC NET and all Stetes TET exams |
| Category | Question Papers |
| Language | Hindi and English |
Child Development and Pedagogy Question Papers
Here we share year wise latest question papers pdf with perfect solutions. These all CTET previous year papers of Child Development and Pedagogy subject will help you score good marks.
Child Development and Pedagogy Questions
1. Operant conditioning theory is propounded by _________ . (ऑपरेटिव कंडीशनिंग सिद्धांत ________ द्वारा प्रतिपादित किया गया है।)
(A) Hull
(B) Thorndike
(C) Hegarty
(D) Skinner
2. At which stage of childhood best friends are important? (बचपन के किस चरण में सबसे अच्छे दोस्त महत्वपूर्ण होते हैं?)
(A) Infancy stage
(B) Early childhood or toy stage
(C) Late childhood stage
(D) Adolescence stage
3.  Edward Thorndike is also labelled as _____________ . (एडवर्ड थार्नडाइक को _________ के रूप में भी लेबल किया जाता है।)
(A) Constructivist
(B) Connectionism
(C) Behaviourism
(D) Cognitivism
4. To inspire the weak student teacher should __________. (कमजोर छात्र को प्रेरित करने के लिए शिक्षक को __________ करना चाहिए।)
(A) Give them a seat on the first bench
(B) Applause and tell them to do good work
(C) Asked to pay some more attention to the class
(D) Not pay attention to them in the class
5. What term did Bandura use to refer to the overall process of social learning?
(A) Reinforcement
(B) Modelling
(C) Conditioning
(D) Self-efficacy
Also Read:
Thank you for reading. We are sure that the above questions papers PDF will definitely help you to upcoming CTET/TET or any private Teaching examination. Furthermore, if you want to ask something to experts then do comment below.