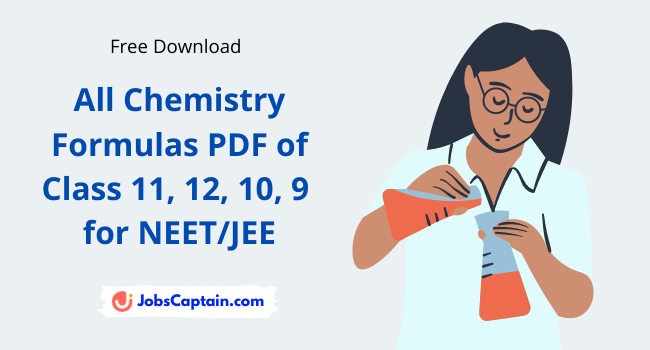 Are you searching the Chemistry Formulas for all Classes 9, 10, 11, 12 for NEET or JEE Examination 2022? Your search ends here.
Get free list of Chemistry formulas online at JobsCaptain. Solve out any chemical reaction using these formulas.
We made it extremely easy for you all Chemistry Formulas with Explanations.
| | |
| --- | --- |
| Book Name | All Chemistry Formulas PDF |
| Class | 9, 10, 11 and 12th Standard |
| Important For | NEET and JEE 2022 |
| Language | English |
Book Content
PHYSICAL CHEMISTRY

Atomic Structure
Stoichiometry
Gaseous State
Thermodynamics
Chemical Equilibrium
Ionic Equilibrium
Electrochemistry
Solution & Colligative Properties
Solid State
Chemical Kinetics & Radioactivity

 INORGANIC CHEMISTRY

Periodic Table & Periodicity
Chemical Bonding
Coordination Compounds
Metallurgy
s-Block Elements & their compounds
p-Block Elements & their compounds
d-Block Elements & their compounds
Qualitative Analysis

ORGANIC CHEMISTRY

Nomenclature
Structure Isomerism
General Organic Chemistry
Alkane
Alkene & Alkyne
Alkyl Halide
Alcohol
Grignard Reagent
Reduction
Oxidation Reaction
Aldehyde & Ketones
Carboxylic acid & Derivatives
Aromatic Compounds
Polymers
Chemistry Formulas on above all topics covered in below PDF book:
Download All Chemistry Formulas PDF
Chemistry Formula Handbook PDF for NEET 2022
Above all-important chemistry formulas of class 11,12 are useful for quick revision for JEE & NEET  2022.
Thank you for downloading the All Chemistry Formulas PDF for NEET/JEE. Further, if you have any questions then do comment below.