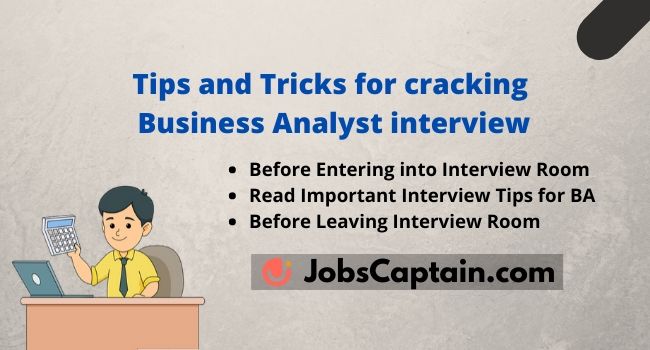 Are you in search of Interview Tips for Business Analysts? Have you ever come across for Jr. and Sr. Business Analyst by JobsCaptain, before? Read Tips and Tricks for cracking Business Analyst interview.
The article provides all the content and knowledge-base for individuals who are preparing for Business Analysts. Here we provide plentiful Interview Tips, which we hope may prove useful in your job interview preparation.
In this article, we'll outline 10 common business analyst interview tips and examples for the best ways to answer them. Whether you are preparing to interview a candidate or applying for a job, review our list of top Business Analyst interview tips.
Interview Tips for Business Analyst
Business analysts are in high demand. We divided this article into 3 main sections. Let's read.
Before Entering into Interview Room
Dress professional and sharp. Go with tried and tested clothing ensembles:
For men: Dark color suit, a pair of dress shoes, a matching belt with shoe color.
For women: A suit or dress with a blazer can also be opted, depending on comfort.
Pay attention to small details in your attire: tied buttons for shirt/sleeves, polished/clean shoes, neatly tucked-in shirt, spotless, and steamed clothing.
Stay away from accessorizing your look too much (it may not look work-appropriate).
Any visible nails (fingers/feet) should be properly trimmed, should look presentable.
Breath should be odorless. Do not chew gum during the interview process. If you had chewed a gum right before the interview, rinse your mouth or drink some water not to smell strong.
Do not spray strong fragrance cologne in excessive quantity.
Well obvious but often missed: put your phone on silent mode or switch it off.
If you are wearing a digital watch, make sure it is silent and does not make any notification sounds while you are in the interview.
If you get stressed/tensed before an interview, do things that comfort you down (e.g., quick meditation). Talking to your friends, family, mentor right before an interview also boosts confidence. You should present yourself confidently and professionally.
Read Important Interview Tips for Business Analyst
Greet the interviewer/panel with a firm handshake and appropriate greeting.
Carry along three hard-copies (no fold, no wrinkles) of your resume and keep some samples of your work or work-accomplishments, in case you get asked to present.
For the first five minutes, you will have the maximum attention from the interview panel, make sure you practice well the 'About Yourself' question.
Clarify any interviewer's questions/concerns about your profile in detail if they have any.
Practice the STAR (Situation, Task, Action, and Result) technique of answering situation-based questions. Provide examples from previous employment experience and fine-tune to bring forward an answer which resonates with your personal style and is believable.
It is advisable to link your situation/story to some deficiency that you had witnessed while in the situation. You will have all buy-ins from the recruitment panel when you answer in a way that elaborates on 'how you make decisions.' This helps the hiring manager recognize your core decision-making mechanism, leadership skills, resourcefulness in accumulating information, and your ability to make sound decisions.
Make sure your speech does not make you sound brash about your achievements and convey others as a failure. If you must talk about a negative incident, talk with humility and sincerity in your speech (it does not sound professional when you snitch about your co-workers and portray yourself as the only righteous person).
Learn all the skills, keywords, and abbreviations mentioned in your resume. It can really count against you if you are unable to explain anything from your resume. Do not interrupt the flow of the interview, by asking questions before you are given a chance to ask. The interviewer will give you enough time to ask questions that you may have prepared from before/thought about during or after the interview.
This book takes a holistic approach to provide Business Analysis interview questions and answers. It is recommended to read through the sample questions and answers a couple of times. Prepare the first few interviews by practicing your answers in front of a mirror or friends and family.
Pay attention to your facial expressions and body language throughout the interview. Maintain eye contact with all the panel members.
Research the company and interviewers' profiles. Also, prepare your answer, 'why do you want to work for this company?'
Do some research well before the interview regarding the salary range for the experience you possess, the industry you would be interviewed for, and the job requirements.
Do not initiate salary/compensation discussion, unless initiated by the interviewer. Always have a desired salary range in mind for each position (e.g., $65,000-$75,000 annually). If it is a contractual position, provide an hourly rate range for the compensation expectation.
Some sample questions that you can put forth for the interviewer (it is wise to prepare a few questions ahead of the interview):
Can you discuss more about the project?
What is the team size for this particular project?
Methodologies of processes being followed
Further steps in the hiring process?
How is performance measured in this role?
Before Leaving Interview Room
Send a 'Thank You' note on the same/next day of the interview, expressing your gratitude for taking the time to interview you. Show how you are still excited to be a part of the team. Make sure the note is short and sweet. You can follow-up with the hiring contact after a week or so.
Any answer should not exceed two to three minutes. You may need to adjust the answer time, depending on the
question. Do not speak too fast or too slow. Watch your pace, specifically when the interviewers are making
notes of your answers.
As the interview gets wrapped up, exit while thanking the panel with a solid handshake. Express how you await
the decision.
At last, it is not always necessary that you get selected for the position you interviewed for, even though your interview went well. Do not feel demotivated or lose hope if you fail the interview(s). Remember, it is a process, and it may take time and revisions. You should keep putting in efforts and hard work in the right direction and eventually, you will achieve success.
What to Do First Few Days as a Business Analyst?
The first few days as a "BA" in any domain may seem overwhelming because you are processing a lot of information, also trying to understand and retain most of the aspects of the project. This gets much easier later on once you acquire all the knowledge required and start utilizing it efficiently.
The more you understand the nuances of the project, the easier it becomes eventually. Use your Business Analysis skills by taking notes and analyzing different documentations to make the whole process fun.
This section explains the day-to-day procedures of starting a new role; it also defines the key initiatives taken by a Business Analyst in the first few days. This daily routine may help you understand the Business Analyst role even more clearly.
All information in this section is of high importance for a new or experienced BA. It is advisable for all "BAs" not to undermine this section. Find below the practical and real-time day-to-day process.
Day 1 as Business Analyst
I arrived at the workplace as early as 15-20 minutes before my reporting time. I wore regular office attire and was not super dressed up as this was going to be a regular workday.
Prior to my start, I had received an instructive e-mail from the HR manager, which detailed reporting time and who to contact along with some information on parking at the facility. I was also informed to bring some identification card cards and void cheques for the payroll setup.
At 8:45, I checked in at the reception and asked for the concerned person. At security, I was given a visitor's tag as a means of identification for the day, which I was expected to return by the end of the day.
Approximately at 9 AM, I met with the HR Manager. After exchanging greetings, I was given a quick tour of the building and took that as an opportunity to introduce myself to the departmental personnel in IT, Marketing, and Project Management Office.
After engaging in pleasantries with my new colleagues, there was an orientation program scheduled in one of the board rooms, for new hires, including myself.
I was provided with an overview of the company's operations which included familiarization around its market position, customer base, accountability to reporting bodies and other functional aspects.
The presentation was well put together and a valuable source of information as I learned many key things about the company I will be working for. The Director of the department I was going to work for did a brief stint in explaining what they do, their strategic clients, processes that they have in place, current active projects, and their existence in the specific business domain.
Around noon, we had lunch, and I was accompanied by my PM and Director of applications.
After lunch, I was shown a presentation on workplace safety, security, and insurance, which was later followed by a quick chat with the HR on the internal Code of Ethics & Policies & Procedures.
Orientation was concluded by the IT dept. where they briefed us on company's IT tools, systems/softwares in use, and training on Intranet.
I was provided with a work laptop and given a short walk-through on accessing relevant files and drives.
Day 2
I submitted the required paperwork to HR and also had my permanent access card handed over.
With the help from the department's Administrative Assistant, I set up my desk phone, desktop screens and installed drivers for printing.
(It is not necessary to know all the technical part about how to connect and get access to various devices in order to start up your work. The support team is always there to help you. Keep the support contact emails handy as you may come across some technical forest-up issues in the first few days.)
Initially, I copied my immediate supervisor/ PM, on all communications initiated by me.
I had to request the developers to grant me access to the tool I was assigned to work on. They provided me with access and a quick walk-through of the tool. The usability seemed a bit complex as this was my very first time using the particular tool, but with the help of training manuals, I picked up on the software after a few attempts/playing around.
Later on, I attended a team meeting where project objectives, milestones, timelines, and my responsibilities were discussed.
(This project was more of an enhancement initiative, so I could benefit from the working application (up & running) to formulate my understanding about the system and rely on its configuration for my AS-IS requirements.)
I was proactive in the session and asked several questions related to the application and project to get the facts and figures straight.
It was agreed that I'd meet the PM for 30 mins on a daily basis for a few weeks to discuss many deliverables/tasks on the project. Concurrently, similar meetings were to be established with the development team so that I can further clarify my understanding of the technical aspects of the system.
I was diligent in taking meeting minutes, identifying follow-up actions on my laptop, which later did in fact, help me prioritize the tasks, and stay on top of my commitments.
Day 3 as a Business Analyst
I checked my meetings for the day and responded to emails first thing in the morning. Later on, I continued to work on drafting the use case scripts and polishing the draft project plan, which I had created the previous day.
(Usually, as a BA, you do not prepare the Project Plan as has been discussed earlier in the book; it is a part of the job function of a Project Manager. Here, I was also playing the role of a Project Lead, so this was one of my responsibilities.)
A meeting was scheduled with developers today, and I was able to learn more about the existing tools; Mainly focused on learning about the domain and existing application.
Towards the end of the day, I shared a status update document with my manager, which tracked the tasks assigned to me and their status to completion. I also forwarded working documents for their review.
Day 4
I was asked by the PM to set up recurring meetings with the business advisors starting next week, and I did so by firstly checking the attendees' calendars and ensuring there were no/minimal conflicts. Secondly, I prepared a meeting agenda which basically included Application status, List of new requirements, open discussion topics, follow-up questions, notes, and remarks).
I also spent time updating the RACI matrix, which I had started preparing the previous day.
In addition to that, I spent my afternoon working on updating process flows and creating new use case scripts with a team member.
Working with a team member allowed me to understand the writing style that goes in this organization (as some may have their own way of writing use case scripts) and only record correct/valid details.
Gradually, I started obtaining positive feedback from my team/PM on the work I have been doing in the last few days. This boosted my confidence and inspired me to continue working smart in the achievement of project goals.
Day 5
Finally, one of my major requirements documents got approved by users, although some of those requirements were later modified as user participation/attendance increased in my meetings (this document consisted of 4 requirements in total).
I continued working on previously undertaken tasks and updating documents. (By day 5, work seems to be getting simpler as my familiarity rises).
In a meeting today, I discussed the next steps in the development plan with the technical team members.
For the next few days, I will be working to finalize, gather, and document new requirements with the stakeholders. Upon completing this, I intended to share the document with the developers, and concurrently work with the business and technical teams to deliver the project modules.
Read Business Analyst Job Interview Questions With Answers.
Hope you had a wonderful time reading this article, we wish you the absolute best of success as a Business Analyst! Team JobsCaptain Thankful to Author Mr, Reelav Patel, and Miss Kriti Rathi.
More Offering From JobsCaptain
Thank you for reading this Interview Tips for Business Analyst article. Keep Connected with us.