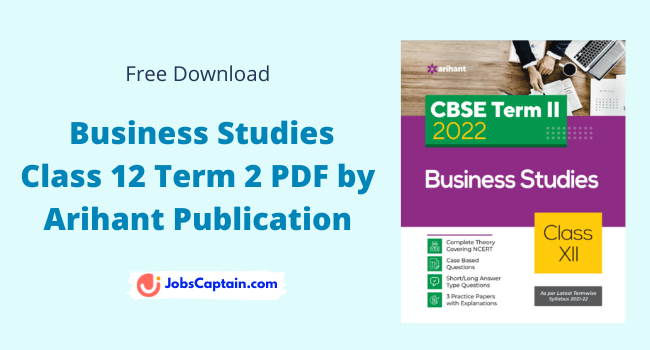 Hello Class 12th students,
Are you searching for Arihant Publication's Class 12 Business Studies Term 2 PDF Book? If yes then you have reached the right place. Here we have given direct download link and also added Business Studies Class 12 syllabus 2022.
This PDF book will boost your preparation and also help you to score excellent marks in your exam.
Let's read some basic information for Arihant Business Studies Class 12 Term 2 book:
| | |
| --- | --- |
| Name Of Book  | Business Studies Term II [CBSE] |
| Class | 12th (Class XII) |
| Author | Nidhi Jain |
| Published By | Arhiant Prakashan (School Division Series) |
| Language | English |
| No. Of Pages | 129 |
Book Content: Arihant Business Studies Class 12 for Term 2
This book is divided into two parts as per the latest syllabus of Class 12 Business Studies subject.
Part A: PRINCIPLES AND FUNCTIONS OF MANAGEMENT
1. Staffing
Staffing: Concept and Importance
Staffing Process
Recruitment Process
Selection Process
Training and Development – Concept and importance, Methods of training – on the job and off the job -vestibule training, apprenticeship training and internship training
2. Directing
Directing: Concept and importance
Elements of Directing
Motivation – Concept, Maslow's hierarchy of needs, Financial and non-financial incentives
Leadership – concept, styles – authoritative, democratic and laissez faire
Communication – concept, formal and informal communication;
3. Controlling
Controlling – Concept and importance
Steps in process of control
Part B: BUSINESS FINANCE AND MARKETING
1. Financial Management
Financial Management: Concept, role and objectives
Financial decisions: investment, financing and dividend- Meaning and factors affecting
Financial Planning – concept and importance
Capital Structure concept and factors affecting capital structure
Fixed and Working Capital – Concept and factors affecting their requirements
2. Financial Markets
Financial Markets: Concept, Functions and types
Money market and its instruments
Capital market: Concept, types primary and secondary, methods of floatation in the primary market
Stock Exchange Meaning, Functions and trading procedure
Securities and Exchange Board of India SEBI – objectives and functions
3. Consumer Protection
Concept and importance of consumer protection
The Consumer Protection Act, 2019 source: Meaning of consumer, Rights and responsibilities of consumers, Who can file a complaint, Redressal machinery, Remedies available
Consumer awareness – Role of consumer organizations and Non-Governmental Organizations NGOs
Features Of The Book:
Complete Theory Covering NCERT
Case Based Questions and Answers
Short/Long Answer Type Questions
Practice Papers with solutions
Every Chapter Contains Business Studies MCQ with answers for Term 2
Let's  download this book:
CBSE Term II 2022: Business Studies Class XII (12) PDF by Arihant Publication – Download
Arihant Publication's this  "CBSE Business Studies Term II" of Class 12th provides great explanation and guidance to the syllabus required to study efficiently and succeed in the exams. The book provides maximum topical coverage of all the 6 chapters in a complete and comprehensive manner.
Thank you students for reading the post. We will soon add Arihant's sample papers PDF for class 12 business studies [Term 1 and 2].
Also Check:
Furthermore, if you need any help for Arihant Business Studies Class 12 Term 2 or for any other study syllabus just let us know just by comment below the post so that we solve your problems and doubt so you can score excellent marks in your exam.