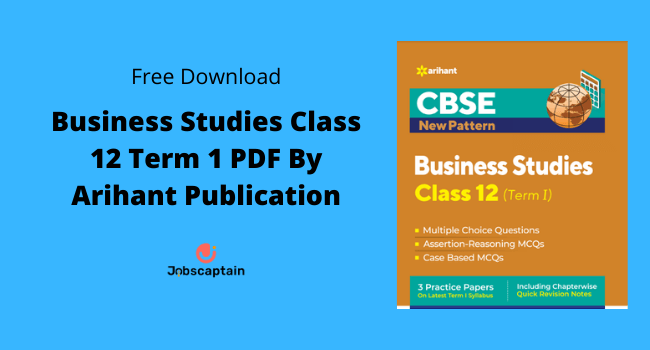 Hello Class 12th students,
In this post, we are going to share with you Business Studies Class 12 Term 1 PDF book by Arihant Publication. This book was made as per the CBSE new pattern 2022.
This book is full of knowledge and we recommend you, if you want to score good marks in your 12th exam then do read this book carefully.
Let's read basic information and download Arihant Business Studies Class 12 PDF book for Term 1:
| | |
| --- | --- |
| Name Of Book  | Business Studies Term I [CBSE] |
| Class | 12th (Class XII) |
| Author | Nidhi Jain and Abhishek Jain |
| Published By | Arhiant Prakashan (School Division Series) |
| Language | English |
| No. Of Pages | 143 |
Book Content: Arihant Business Studies Class 12 for Term 1
This book is divided into two parts as per the latest CBSE syllabus of Class 12 Business Studies subject.
Part A: PRINCIPLES AND FUNCTIONS OF MANAGEMENT
1. Nature and Significance of Management
Management – Concept, Objective and Importance
Management as Science, Art and Profession
Levels of Management
Management functions – Planning, Organizing, Staffing, Directing and Controlling
Coordination – Concept and Importance
2. Principles of Management
Principles of Management – Concept and Significance
Fayol's Principles of Management
Taylor's Scientific Management Principles and Techniques
3. Business Environment
Business Environment – Concept, Importance and Limitation
Dimensions of Business Environment – Economic, Social, Technological, Political and Legal
Concept of Demonetization
Impact of Govt Policy changes on Business
4. Planning
Business Environment – Concept, Importance and Limitation
Planning Process
Single use and Standing Plans – Objectives, Strategy, Policy, Procedure, Method Rule, Budget and Programme
5. Organizing
Organizing: Concept and Importance
Process of Organizing
Structure of Organizing – Functional and Divisional Concept
Delegation: Concept, Elements and Importance
Decentralization: Concept and Importance
Concept of Formal and Informal Organisation
Part B: BUSINESS FINANCE AND MARKETING
1. Marketing
Concept, Functions and Philosophies of Marketing – Product, Prize and Standard
Marketing Mix – Concept and Elements
Product – Branding, Labeling and Packaging – Concept
Price – Concept, Factors Determining Price
Physical Distribution – Concept
Promotion – Concept and Elements, Advertising, Personal Selling, Sales Promotion and Public Relations
Features Of The Book:
Important Multiple Choice Questions with Answers are given
Assertion – Reasoning MCQs
Case Based MCQ's
Quick revision notes will save your times
Previous year asked questions available with proper solutions and detailed explanations
Let's  download this book:
CBSE Term I 2022: Business Studies Class XII (12) PDF by Arihant Publication – Download
This book is highly recommended by toppers of the previous year. So, we know the importance of this book so sharing it with you. Please read and hopefully, you will score good marks in your upcoming 12th examination.
Download Class 12 Business Studies Term 1 MCQ PDF book by Arihant Publication:
Thank You students for reading and visiting our site. If you liked above PDF books then please do share with your friends and colleagues. It will also be helpful to them also.