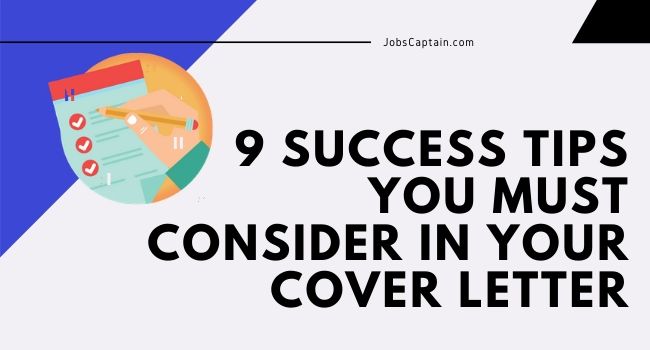 The main purpose of a cover letter is to introduce a job seeker to a prospective employer and to sell the job seeker in the best manner possible.
In order to succeed in this talent sales' venture then your cover letter must not fall short of the following guidelines.
Tips You Must Consider in Cover Letter
Let's read 9 Success Tips You Must Consider in Your Cover Letter.  A Guide to Writing a Cover Letter that Impresses Your Reader.
Make Letter short and precise
One page of a cover letter is perfect. Half a page is better. Two paragraphs is even better. Make sure you present a very succinct about you to the employer. This will present you as a great communicator.
Be Professional and Concise
Avoid unnecessary humor in your cover letter. Try as much as possible to strike and maintain a business tone throughout.
Sing Aloud Your Praise
Always put yourself in the positive light and never give hints that
you may be under qualified for the available position even if you think you are.
Strike a Comparison Between The Cover Letter and Your CV
Never mention work experience in the cover letter that isn't included on your CV. Failure to observe this will quickly fade all your chances of ever making it to the interview level.
Be Grammatically Sound
Go through your cover letter again and again to ensure that it contains no typos or poor grammar. Always engage a trusted friend who is grammatically superior to proof read the cover letter for you. A second eye could see what escaped your attention.
Clearly Understand The Job You Are Applying For
Be specific. Know the job title. Never say you'll take anything available. NEVER BE AMBIGUOUS IN YOUR COVER LETTER. You are a professional. State the job title you want to be considered for in the first paragraph of your cover letter.
Why You Want to Work
Be clear on why you want to work with that employer and present this in a way that will prove you did your research pretty well. Demonstrate that you understand the business you want to join and that you are also able to see an opportunity for self-fulfillment with the same employer. This is information you include in the first paragraph of the cover letter.
Demonstrate the Contributions
Clearly demonstrate the contributions you will make to the employer. This is paragraph number two. Ask yourself how your set of skills and past experiences will directly impact the company. This paragraph can be called the "What can you do for the employer?" section.
Not Conclude a Letter With…
Never ever conclude a letter with a facetious "I hope you call me" type of ending. Always specify a date that you will follow-up with the company and how you will follow-up.
Applying these cover letter tips will help you keep the lead in the job hunting pack.
Recruiters routinely discard many applicants because a poorly written cover letter. Since your goal is to get in the door for an interview, taking the time to create a winning cover letter is a tactic you can only ignore at your own risk.
Read here Career Guidance Tips and Interview Tips.
Thanks for reading "9 Success Tips You Must Consider in Your Cover Letter", If you need any help regarding cover letter writing, please do comment below.