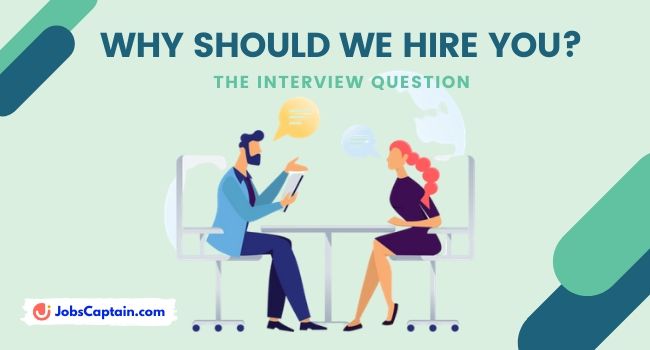 Today we discuss about most frequently asked question in Interview : Why Should We Hire You?
Probably you are no stranger to the fact that some questions during the job interview are not exactly work related, but constitute major reasons why your job interview does not provide the results that are in your best interests
[Read more about
Interview
]
One such outstanding question is: "Why should we hire you?" Basically, this question is one of the important ones' during the interview.
For one, the interview question "give us reasons to hire you?", "why should we employ you?" or "what can you bring to our company?" is the interview question segment that distinguishes the top candidates from the crowded race. It clearly shows the candidates who understand the task ahead of them, the roles they are to execute and how to execute the same.
To a novice in the job interview process ,especially fresh graduates, this question will definitely hit them as a surprise. The question also clearly separates the people who are just casually looking for a job and the people who are really seeking the same job.
Any job candidate who has prepared him/herself adequately will certainly come across this question as one of the most frequently asked and will also know how to handle it to his/her benefit.
The Most Appropriate Answer
Remember that while tackling this question, the interviewer should not at any point be made to believe that the job candidate's response signifies arrogance, egotistical tendencies or rather unrealistic values. As a job candidate you should focus on providing reasons to hire you over someone else in the best way you can.
The interviewer number one concern or interest in knowing how you are going to create value. Therefore, focus on 'value creation' when answering this interview question.
Some Points to Consider
In preparation to this question, always make a short list of all your advantages or strong points and create a paragraph that would point out the positive aspects that you would bring to the new job position.

Remember to make mention of the similarities between the job profile you are being interviewed for to the job profile you enjoyed in your previous assignment.

Do not forget to inform the interviewer about your key skills and strengths, such as quick learning, excellent communication skills, etc.

Clearly spell out your professional ambitions  – the motivation and dedication that you have for the profession and the position vacant.

Make sure that your answers do not come out to be too much about yourself or rather to be depicted by the interviewer as conceited.

Be mindful of your body language as you answer this question since it speaks louder than your words. For example, your body language should make it clear that you have thought it over and given a carefully worded answer, instead of coming up with a made up, contrived response.
While responding, firstly, take one of the job requirements, then focus on one of your related strengths/skills and give a concrete example of a success story based on your past work experiences to support your point. Break the job requirements into fragments and continue in this manner.
You might employ phrases like:
The job is tailored to my (or – I will bring my) experience, knowledge base and abilities and I believe I can maximize my skills for the benefit of the business.
In summing up this question, it is imperative for a job candidate to understand that it definitely forms a crucial "make or break" moments in a job interview for a number of reasons:
Before this question, you've already talked about your experience, your education, your strengths and weaknesses and your skills. What else can you say to the interviewer or potential employer?
Other candidates probably answered this question and this is your most excellent chance to distinguish yourself from the others.
You have been awarded a chance to sell yourself and surely – go and sell yourself.
The interviewer wishes to observe what you can bring to the company – what your real value is.
You cannot afford to let go off another chance by flopping with this interview question. THINK SMART, THINK RIGHT
Remember the potential employer/s is offering you a ladder to a professional career with a good salary and benefits. What are you offering them in return? Can you guarantee your prospective employer that you are a "GREAT RETURN ON INVESTMENT" to the business.
JobsCaptain empowers and inspires your career aspirations.