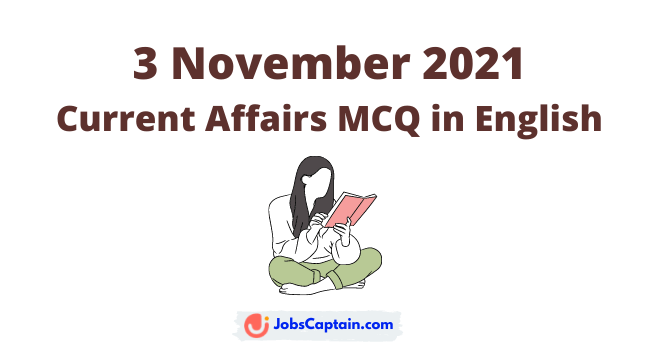 Here are Today's Current Affairs and Headlines by JobsCaptain for November 3, 2021.
Question: Which bank has partnered with NPCI to launch Rupay Credit Cards 'Veer' for Armed Forces?
(A) HDFC Bank
(B) ICICI Bank
(C) Yes Bank
(D) Kotak Mahindra Bank
Question: Indian Railway Catering & Tourism Corporation Limited (IRCTC) has partnered with which of the following to provide passengers with greater trust in communication?
(A) Facebook
(B) Google Play
(C) Truecaller
(D) Yellow Pages
Question: Narendra Singh Tomar inaugurated "Apple Festival" in which of the following State/UT?
(A) Andaman and Nicobar Island
(B) Jammu and Kashmir
(C) Uttarakhand
(D) Chandigarh
Question: Union Minister Dr. Jitendra Singh dedicates 'Sardar Patel Leadership Centre' to the Nation in ___________.
(A) Manali
(B) Nainital
(C) Mussoorie
(D) Srinagar
Question: The Union Minister of Cooperation Shri Amit Shah launched the "Dairy Sahakar" scheme. The total outlay of the Dairy Sahakar scheme is ________.
(A) Rs 1000 crore
(B) Rs 2000 crore
(C) Rs 3000 crore
(D) Rs 5000 crore
Question: Microsoft has taken over which company to become the largest company by market cap?
(A) Apple
(B) Google
(C) Intel
(D) Adobe
Question: Name the new Chairperson of the National Company Law Appellate Tribunal (NCLAT).
(A) Vimal Jallan
(B) Ramalingam Sudhakar
(C) Dilip Asbe
(D) Ashok Bhushan
Question: Asgar Afghan has announced retirement from all forms of cricket. He played for which country's national cricket team?
(A) Pakistan
(B) England
(C) Bangladesh
(D) Afghanistan
Question: Which Indian state has topped the Public Affairs Index (PAI 2021)?
(A) Tamil Nadu
(B) Kerala
(C) Telangana
(D) Gujarat
Question: Who among the following has agreed to spend $6 billion to solve world hunger if the UN shares a spending plan?
(A) Jeff Bezos
(B) Elon Musk
(C) Bernard Arnault
(D) None of above
Question: Which state's chief minister has launched Mission Clean to curb illegal sand mining and liquor trade?
(A) Maharastra
(B) Punjab
(C) Tamil Nadu
(D) None of above
Question: India and World Bank sign USD 40 million agreement to strengthen health systems in which Indian state?
(A) Gujarat
(B) Meghalaya
(C) Punjab
(D) None of above
Question: What is the Oxford English Dictionary's 2021 Word of the Year?
(A) Vax
(B) Lox
(C) Max
(D) None of above
Question: From which country Indian Navy stealth frigate Tushil launched? 
(A) Yantar Shipyard in Russia
Question: Which edition of 'Ganga Utsav 2021 – The River Festival' begins?
(A) 7th
(B) 5th
(C) 9th
(D) None of above
Question: Who has become the first player in the world to take 100 wickets in T20 International cricket as the fastest (53 matches)? 
(A) Varun Chakravarthy
(B) Rasid Khan
(C) Rashid Khan
(D) None of above
Question: Who has been appointed by the US Senate as the director of the National Drug Control Policy?
(A) Indian-American Rahul Gupta
Question: Who among the following has been appointed on the Board of Trustees of the prestigious Smithsonian's National Museum of Asian Art? 
(A) Isha Ambani
Question: India's Chief Election Commissioner (CEC) Sushil Chandra has recently overseen the presidential election of which country? 
(A) Uzbekistan
(B) Krygistan
(C) Oman
(D) None of above
Question: Which country will host Conference of Parties (COP-26) on climate change?
(A) UK (Scotland)
2 November 2021 Special Notes For Competitive Examination
Union Education Minister launches Bhasha Sangam initiative for schools, Bhasha Sangam Mobile App and Ek Bharat Shreshtha Bharat Mobile Quiz. (Union Education Minister Dharmendra Pradhan)
Amit Shah inaugurates elevated corridor on Ahmedabad-Gandhinagar highway.
Australian Cricket legend, Alan Davidson, passes away at 92.
New Zealand names critically endangered native long-tailed bat as Bird of the Year. It is also known as the long-tailed wattled bat or pekapeka tou-roa.
Sports ministry upgrades three new facilities in Lucknow, Delhi and Chennai as KISCE. Khelo India Sports Centres of Excellence
(KISCE).