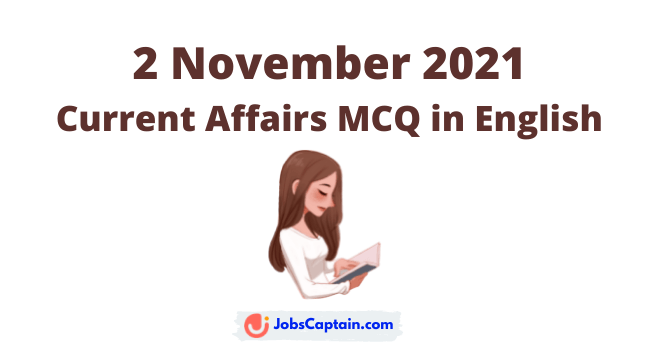 In this post, we discuss the latest Current Affairs in English MCQs for November 2, 2021. The Current Affairs Questions in this post are based on JobsCaptain's today current affairs 2021.
Also, read Monthly Current Affairs of November 2021.
Question: Which UT top in Public Affair Index 2021?
(A) Puducherry
(B) Diu & Daman
(C) Chandigarh (0.628)
(D) None of above
Question: What is the theme of the 2021 World Savings Day (formerly known as World Thrift Day)?
(A) Savings give life a lift
(B) When you save a bit, big things follow
(C) Understanding the Importance of Savings
(D) What do you wish for?
Question: Dr. M Krishnan Nair who has passed away recently was one of the well-known ___________.
(A) Surgeon
(B) Anaesthetist
(C) Pathologist
(D) Oncologist
Question: What is the interest rate on employees' provident fund (EPF) deposits for 2020-21?
(A) 6.1%
(B) 7.4%
(C) 8.5%
(D) 8.1%
Question: The US state of Georgia has announced to celebrate which Indian language as 'Rajyotsava Day'?
(A) Tamil
(B) Kannada
(C) Malayalam
(D) Telugu
Question: The National Commission for Women (NCW) has collaborated with which organization to launch Legal Awareness Program for Women, titled "Empowerment of Women through Legal Awareness"?
(A) Central Vigilance Commission (CVC)
(B) National Legal Services Authority (NALSA)
(C) NITI Aayog
(D) Competition Commission of India (CCI)
Question: India's First Manned Ocean Mission was officially inaugurated by Dr. Jitendra Singhin Chennai. What is the name given to the mission?
(A) Neernidhi
(B) Sagaryan
(C) Samudrayan
(D) Sindhuyan
Question: India's biggest aromatic garden has been inaugurated in which of these place? 
(A) Gurgaon
(B) Nainital
(C) Jaipur
(D) Pune
Question: Which institution released a report titled 'The Road from Paris: India's Progress Towards its Climate Pledge'? 
(A) United Nations Children's Fund
(B) Natural Resources Defense Council
(C) United Nations Development Programme
(D) None of above
Question: ………………………. Shatabdi Express get IMS certification? 
(A) Chennai-Mysore-Chennai
(B) Banglore-Delhi-Banglore
(C) Ahemdabad-Mumbai-Ahemdabad
(D) None of above
Question: Union Minister Dr Jitendra Singh dedicates 'Sardar Patel Leadership Centre' to the Nation in ___________.
(A) Surat
(B) Mussoorie
(C) Kolkatta
(D) None of above
Question: Who has been appointed as new chairperson of NCLAT?
(A) Ashok Bhushan
(B) Karthil Mathur
(C) Subhash Poyla
(D) None of above
Question: Who has been appointed as CEO of KPMG India?
(A) Leake Hangala
(B) Yezdi Nagporewalla
(C) Berthold Mukuahima
(D) None of above
Question: In which State Union Minister Amit Shah launches the "Dairy Sahakar" scheme?
(A) Rajsthan
(B) Gujarat
(C) Kerela
(D) None of Above
2 November 2021 Special Notes For Competitive Examination
Melbourne Cup Day: Melbourne Cup Day has been celebrated annually on the first Tuesday of November as a public holiday in the state of Victoria since 1877. Melbourne Cup, a prestigious Australian thoroughbred race held on a grass track. The 3,200m long race is open to thoroughbred horses 3 years of age and over. With a winning purse of 6.2 million Australian Dollars, it is one of the richest races in the world.
16th G20 Summit 2021: Prime Minister Narendra Modi visited Rome and the Vatican City from October 29 to October 31, 2021, at the invitation of Prime Minister of Italy Mario Draghi. The theme of the 16th G20 Summit 2021 is People, Planet, and Prosperity and it has come from the 2030 UN Agenda for sustainable development.
Kotak Mahindra Bank partnered NPCI to launch Rupay Credit Cards 'Veer' for Indian armed forces i.e. the Army, Navy, and Air Force personnel.
UNSC Resolution 2601 (2021): Unique first-of-its-kind resolution to urge armed conflict parties to immediately safeguard the right to education and ensure the protection of schools. The 15-member UNSC unanimously adopted Resolution 2601 (2021) while
strongly condemning attacks against schools, children, and teachers.
Indian Navy receives first P15B Guided-Missile Destroyer. Vishakhapatnam, a stealth-guided missile destroyer, has the capability of launching guided anti-aircraft missiles from its deck.
Asgar Afghan, the former Afghanistan skipper, announces retirement from International Cricket.