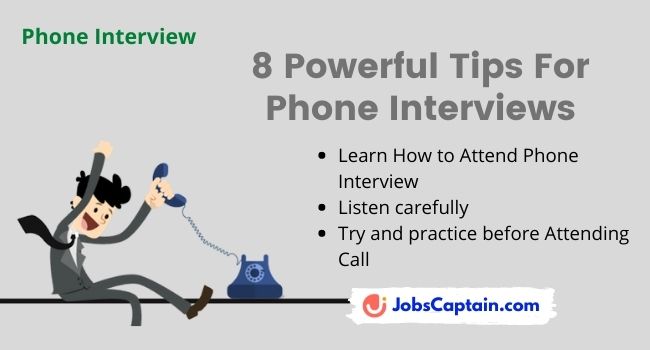 With the speedy revolution in the technology and communication universe, employing entities haven't slackened in embracing the same to their profit in terms of cost cutting and in efficiency & effectiveness (time saving). Chief among this is the use of phones to conduct interviews by employers.
This concept is spreading very fast and any candidate who applies for a job opening should be prepared to receive and an invitation for a phone interview.
Most employers will through their recruiting personnel or agencies inform a candidate of the intended interview well in advance so as to get yourself prepared.
Although during the phone interview you might feel safer with some distance between you and the interviewer, you still should be just as professional as you would in the instance of a face to face interview.
Here are eight (8) success tips you should observe when having a phone interview;
Always seek for a quite place to take the call
---
Just like in room set-up try as much as possible to avoid any kind of distraction that will sway your concentration from the interview. Laptops, idle phones, loud roommates, family members and crying children, family dogs/pets could all be a source of distraction and could affect your interview performance.

Be candid with the interviewer
---
if it is not the right time to talk (especially if the interview came without prior call notification). Any sensible and professional recruiter will understand this. Appreciate the recruiters' call, confirm the call-back number and reschedule the most immediate time when you will be ready for the session.
Have your resume and a pen and paper ready with you
---
You are bound to get questions relating directly to your resume and at that point you do not want to excuse  yourself to get the document or start moving up and down trying to locate it in the house.
Use the pen and paper to jot down a number of action points and important issues that will come up during the interview.
Be positive and enthusiastic
---
Try as much as you can to smile since the interviewer can hear/percieve it in your voice. This will greatly boost your mood and calm your nerves.
Smiling is such a powerful tool that is bound to shift an interview from a hostile or plain session into a friendly dialogue.

Always learn to stand up
---
Always learn to stand up since this will make you fill more confident as you respond to the questions posed to you.
Listen carefully to the questions directed your way
---
Also be extra keen on the answers or responses the recruiter gives to your questions. This alertness will help you know when and whether to shift the interview gears and which approach to uphold.
Have some well researched questions prepared to ask the interviewer
---
Just like on a face to face interview you will never escape the "Do you have any question for me/us?" Do not let yourself be caught pants down.
This simply means that as you send out your job application details, you should start preparing and anticipating the phone interview.

Try and practice a mockery phone interview
---
Try and practice a mockery phone interview with a trusted friend who should assume the role of a interviewer. This will help in building your confidence as well.
Though this might sound more like a common sense issue be wary and ensure that your phone has enough battery charge and that you are in a place with great network coverage to avoid embracing interruptions during the interview.
10 Types of Job Interviewers You WILL Face During Your Job Search
Read other important tips for Phone Interview:
Ensure that you have a good phone whose voice production isn't muffled.
Remember not to change the telephone line/number you supplied to the recruiter when applying for the job.
Be prepared for the phone interview just like you would the conventional face to face session.
Thank you for read 8 Powerful Tips For Phone Interviews, that will help you get hired. If you have any questions regarding phone call interview, do comment below your query.