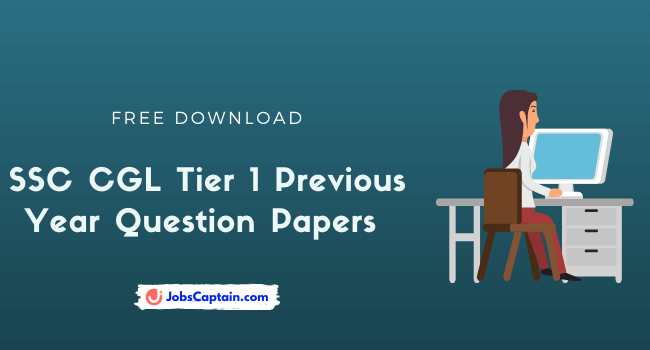 The SSC CGL examination is extremely popular in India because cracking it means getting a lucrative, well-paying job. SSC conducts CGL examinations every year and lakhs of candidates register for them. SSC CGL Tier I Exam requires a good practice of Quantitative Aptitude and General English. Therefore, here we are providing you SSC CGL Tier 1 Previous Year Question Papers PDF of  English, Reasoning & GK for a better understanding of the SSC Tier I Exam.
SSC CGL Tier 1 Question Papers can be very beneficial to the aspirants willing to give the SSC CGL exam. The SSC CGL Tier 1 previous year question paper PDF can help them to understand the difficulty level of questions asked in the exam and can also help them to understand the exam pattern. SSC CGL previous year questions pdf can also act as mock tests for candidates thus helping them practice the questions. Get SSC CGL previous year question paper with solutions in Hindi & English, which are provided below.
SSC CGL Tier 1 Old Question Papers PDF
Attempting the SSC CGL Previous Year paper will help you to manage your time during the exam. SSC CGL Exam Previous Year Question Papers will help you identify the exam pattern. Below we have compiled the past few year's papers of SSC CGL Exam Previous Year Question Papers. These papers give a fair idea about the what types of questions asked, the difficulty level of the exam, and the time needed to solve every section. Though the pattern of exams is constantly changing over the years. But the broad structure remains the same.
You can directly download the Question paper PDF of SSC CGL Tier 1 from below and practice them.
2022 SSC CGL Tier 1 Question Paper PDF
SSC CGL Tier 1 Question Paper 2020 – 2021
This was all from us for SSC CGL Study Plan For Tier 1 Examination. We hope the study plan provided proves useful to you. Stay tuned for other exam-related information.
To practice more for SSC CGL Exam, please check the given links.
Hope that the provided information regarding SSC CGL Tier 1 Previous Year Question Paper PDF is helpful in you exam preparation. For more latest employment news stay in touch with our page @https://jobscaptain.com/