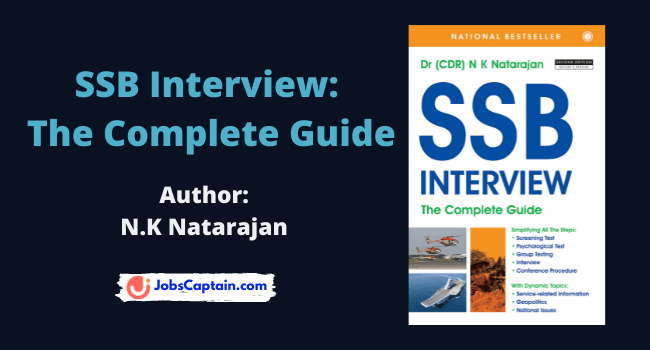 SSB preparation material consists of WAT, TAT, SRT, SD, PPDT, GTO, and personal interview books pdf. Dr n.k. Natarajan SSB book pdf would help you to clear the SSB Interview.
The latest edition of the SSB book pdf explains all relevant topics in an easy-to-understand manner and tips are also provided wherever required. SSB Interview The Complete Guide Book covers all important and high-level topics.
This book provides you overall exposure of what SSB is all about.
SSB Preparation Book Pdf
The SSB selection process is tough. Therefore one must be well prepared. And SSB interview book gives you an idea of each procedure of SSB selection.
SSB book divides into two parts:
The first part contains simplifying all the steps:
Screening Test
Psychological Test
Group Testing
Interview
Conference Procedure
With Dynamic Topics:
The second part contains dynamic topics:
Service-related Information
Geopolitics
National Issues
Index of SSB Interview The Complete Guide Pdf
Introduction to SSB
What is seen in a Candidate?
Personal Information Questionnaire (PIQ)
Pilot Aptitude Battery Test (PABT)
Intelligence Test (Verbal)
Intelligence Test (Non-Verbal Test)
Picture Perception & Discussion Test (PP&DT)
Basis of Psychological testing
Thematic Apperception Test (TAT)
Word Association Test (WAT)
Situation Reaction Test (SRT)
Self-description test (SDT)
Basis of Group testing
Group Discussion
Group planning exercise
Progressive group task
Group Obstacle Race
Half group task
Lecturette
Individual obstacles
Command Task
Final Group Task
Basis of the Interview Technique
Interview Question
Dos & Don't in the Conference
Services Related Information
Geo Politics
National Issues
Download SSB Interview Guide PDF by N K Natarajan
Thank you for downloading SSB Interview The Complete Guide Pdf Book by N.K Natarajan. Further if you have any questions regarding SSB interview then do comment below.