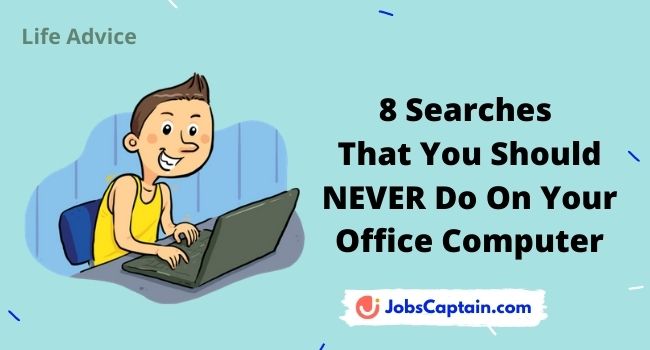 As an employee, you should never be deceived into thinking that you can have your way since you have a liberal employer.
No matter the level of freedom you have been guaranteed in the workplace, there is still a big eye watching over every online activity to safeguard the interests of the organization.
Gone are the days when companies "rationed" or rather filtered and determined what content you could access using the office computer and internet.
Remember when Facebook was only available either very early in the morning or after work hours, most job sites were completed blocked and access to certain organization portals was the preserve of some senior staff.
All the above is history and a new found online freedom reigns in the workplace.
However the freedom that you are having now should be used wisely. Read here more Career Guidance related articles.
As you report to work every day, it is important to ensure that at no one time do you use your employer's computer to search for the following:
1. Highly Classified Company Portals
---
There are portals in your organization that are a preserve of the senior personnel or the risk management team only. Certain files belong to particular teams and access could either be restricted or not.
Do not fall into the temptation of trying to access what you aren't allowed by the virtue of your grade, department or team.
Such an exercise will be picked out immediately by the IT team and questions and concerns about your trust and confidentiality toward your employer will be raised.
You could lose your job especially if such attempted access is against a well-documented policy that clearly stipulates the do's and don'ts on information access in the office.
2. Pornography or Inappropriate Websites
---
This is a no brainer but surprisingly many organizations are facing this problem across the globe. Great Britain's parliament reported over 300,000 searches for porn from within its parliamentary offices.
Searching for porn or content deemed inappropriate by your employer will embarrassingly get you fired.
Ever thought of you leading a presentation on your machine then all of a sudden a porn related chat or website pops up on the screen?
Porn sites also expose your company's servers to hackers which could turn out to be a potential business disaster.
3. Online Dating and Relationship Sites
---
The millennials are famed for online dating. Just don't spill your love and relationship affairs on the office computer.
Avoid all those dating sites during work hours and on office tech infrastructure.
No employer will be happy paying you a salary for spending time chatting and dating online using their facilities instead of working and adding value to the business.
Keep your personal stuff personal.

4. Excessive Irrelevant Internet Surfing/Searching
---
Are you the type that for over half an hour you are on a sports site checking last night football results, next you open the hottest political blog to get updates on the USA/Indian political campaigns, after which you navigate to the gossip and lifestyle blog to catch up with the Kenyan Kardashians?
Well, Internet addiction should be controlled while at the workplace and it is important to always remind yourself that you're not getting paid to surf the web.

5. Job Search Portals
---
Your current employer may be dead boring and your level of job dissatisfaction could be sky-high. Just don't show it off at the workplace through your online activities.
Avoid searching for a new job using your current employer's systems. That activity will be tracked back to you immediately and you could be leaving your job sooner than expected.
Worse still is if you are searching for a job on the career sites of your employers direct competition. This could raise concerns over information security and confidentiality.
6. Side Hustle Content
---
Do not search on your computer information related to your side hustle. In short cultivate a discipline that will help you keep your side hustle away from your 8-5 job.
If caught running your own business or moonlighting while you have been contracted to work for your employer, then you will be fired right away.
Keep your side hustle and moonlighting activities away from the workplace.
Use your personal computer to run your side hustle and not your employer's facility.
7. Online Shopping Sites
---
The Black Friday shopping spree may be on and you want to take advantage of the discounted products. You may also just be among those who like online shopping and all your stuff is sourced digitally.
Well just avoid running those transactions or searching for good products and prices on your workplace computer. Avoid the itch of always checking Kilimall, Jumia, Olx, Alibaba, Amazon or Ebay from your office computer.
Spending time on online shopping sites literally means you are spending less time on your contracted work and why wouldn't you be fired then?

8. Betting Sites
---
They came, they rolled out and they conquered the Indian population. From college students to senior citizens, Indians are riding the betting wave like their lives depend on it.
While working on your employer's computer, avoid searching or visiting betting sites. Their addictive nature means that more time will be spent planning on the best bets you could place in order to win the jackpot.
The IT team will easily pick you out and it could be quite embarrassing to lose a job because you could not resist 10bet, betiton, Mcheza and the likes.
If you must bet, then do it away from the office and on your personal devices.
Remember to save your weird internet search habits for your personal computer since when you're on your work computer; your employer can track pretty much everything you do.
Be mindful of every search, click, and email sent.
Thank you for reading life coaching or advice article on "Searches That You Should NEVER Do On Your Office Computer".