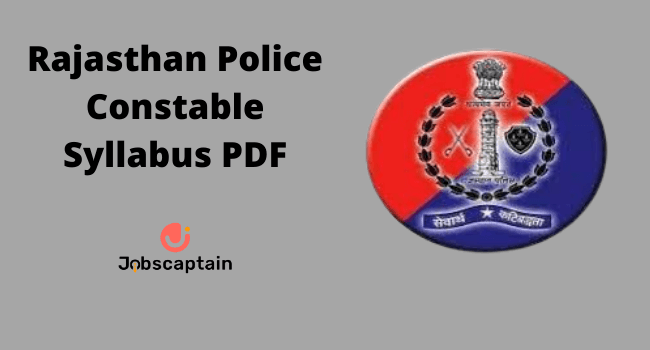 If you are applying for Rajasthan Police Constable recruitment and want to start your exam preparation then this post is very important for you.
Here we discussed Rajasthan Police Constable Syllabus & Exam Pattern 2022. This is the expected syllabus and any changes made by Rajasthan  Police will be updated here too.
If you do not read carefully Rajasthan Police Constable Syllabus then you may face difficulties in your examination. This exam is held in the Rajasthan only.
At last, we also add Rajasthan Police Constable Syllabus and exam pattern PDF in Hindi, so the students can understand it very easily.
Let's read and download the important information of the Rajasthan Police Constable recruitment and download the syllabus PDF:
Post Name
Police Constable
Exam Official
Rajasthan Police Department
Educational Qualification

Class 12 Intermediate Exam Passed in Any Recognized Board in India. OR
Class 12 Intermediate Exam with Physics / Maths / Computer as a Subject. OR
Valid LMV / HMV Driving License with Minimum 1 Year Old. OR

Class 10 High School Exam Passed in Any Recognized Board in India.

Number of Vacancies
Update soon
Salary 

Rs. 26,000 – 27,000 (Grade pay of Rs. 2400)

Age Limit
More then 18
Job Location
Rajasthan
Official Website
police.rajasthan.gov.in
Rajasthan Police Constable Exam Pattern
Subject
Question
Mark
Time
Reasoning, Logic, Computer Knowledge
60
30
2 Hours
General Knowledge, GS & Current Affairs
45
22.5
Rajasthan General Knowledge
45
22.5
Total
150
75
150 Questions will be asked in the written Exam.
The written paper will be 75 marks.
Each question will be ½ (half) mark.
Time Duration: 2 hours.
The negative marking will be 0.25 Marks
The Offical Notification for Rajasthan Police Constable – Download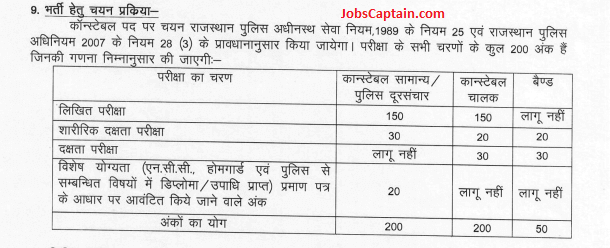 Syllabus of Rajasthan Police Constable:
The Official Syllabus is divided into 3 subjects and into 2 types of exams:
The First exam is Written which consists of MCQs.
The Second exam is in the form of a Physical Standard Test.
Written Exam for Rajasthan Constable
Further, the written exam is divided into 3 parts.
1. Reasoning Subjects
Coding and Decoding (कोडिंग और डिकोडिंग)
Clock and Calendar (घड़ी और कैलेंडर)
Arithmetic Number series (अंकगणितीय संख्या श्रृंखला)
Problem Solving (समस्या को सुलझाना)
Analogies (समरूपता)
Ranking (रैंकिंग)
Decision Making (निर्णय लेना)
Spatial Orientation (स्थानिक उन्मुखीकरण)
Visual memory (दृश्य स्मृति)
Relationship Concepts (रिश्ता)
Analysis (विश्लेषण)
Arithmetical Reasoning (अंकगणितीय तर्क)
Space Visualization (अंतरिक्ष दृश्य)
Figural Classification (अंकीय वर्गीकरण)
Statement Conclusion (कथन निष्कर्ष)
2. General Knowledge 
Environment (वातावरण)
Zoology (प्राणि विज्ञान)
Famous Books & Authors (प्रसिद्ध पुस्तकें और लेखक)
Botany (वनस्पति विज्ञान)
Basic Computer (बेसिक कंप्यूटर)
Indian Culture (भारतीय संस्कृति)
Geography (भूगोल)
Chemistry (रसायन विज्ञान)
Indian Parliament (भारतीय संसद)
Basic GK (बेसिक जी.के)
Sports (खेल)
History, Culture, Traditions & Festivals (इतिहास, संस्कृति, परंपरा और त्योहार)
Indian Politics (भारतीय राजनीति)
Economy of India (भारतीय अर्थव्यवस्था)
Indian History (भारतीय इतिहास)
Physics (भौतिक विज्ञान)
Inventions in the World (विश्व में आविष्कार)
3. Social science
Behavioural Sciences (व्यावहारिक विज्ञान)
Applied Sciences (अनुप्रयुक्त विज्ञान)
Earth sciences (पृथ्वी विज्ञान)
Physics (भौतिक विज्ञान)
Chemistry (रसायन विज्ञान)
Biology (जीवविज्ञान)
Physical Standard Test of Rajasthan Police Constable:
Male
Female
Height
168 cm
152 cm
Chest

Without expansion 81 cms
With the expansion of 86 cms
(min expansion of 5 cms is required)

N/A

Weight
 N/A
47.5 KG
Also Read:
Thank you for reading. Hope our website has helped you with the syllabus. We will soon add Rajasthan Police Constable Study Material and Free PDF books for ease of your exam preparation.
Furthermore, if you have any questions regarding this recruitment and examination then let us know by commenting below. We will soon reach out to you.