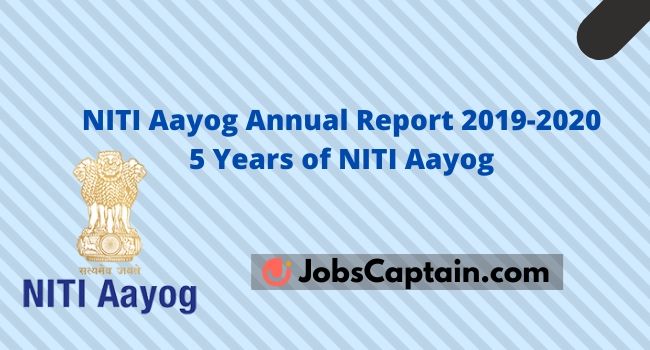 Are you looking for the Annual Report of NITI AAYOG? Here you can read online or download NITI Aayog Annual Report 2019-2020.
National Institution for Transforming India, also known as NITI Aayog, was formed via a resolution of the Union Cabinet on 1 January 2015.
NITI Aayog is the premier policy think tank of the Government of India, providing directional and policy inputs.
Namely Chairperson of NITI Ayog is Shri Narendra Modi, Prime Minister of India and Vice Chairperson is Dr Rajiv Kumar.
NITI Ayog Annual Report 2019-2020
NITI Aayog's entire gamut of activities is divided into two main hubs: Team India Hub and Knowledge and Innovation Hub.
One of the main objectives of NITI Aayog is, 'To design strategic and long-term policy and programme frameworks and initiatives, and monitor their progress and their efficacy.'
NITI Ayog Annual Report 2019-2020 Pdf Book – Download
Truly NITI Aayog plays an integrative role with the active involvement of states, civil society and other think tanks in the development of a shared vision of national priorities and strategies in critical areas of human and economic development.
According to NITI Aayog, in the Budget of 2018–19, there was an announcement, in consultation with Central and state governments. It will develop a foolproof mechanism so farmers can get remunerative price for their produce.
NITI also played a role in shaping the organizational and governance structure of the National Health Authority for smooth implementation of the scheme.
NITI Aayog has been playing a key role in identifying challenges and contributing to reforms in higher education regulatory frameworks.
Finally Thank you for reading NITI Aayog Annual Report 2019-2020. NITI Aayog Completed 5 Years.
Source of Information – Official of NITI AYOG
Share this article with needed friends.
NITI Aayog also provides relevant technical advice to the Centre, states and union territories (UTs). National Institution for Transforming India Aayog acts as the quintessential platform for the Government of India to bring states to act together in national interest.