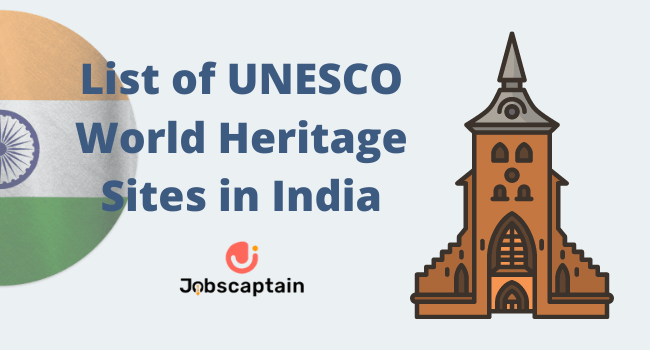 Are you looking for the latest list of UNESCO World Heritage Sites in India? In this post, we shared the Name of the Heritage Site with the State and Year of Notification.
There are mainly 3 categories of World Heritage Sites:
Cultural Heritage Sites
Natural Heritage Sites and
Mixed Heritage Sites
Dholavira and Ramappa Temple are the latest addition to the list under the 'Cultural' category. There are two more categories — Natural and Mixed. There are a total of 40 UNESCO Heritage sites of India, 32 are cultural sites, 7 are natural sites and 1 is a mixed site. The cultural sites in India are marked by brilliance. Here is a list of all 40 sites.
In many exams, often ask questions from this topic. So let's prepare this topic well.
1. Natural World Heritage Sites in India
No.
Name of Natural World Heritage Site
State Name
Year of Notification
Area (in KM)
1
Kaziranga National Park
Assam
1985
429.96
2
Keoladeo Ghana National Park
Rajasthan
1985
28.73
3
Manas Wildlife Sanctuary
Assam
1985
391.00
4
Nanda Devi National Park and
Valley of Flowers
Uttarakhand
1982,
2005
630.00,
87.50
5
Sunderbans National Park
West Bengal
1984
1,330.10
6
Western Ghats
Maharashtra, Goa, Karnataka, Tamil Nadu and Kerala
2012
1,60,000.00
7
Great Himalayan National Park
Himachal Pradesh
2014
905.4
2. Cultural World Heritage Sites in India
No.
Name of Cultural World Heritage Site
State
Year of Notification
1
Agra Fort
Uttar Pradesh
1983
2
Ajanta Caves
Maharashtra
1983
3
Buddhist Monuments at Sanchi
Madhya Pradesh
1989
4
Champaner-Pavagadh Archaeological Park
Gujarat
2004
5
Chhatrapati Shivaji Terminus (formerly Victoria Terminus)
Maharashtra
2004
6
Churches and Convents of Goa
Goa
1986
7
Elephanta Caves
Maharashtra
1987
8
Ellora Caves
Maharashtra
1983
9
Fatehpur Sikri
Uttar Pradesh
1986
10
Great Living Chola Temples
Tamil Nadu
1987
11
Group of Monuments at Hampi
Karnataka
1986
12
Group of Monuments at Mahabalipuram
Tamil Nadu
1984
13
Group of Monuments at Pattadakal
Karnataka
1987
14
Hill Forts of Rajasthan
Rajasthan (Chittorgarh, Kumbhalgarh, Ranthambhore, Amber Sub-Cluster, Jaisalmer, Gagron)
2013
15
Humayun's Tomb, Delhi
Delhi
1993
16
Khajuraho Group of Monuments
Madhya Pradesh
1986
17
Mahabodhi Temple Complex at Bodh Gaya
Bihar
2002
18
Mountain Railways of India
Tamil Nadu
1999
19
Qutb Minar and its Monuments, Delhi
Delhi
1993
20
Rani-Ki-Van (the Queen's Stepwell) at Patan, Gujarat
Gujarat
2014
21
Red Fort Complex
Delhi
2007
22
Rock Shelters of Bhimbetka
Madhya Pradesh
2003
23
Sun Temple, Konarak
Orissa
1984
24
Taj Mahal
Uttar Pradesh
1983
25
The Jantar Mantar, Jaipur
Rajasthan
2010
26
Archaeological Site of Nalanda Mahavihara (Nalanda University) at Nalanda
Rajasthan
Bihar
2016
27
The Architectural Work of Le Corbusier, an Outstanding Contribution to the Modern Movement
Chandigarh
2016
28
Historic City of Ahmedabad
Gujarat
2017
29
Victorian Gothic and Art Deco Ensembles
Mumbai, Maharashtra
2018
30
The walled city of Jaipur
Rajasthan
2019
31
Dholavira
Gujarat
2021
32
Kakatiya Rudreshwara (Ramappa) Temple
Telangana
2021
3. Mixed Word Heritage Sites in India
| No. | Name of Mixed World Heritage Site | State | Year of Notification |
| --- | --- | --- | --- |
| 1 | Khangchendzonga National Park | Sikkim | 2016 |
Apart from the 40 sites inscribed on the World Heritage list, India has also maintained a list of 46 tentative sites for recognition which has been submitted to the UNESCO Committee for evaluation and acceptance.
Latest Update about UNESCO World Heritage Sites in India:
27th July 2021 – Dholavira, Harappan City in the Rann of Kutchh, becomes India's 40th UNESCO World Heritage Site.
25th July 2021 – UNESCO has inscribed the Rudreswara Temple (Ramappa Temple) at Palampet, Warangal, and Telangana on the List of World Heritage Sites.
Thank you for reading.
Also Read,
Furthermore, if you have any questions regarding UNESCO World Heritage Sites in India, then do comment below.