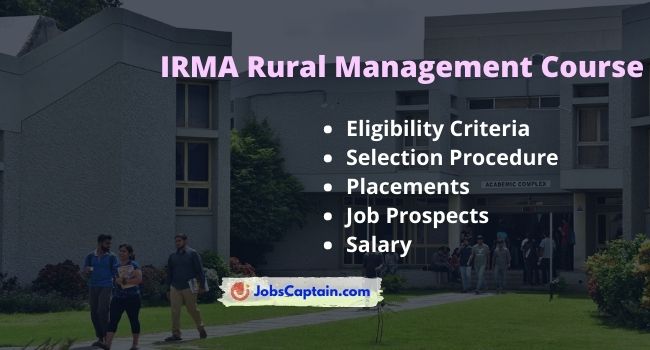 India is the land of agriculture and in order to flourish our vast agriculture heritage Institute of Rural Management Anand (IRMA), in Gujarat was established in the year 1979 by National Dairy Development Board with the help of Government of India, Government of Gujarat and Swiss Development Co-operation.
IRMA focuses on nurturing the Indian talent inclined to manage rural development and help it grow with the help of global and up to date managerial skills and tools.
It is one of the most reputed Indian management institutes which offer two year post graduate course in Rural Management.
Eligibility Criteria
---
The minimum qualification required to apply for this course is graduation with least 50% marks.
Final year students can also apply but will be given provisional admission until they submit their last year mark sheet with a total 50%.
[Note: Only Indian nationals can apply for this course.]
Selection Procedure
---
The students are required to fill the form and submit to the authorities. IRMA conducts its own examination to select the students. The exam consists of four sections including:
English comprehension.
Quantitative Ability.
Reasoning and analytical skills.
Issues of social concern.
Students who qualify the test are then called in for group discussions and personal interview with the faculty members. Important dates, updates and news for admission procedure are submitted in https://www.irma.ac.in/.
[
Note
: The selection procedure remains same for all i.e. for general as well as sponsored students.]
Placements
---
According to the reports and figures by IMRA, the institute has been able to provide 100% placement to its students. Hence, it can be said that managers by IMRA are capable to accelerate Rural development.
Job Prospects
---
After completing your degree courses in rural development and management, you can apply for lots of jobs across India. Nowadays Indian government is too much focused about development of rural areas of India.
So, that's why if you are going to pursue Rural Development and Management course, we will sure that your career will brighten.
IRMA Empowering rural India and creating a new breed of rural managers.
Salary
---
The salary range of Rural Development Officer may be from Rs. 15,000 to Rs. 22,000 per month depending upon the nature of your post.
Thank you for reading IRMA Rural Management Course Eligibility Criteria, Selection Procedure, Job Prospects and Salary of Rural Development Officer.
Also read more article on career guidance.
Further if you have any question, please do comment below.