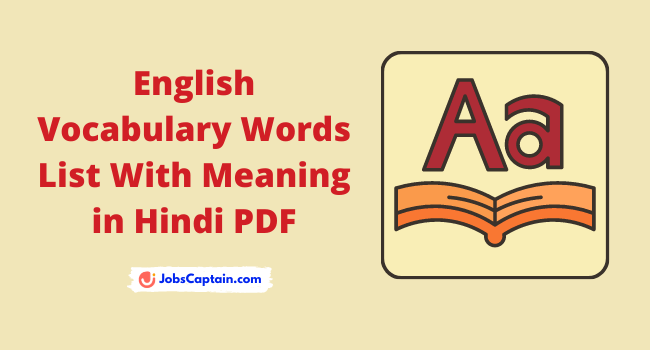 In this post, we are provided PDF book of  English Vocabulary Words with Hindi Meaning. Vocabulary Words words are very common & useful and they are used daily in English speaking.
We all know that in English Speaking Vocabulary Words have an important role.
First of all, let's read some basic English Vocabulary Words With Hindi Meaning:
Borrow (बौरो) – उधार लेना
Lend (लेंड) – उधर देना
Donate (डोनेट) – दान करना
Contribute (कंट्रीब्युट) – योगदान देना
Assets (एसेट्स) – सम्पति
Emperor (एम्परर) – सम्राट
Splendor (स्प्लेंडर) – वैभव
Majesty (मैजिस्टी) – महिमा
Greedy – लालची
Moron- निहायती बेवकूफ
Hungry – भूखा
Workaholic – जो बहुत काम करता हो ( मेहनती हो )
Thirsty – प्यासा
Famous- प्रचलित
Curious – उत्सुक
Dizzy ( डिजी ) : चक्कर आना
Judgement : निर्णय/न्याय/फैसला
Flatter : चापलूसी करना/खुशामद करना
Ultimately : आखिरकार / अंत में / अंततः
Sympathy : सहानुभूति/हमदर्दी/संवेदना/दया
Let's download useful English vocabulary words [A to Z] with Hindi meaning.
We hope above English Vocabulary Words List With Meaning in Hindi will help you in your upcoming competitive examinations.
Also Read,
Thank you for reading. Furthermore, if you have any questions regarding this topic then do comment below.