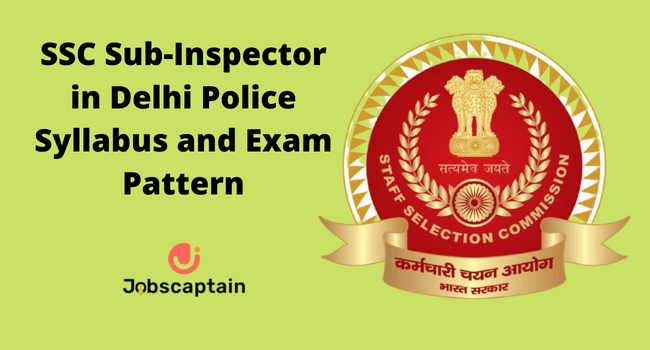 Hello Candidates, Today we are going to give you the Delhi Police SI Syllabus and Exam Pattern.
Before we provide you with the complete syllabus and exam pattern for SSC Sub-Inspector we would like to let you know that the students who are applying for the exam must start their preparations as soon as possible. As you start your preparation with a complete and detailed syllabus and exam pattern it will be easy for you to cover the entire syllabus. This will directly help you with your rank and marks.
Let's read some basic information about Sub-Inspector in Delhi Police Recruitment 2022 and later download Syllabus and exam pattern PDF on this post.
Post Name
Police Sub-Inspector
Department Name
DELHI POLICE RECRUITMENT BOARD
Education Qualification

Candidates should be between 20 to 25 years of age
Candidates should have completed their graduation from any recognised university or college

Location
Across Delhi
Total Vacancies in the year 2022
Total 169 posts (78 Lady Constables)
Salary 
₹ 5.0 Lakhs to ₹ 10.0 Lakhs (yearly)
Exam Pattern of Delhi Police SI:
Subjects
No. of Questions
Maximum Marks
Time Duration
SSC CPO Tier – I
General Intelligence and Reasoning
50
50
2 Hours
General Knowledge and General Awareness
50
50
Quantitative Aptitude
50
50
English Comprehension
50
50
SSC CPO Tier-II
English language & Comprehension
200
200
2 Hours
Download Official Notice from the link given down:
SSC Sub Inspector Syllabus:
Inquiries in Delhi Police SI Exam are asked from subjects like General Awareness, General Intelligence and Reasoning Ability, Arithmetic and Numerical Ability, Test of Hindi Language and Comprehension, and Test of English Language and Comprehension. The definite subject-wise schedule is as given beneath.
General Intelligence and Reasoning
Symbolic/ Number Analogy
Figural Analogy
Semantic Classification
Symbolic/ Number Classification
Figural Classification
Semantic Series
Number Series
Figural Series
Problem Solving
Word Building
Coding & decoding
Numerical Operations
symbolic Operations
Trends
Space Orientation
Space Visualization
Venn Diagrams
Drawing inferences
Punched hole/ pattern-folding & unfolding
Figural Pattern Folding and completion
Indexing Address matching
Date & city matching Classification of centre codes/ roll numbers
Small & Capital letters/ numbers coding
Decoding and classification
Embedded Figures
Critical thinking
Emotional Intelligence
Social Intelligence
General Knowledge and General Awareness
Current Affairs
India and its neighbouring countries
History
Culture
Geography
Economic scene
General Polity
Constitution of India
Scientific research updates
Quantitative Aptitude
Whole Numbers
Decimals
Fractions And Relationships Between Numbers
Percentage
Ratio And Proportion
Square Roots
Averages
Interest Profit & Loss
Discount
Partnership Business
Mixture And Alligation
Time And Distance
Time & Work
Basic Algebraic Identities Of School Algebra
Graphs Of Linear Equations
Triangle And Its Various Kinds Of Centres
Congruence Along With The Similarity Of Triangles
Circle And Its Chords
Tangents
Angles Subtended By Chords Of A Circle
Common Tangents To Two Or More Circles
Triangle
Quadrilaterals
Regular Polygons
Circle, Right Prism
Right Circular Cone
Right Circular Cylinder
Sphere
Hemispheres
Rectangular Parallelepiped
Regular Right Pyramid With Triangular Or Square Base
Trigonometric Ratio
Degree And Radian Measures
Standard Identities
Complementary Angles
Heights And Distances
Histogram
Frequency Polygon
Bar Diagram & Pie Chart
English Comprehension
Error Recognition
Filling In The Blanks
Vocabulary
Spellings
Grammar
Sentence Structure
Synonyms
Antonyms
Sentence Completion
Phrases And Idiomatic Use Of Words
Comprehension
English language & Comprehension
Vocabulary
Grammar
Sentence Structuring
Tenses
Synonyms and Antonyms
Understanding Passages
Post that may also help you,
Thank you for reading. Furthermore, If you have any doubts about SSC Sub-Inspector in Delhi Police Syllabus and Exam Pattern or need any other syllabus or exam pattern then you can get that by simply letting us know in the comment section given down.