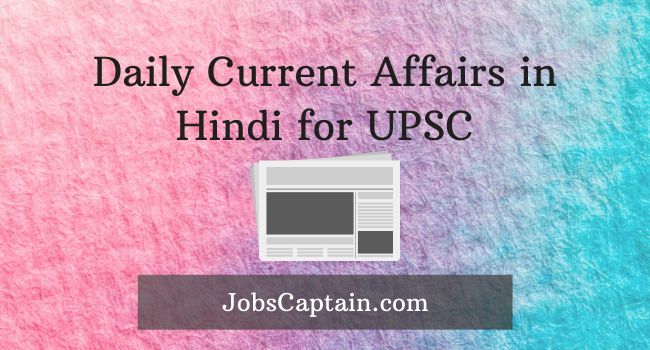 Get all latest current affairs in hindi 2020 for preparation of upsc exams. Jobscaptain 2020 is publishing here current affairs every day for upsc exam. Hindi current affairs are most useful part in terms of exam point of view.
The Current affairs Section is exclusively Based upon the Recent changes in UPSC Exam Pattern and Syllabus. Current Affairs is Must study and Game changer in UPSC Exam. JobsCaptain makes your task Easy Here.
Daily Current Affairs in Hindi for UPSC
The value of Current Affairs in Civil Service Examinations is enormous.  Nowadays the UPSC is asking more factual questions than conceptual questions. This is the most critical part of both Prelims and Mains Exam.
Candidate should study in depth to understand the important of current affairs for the UPSC Exam. Preparation of current affairs for UPSC is the key to unlock the exam. Here we are giving some important current affairs topics should be covered for UPSC Exam.
Click here to Download Daily Current Affairs in Hindi for UPSC
Which Topic We Covered in Current Affairs ?
International summits and international institutions
Recently held summits and its theme of the summit, major agenda, venue, Declaration issued

Non-Proliferation issues and related treaties

UNESCO Creative Cities Network and Global Geo-parks and

International forums and their reports like World Economic Forum, World Social Forum, and Greenpeace
Polity
New Government schemes

Important committees related to constitution

New amendments

National issues related to any article in constitution

Supreme court verdict on national issues

Interstate river water, territorial disputes

Newly appointed heads of important offices

Interstate disputes

Important places in news

Defense deals and military exercises

Recent trade pacts like FTA, trade targets, items of trade and grouping in WTO

Summits (Place, theme to summit, issues discussed in summit) and

Bilateral, trilateral and regional forums
Economy
Recent monetary policy changes like Demonetisation, CRR, Bank Rate, Forex reserves, inflation rate

Fiscal policy-tax rates, tax reforms, committees appointed to review exciting tax structures

Economic survey findings like National income, Per capita income, GDP growth rate, Base year, Poverty rate

Central Government schemes of Employment Generation, Social welfare, Poverty eradication, and Infrastructure development

Important committees and issues

Export items, Import items, export targets of various sector, trade pacts

Pay Commission of India

HDR, HDI rankings and

IMF, World Bank their development agenda, loans, and grants
Defence
Recently tested missiles – Name, type, range, speed, nuclear capability, technology used, indigenous or joint production and

Bilateral defense deals on Fighters planes, ships, submarines, missiles, radars
Art and Culture
UNESCO World heritage sites

Classical Dances of Indian states

Folk arts, handicrafts, and states
Geography and Environment
Major environment treaties like Montreal – Kyoto – Basel – Cartagena etc.

Recent environment related Summits like UNFCCC, UNEP etc.

Natural disasters and calamities like flood, Cyclone, Typhoon, Blizzards and Cloud Bursts

Recent Disease outbreak

Current campaigns by environment

Adaptations Made for Survival in tropical Region

Adaptations Made for Survival in tundra Biome

Coastal Erosion

Rain Water Harvesting
Sport and Awards
Civilian and gallantry awards

Awards in science fields

Literature awards like Jnanpith, Sahithya Academy, Saraswathi Samman

Ramon Magsaysay Awards Asian Nobel Prize

Right livelihood Alternative Nobel Prize

Booker Prize
In Short, These are all topics covered in our daily current affairs in hindi section. This article surely helpful for your UPSC exam. Keep Sharing. Thank you.