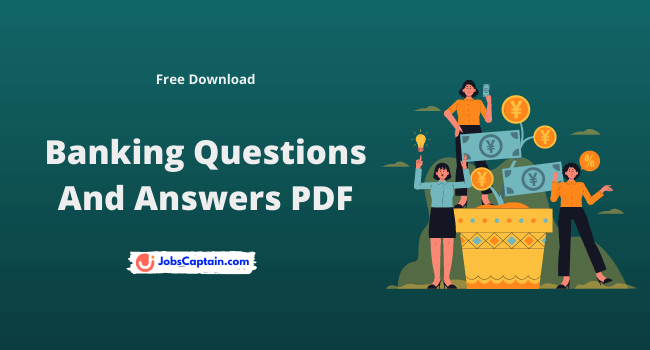 The banking sector is considered one of the esteemed employers, where many people like fresher and experienced professionals prefer to work. Our vast collection of Banking Questions And Answers PDFs are the best resources for cracking any bank related competitive exams and interviews.
If you want to get a job in the banking sector, you have prepared Banking General Knowledge and Awareness questions for the Prelim exam and final round (interview).
| | |
| --- | --- |
| Topic Name | Banking Related Questions and Answers PDF Book |
| Language | English and Hindi |
| Questions Type | MCQs, Short Questions and Long Questions |
| Useful for | IBPS, RBI, SBI, NABARD, SEBI and all Financial Sector's competitive exams |
Banking Questions And Answers PDF
In this post, we shared 6+ important Banking Awareness and Knowledge related PDF books. These all books cover the following topics of Banking industry:
Banking Topics
History of Banking
Reserve Bank of India
NABARD
IRDA
BIS
International Organizations
National Housing Bank
Credit/Debit Cards
Fiscal Policy
ATM
Banking OMBUDSMAN (Part 2)
Letter of Credit
WTO
World Bank
Allahabad Bank
Syndicate Bank
Oriental Bank of Commerce
Axis Bank
Punjab & Sind Bank
Bank of Baroda
ICICI Bank
PNB
United Bank of India
Vijaya Bank
ICICI Bank
Credit/Debit Cards (Part 2)
Canara Bank
Mixed Topics
Go through explanations of the most important Banking Awareness Questions and practice them by downloading the PDF provided below.
Let's download Banking Questions and Answers PDF:
Here in this article, we have listed frequently asked Banking Interview Questions and Answers with the belief that they will be helpful for you to gain higher marks.
Questions 1: Bank Rate is ___________________.
(A) Rate at which commercial banks borrow long term funds from central Bank.
(B) Rate at which commercial banks borrow short term funds from central bank.
(C) Currently Bank rate is 4.25%
(D) Both 1 and 3
Question 2: _______ is a financial institution that mobilises savings from the people and invests them in a mix of corporate and government securities.
(A) Commercial Bank
(B) Mutual Fund
(C) Unit Bank
(D) Correspondent Bank
Question 3: Why are pay-in-slips used in Banks?
Questions 4: State any two features of Core banking.
Getting a job in the banking sector requires the right academic qualifications, aptitude, sincerity, responsibility and dedication, and experience if you apply for higher management positions.
Also Check:
We hope the detailed article on Banking Questions And Answers is helpful. Besides this, if you have any queries regarding Banking Questions And Answers PDF, drop them in the comment section below and we will get back to you at the earliest.