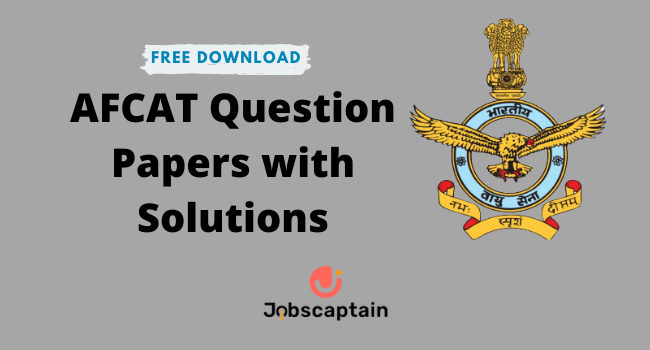 Hello candidates, Are you looking for Solved AFCAT Question Papers?
Here you will get last 10 years AFCAT question papers with solutions. If you practise well these papers then you surely get clear idea about AFCAT examination 2022.
The applicants will be able to download the AFCAT previous year's solved papers by clicking on the links of the PDF facilitated herewith for the years 2015 to 2022.
If you are applying for AFCAT 2022 then this post is very important for you. Let's read some Basic Information on AFCAT:
Post Name
Solved Question Paper of Air force common admission (AFCAT)
Department Name
Air force common admission (AFCAT)
Education Qualification

Flying Duty

12 pass (60% marks) and graduation with minimum three years
OR
BE\B Tech degree with minimum 60% mark
OR
Cleared section A & B examination of associate member ship of engineers

Ground Duty

12 Pass minimum 60% (and) minimum of four year degree graduation
OR

Cleared section A and B exam Associate membarship of institution of engineering

Location
Across India
Salary of AFCAT

Ground Duty (Technical) Rs 7-9 lakhs
Ground Duty (Non-Technical) Rs 7-9 lakhs
Flying Branch Rs 8-10 lakhs

Official Website
Visit Here
Download AFCAT Solved Papers
Solved papers

Solved papers from 2022 to 2015

Practice Sets

Total 15 AFCAT Practise Sets with Solutions
Let's Download AFACAT Solved Paper PDF
Download Arihant AFCAT Question Paper Pdf – Download
AFCAT Question Paper Analysis
Verbal Ability in English
In AFCAT, 25-30 questions asked from this section
Reading comprehension
Error detection
Sentence completion
Synonym and antonyms
Idioms and phrases
Test of vocabulary
Cloze passage
General Awareness
In AFCAT, usually 22-25 questions are asked from this section.
History(ancient, medieval, modern and art & culture)
Geography(world, india and ecology & environment)
Polity
Defense
Sports
General knowledge (first in india and world, capital and currency, Book & authors , day & dates etc.)
General science (physics, chemistry, biology)
Current affairs
Numerical Ability
In AFCAT, 15-18 questions are asked from this section
Number system
Fraction and simplification
HCF and LCM
Percentage
Profit and loss
Average
Ratio and proportion
Simpal and compound interest
Time and work
Time and distance
Mixture and alligation
Area and perimeter
Algebra
Reasoning and military aptitude test
In AFCAT generally, 32-38 questions are asked from this section.
Analogy
Classification
Series
Coding and decoding
Direction sense test
Figure completion
Clock and calendar
Logical venn diagrams
Figure analogy
Syllogism
Statement and conclusions / inferences
Statement and assumptions
Figure series
Embedded figures
Dot situation
Figure classification
Cube and dice
Figure coding
Thank you for reading. If you read the above solved AFCAT Questions paper carefully, you will surely score good marks than other candidates.
Furthermore, if you have questions about AFCAT recruitment then do comment below.