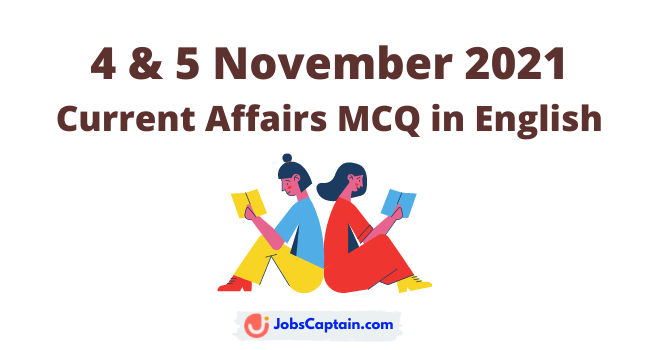 Let's read the 4th and 5th November 2021 current affairs (Today News).
Question: Which Indian philanthropist has topped the EdelGive Hurun India Philanthropy List 2021?
(A) Mukesh Ambani
(B) Azim Premji
(C) Alok Mahindra
(D) None of above
Question: Which organisation has recently launched the 'Whistle-blower Portal'?
(A) GMDC
(B) GAIL
(C) IREDA
(D) None of Above
Question: Ahmad Shah Ahmadzai who has passed away recently was the former Prime Minister of which country?
(A) Afghanistan
(B) Pakistan
(C) Oman
(D) None of Above
Question: The Dhyan Chand Award for Lifetime Achievement in Sports and Games 2021 has been conferred upon how many awardees?
(A) 6
(B) 4
(C) 12
(D) None of Above
Question: Which life insurance company is acquiring 100% shareholding in the Exide Life Insurance Company Limited? 
(A) HDFC Life Insurance
(B) Max Life Insurance
(C) Baja Life Insurance
(D) None of Above
Question: Which state's CM has launched the 'Uttam Beej portal' which will benefit the farmers by providing quality seeds with transparency?
(A) Punjab
(B) Gujarat
(C) Haryana
(D) None of Above
Question: The Reserve Bank of India has recently appointed which bank as an Agency Bank to conduct government business?
(A) Kerela Bank
(B) Bandhan Bank
(C) BOB
(D) None of Above
Question: Which bank has signed an MoU with the Indian Navy to offer a defence service salary package under ''Power Salute''?
(A) BOB
(B) Axis Bank
(C) Bandhan Bank
(D) None of Above
Question: Who has been appointed as the Director-General of the Federation of Indian Chambers of Commerce & Industry (FICCI)?
(A) Surekh Beneraji
(B) Arun Chawla
(C) Moti Bodhivala
(D) None of Above
Question: IAF has participated in the international multilateral combat exercise Blue Flag 2021. This exercise was conducted in _____________.
(A) Israel
(B) UAE
(C) Australia
(D) None of Above
Question: Who has won the 5th Rujna Zora chess tournament held in Serbia?
(A) Khushal Arora
(B) Manish Bohal
(C) GN P Iniyan
(D) None of Above
Question: Tushil is an Indian Navy frigate of the P1135.6 class developed by which country?
(A) Russia
(B) US
(C) Japan
(D) Isreal
Question: Which of the following word has been chosen as the word of the year by the Oxford English Dictionary (OED) 2021?
(A) Quarantine
(B) Covid
(C) Vax
(D) Samvidhaan
Question: In Glasgow climate summit 2021, India will reach net-zero carbon emission by ______.
(A) 2070
(B) 2080
(C) 2060
(D) 2050
Question: Which Indian cricket player has been listed in the Marylebone Cricket Club (MCC) awards Honorary Life Membership?
(A) Harbhajan Singh
(B) Javagal Srinath
(C) Suresh Raina
(D) Both a & b
Question: 'AY.4.2', which was seen in the news recently, is a? 
(A) AI Chatbot
(B) Coronavirus lineage
(C) Space vehicle
(D) Exo-planet
Question: IRCTC has joined hands with Truecaller to safeguard critical communication via its integrated helploine number from fraudulent activities. What is the integrated Helpline number of Indian Railways?
(A) 139
(B) 108
(C) 199
(D) 102
Question: Lovlina Borgohain has been honoured with the Major Dhyan Chand KhelRatna Award 2021. She is related to which sports? 
(A) Shooting
(B) Hockey
(C) Wrestling
(D) Boxing
2 November 2021 Special Notes For Competitive Examination
A book on Rani Laxmibai's lawyer John Lang authored by Amit Ranjan. Book titled "John Lang: Wanderer of Hindoostan, Slanderer
of Hindoostanee, Lawyer for the Ranee". John Lang: fought many cases against the British and also represented Rani Laxmibai in her legal battle against the annexation of her kingdom of Jhansi by the East India Company (EIC).