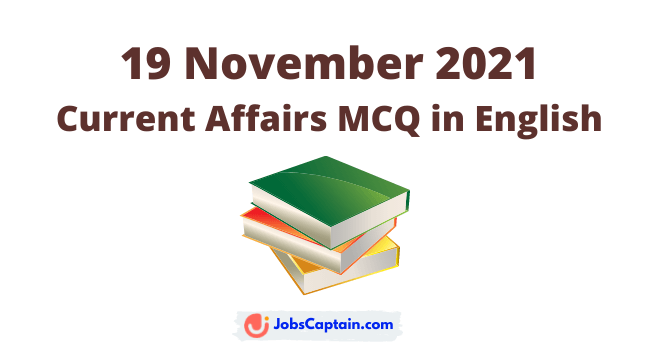 Let's discuss today 19th November 2021 current affairs oneliner in Eglish.
Question: As per UBS Securities, what is the projected GDP growth rate projection of India in 2021-22?
(A) 8.5%
(B) 9.5%
(C) 7.5%
(D) None of above
Question: The Ministry of Defence has organised the Rashtra Raksha Samparpan Parv in which city?
(A) Jhansi
(B) Lucknow
(C) Mumbai
(D) None of above
Question: India's first dedicated fisheries business incubator has been inaugurated in which place?
(A) Surat
(B) Bihar
(C) Gurugram
(D) None of above
Question: The WePOWER India Partnership Forum was organised by which organisations in virtual format?
(A) IDB
(B) World Bank and ADB
(C) ASB
(D) None of above
Question: Which city is hosting the 82nd All India Presiding Officers Conference (AIPOC) in 2021?
(A) Baroda
(B) Shimla
(C) Ahemdabad
(D) None of above
Question: How many athletes and coaches have been conferred with the first-ever SAI Institutional Awards? 
(A) 150
(B) 300
(C) 246
(D) None of above
Question: Which film will be screened at the Indian Panorama segment in the 52 International film festival Goa?
(A) Mogali
(B) Koozhangal
(C) Sufoiry
(D) None of above
Question: Which country is set to host the first tribal nations' summit since 2016?
(A) Australia
(B) USA
(C) Pakistan
(D) None of above
Question: 'Bhagwan Birsa Munda Smriti Udyan cum Freedom Fighters Museum' has been recently inaugurated in which Indian state?
(A) Odisha
(B) Jharkhand
(C) West Bengal
(D) Chhattisgarh
Question: India's first Grass Conservatory "Germplasm Conservation Centre" has been inaugurated in which state? 
(A) Uttar Pradesh
(B) Himachal Pradesh
(C) Uttarakhand
(D) Assam
Question: Who has been appointed as the new Chairman of the ICC Men's Cricket Committee?
(A) VVS Laxman
(B) Sourav Ganguly
(C) Virender Sehwag
(D) Sachin Tendulkar
Question: Janette Brittin has been inducted in ICC Hall of Fame in 2021 along with Shaun Pollock of South Africa and Mahela Jayawardene of Sri Lanka. Brittin played for which country?
(A) Sri Lanka
(B) South Africa
(C) New Zealand
(D) England
Question: Who is the author of the book "The Disruptor: How Vishwanath Pratap Singh Shook India"? 
(A) Debashish Mukerji
(B) Adeel Hussain
(C) Mukesh Batra
(D) Jaideep Hardikar
Question: The campaign titled "Mooh Band Rakho" has been launched by which bank to raise awareness on fraud prevention?
(A) SBI
(B) ICICI Bank
(C) HDFC Bank
(D) Union Bank
PDF of 19 November 2021 Current Affairs in English
19 November 2021 Special Notes For Competitive Examination
Guru Nanak Jayanti: Every year, the birth anniversary of Guru Nanak Dev Ji, the founder of Sikhism, is celebrated as Guru Nanak Jayanti. Also known as Prakash Utsav or Guru Purab, it is one of the most important occasions for the Sikh community.
As per the traditional Bikrami calendar, the Guru was born on Kartik (Kattak) Purnima(Puranmashi). This year, it falls on November 19, 2021.
19 November – World Toilet Day
India win bronze in compound men's team event at Asian archery championships in Dhaka. The men's team of Rishabh Yadav, Abhishek Verma and Aman Saini.
Indian Railways gets first pod hotel at Mumbai Central station.
Haryana planning to implement odd-even scheme: CM Manohar Lal Khattar.
Pakistan's Parliament passes bill giving Kulbhushan Jadhav right to appeal.
PM Modi launched 'Ration Aapke Gram' scheme & 'Sickle Cell Mission' in MP.