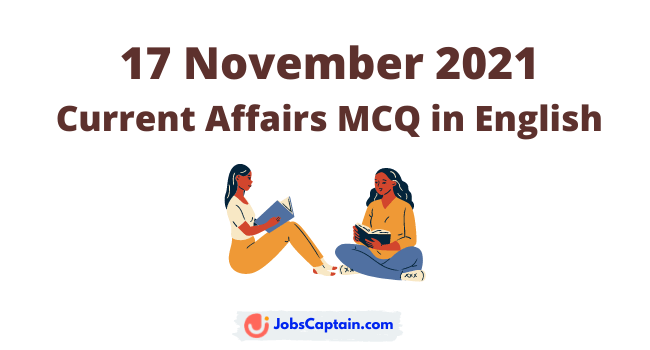 Let's discuss today 17 November 2021 current affairs in Eglish.
In this post, we covered wide topics of today's news like Sports News, Defence News. New Appointments, Political and Financial Matters, National & International Summits, Banking News, New Government Schemes, New Books with Authors, Inauguration News, Passed Away News, etc.
Question: The Trilateral Maritime Exercise named SITMEX – 21 will be held between which countries?
(A) USA
(B) Australia
(C) India, Singapore and Thailand
(D) None of above
Question: The Institute for Defence Studies and Analyses in New Delhi has been renamed after which Indian?
(A) Manohar Parrikar
(B) Kailash Mody
(C) Mohan Shetty
(D) None of above
Question: :Who has been awarded the 2021 International Children's Peace Prize award?
(A) Lalit Omnis
(B) Shubham Kher
(C) Vihaan Agarwal and Nav Agarwal
(D) None of above
Question: India has recently flagged off which edition of the Scientific Expedition to Antarctica in November 2021? 
(A) 31st
(B) 41st
(C) 21st
(D) None of above
Question: Which state government has signed an MoU with United States-based NonProfit Organisation, Rocky Mountain Institute (RMI), to provide technical support for the state's Electric Vehicle (EV) policy?
(A) Maharashtra
(B) Gujarat
(C) Rajasthan
(D) None of above
Question: RBI has projected Consumer price inflation (CPI) at _________ for 2021-22
(A)  6 %
(B) 5.3%
(C) 7 %
(D) None of above
Question: Which of the following company has launched World's 1st Merchant Shareholding Program (MSP) for its merchant partners?
(A) PhonePe
(B) BharatPe
(C) GooglePay
(D) None of above
Question: Which of the following team has won their maiden T20 World Cup title as they defeated New Zealand in the final? 
(A) Australia
(B) Pakistan
(C) England
(D) None of above
Question: Which player won the Player of the Tournament title at the 2021 T20 World Cup final? 
(A) Aaron Finch
(B) Mitchell Marsh
(C) David Warner
(D) None of above
Question: Renowned historian and author Babasaheb Purandare who has passed away recently wrote extensively about which of these rulers?
(A) Dr. Babasaheb Ambedkar
(B) Maharaja Bir Bikram
(C) Devi Ahilya Bai Holkar
(D) Chhatrapati Shivaji Maharaj
Question: Which F1 Driver player has won the 2021 F1 Sao Paulo Grand Prix?
(A) Lewis Hamilton
(B) Valtteri Bottas
(C) Charles Leclerc
(D) None of above
Question: Who has been appointed as the Goodwill Ambassador for the United Nations World Food Programme (WFP)?
(A) Michael Fassbender
(B) Felicitas Rombold
(C) Hanno Bruhl
(D) Daniel Bruhl
Question: The biennial military training exercise "EX SHAKTI 2021" is scheduled to be held between India and which country?
(A) Australia
(B) Sri Lanka
(C) France
(D) None of above
Question: Wangala festival is celebrated in which of the following state?
(A) Assam
(B) Manipur
(C) Nagaland
(D) Meghalaya
PDF of 17 November  2021 Current Affairs in English
17 November 2021 Special Notes For Competitive Examination
17 November: National Epilepsy Day. The National Epilepsy Day is a national level campaign initiated by the Epilepsy Foundation of India to reduce the prevalence of Epilepsy in India. The Epilepsy Foundation of India in Mumbai, Maharashtra was established by Dr Nirmal Surya in 2009.
IFS Officer Vinay Kumar appointed as next Ambassador of India to Myanmar.
Prime Minister Modi to inaugurate Purvanchal Expressway in UP.
Five Integrated Check Posts (ICPs) to be set up on the India-Bangladesh border. The five new Integrated Check Posts (ICPs) on the Indo-Bangladesh borders will be set up at Gojadanga in North 24-Parganas, Mahadipur in Malda, Hilli in South Dinajpur, Phulbari in Jalpaiguri, and Changrabandha in Cooch Behar.
PM inaugurates Bhagwan Birsa Munda Swatantra Senani Sangrahalaya Sah Smriti Udyaan at the Central Old Jail Premises in Ranchi.
Hindi writer Mannu Bhandari passes away at 90 in Gurugram. Novels of Mannu Bhandari: Aapka Bunty (1971), Teen Nigahen Ek Tasveer (1969) and Mahabhoj (1979).
Russia starts delivery of S-400 Triumf surface to-air missile systems to India.