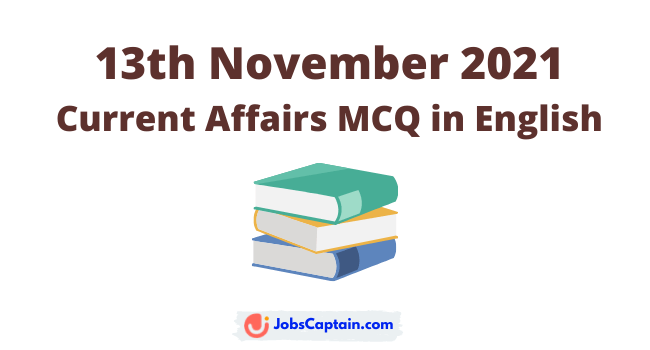 Let's read the Today 13th November 2021 current affairs.
In this post, we covered wide topics of today's news like Sports News, Defence News. New Appointments, Political and Financial Matters, National & International Summits, Banking News, New Government Schemes, New Books with Authors, Inauguration News, Passed Away News, etc.
Question: Who has recently been appointed as the chief of the Central Industrial Security Force?
(A) Sheel Vardhan Singh
(B) Mohan Sharma
(C) Iman Chaudhari
(D) None of Above
Question: Who has been appointed as the new Director-General of Narcotics Control Bureau?
(A) Subhash Poyla
(B) Satya Narayan Pradhan
(C) Jay Kumar
(D) None of Above
Question: President Ramnath Kovind addresses ……….. Number Conference of Governors & LGs in New Delhi?
(A) 51st
(B) 41st
(C) 31st
(D) None of Above
Question: Which state government launches road safety initiative 'Rakshak'?
(A) West Bengal
(B) Assam
(C) Odisha
(D) None of Above
Question: Which institute launches Indian-origin astronaut Raja Chari-led Crew 3 mission to ISS?
(A) SpaceX
(B) Blue
(C) OrrangeX
(D) None of Above
Question: In Which city India's first National Yogasana Sports Championships organised?
(A) Bhubaneswar
(B) Kolkatta
(C) Ahemdabad
(D) None of Above
Question: Nobel Laureate FW de Klerk passes away at 85. He was the former president of which country?
(A) Namibia
(B) South African
(C) Oman
(D) None of Above
Question: What is the name of the famous meteor shower that occurs every November?
(A) Kilos Shower
(B) Leonids Meteor Shower
(C) Terosu Shower
(D) None of Above
Question: Who has been appointed as Amway India's Brand Ambassador?
(A) Abhisek Bachchan
(B) Shahrukh Khan
(C) Amitabh Bachchan
(D) None of Above
Question: Who among the following Indian has bagged two gold medals in ISSF President's Cup? 
(A) Manu Bhaker
(B) Rahi Sarnobat
(C) Saurabh Chaudhary
(D) Abhishek Verma
Question: Name the author of the book "Sunrise over Ayodhya – Nationhood in our Times".
(A) Arundhati Roy
(B) Chetan Bhagat
(C) Salman Khurshid
(D) Salman Rushdie
Question: India has been placed at _______ spot in the global Climate Change Performance Index (CCPI) 2022.
(A) 09th
(B) 10th
(C) 11th
(D) 12th
Question: USA becomes _______ member country of International Solar Alliance.
(A) 101st
(B) 102nd
(C) 103rd
(D) 104th
Question: Koneru Ramakrishna Rao passed away recently. He was a/an ______________.
(A) Educationist
(B) Philosopher
(C) Teacher
(D) All of the above
Question: Who is the author of the new book "Finding A Straight Line Between Twists and Turns – An Imperfect, Yet Honest Reflections on the Indian Tax Landscape"?
(A) Amit Ranjan
(B) Aseem Chawla
(C) Sudha Murty
(D) Pradeep Magazine
Question: Who among the following has won his record 37th Masters Title at Paris, France?
(A) Alexander Zverev
(B) Daniil Medvedev
(C) Novak Djokovic
(D) Dominic Thiem
Question: Dwayne Bravo has announced his retirement from international cricket. Which cricket team did he play for?
(A) New Zealand
(B) Australia
(C) England
(D) West Indies
Question: Which state was formed on November 9 as the 27th state of India?
(A) Jharkhand
(B) Uttarakhand
(C) Chhattisgarh
(D) Telangana
Question: Which day has been declared as Janjatiya Gaurav Divas?
(A) November 13
(B) November 14
(C) November 15
(D) November 17
Read Important Daily Current Affairs in Hindi
13 November 2021 Special Notes For Competitive Examination
13 November – World Kindness Day
National Achievement Survey (NAS) 2021. 38 lakh students from 1.23 lakh schools in 733 districts in 36 States and Union Territories. The NAS 2021 will be conducted in 22 mediums of instruction that will cover English, Assamese, Bengali, Gujarati, Kannada, Hindi, Malayalam, Marathi, Manipuri, Mizo, Punjabi, Odiya, Telugu, Tamil, Bodo, Urdu, Garo, Konkani, Khasi, Bhutia, Nepali, and Lepcha. The National Achievement Survey (NAS) is a nationwide survey to assess the learning outcomes and health of the education system. The NAS is undertaken by the Ministry of Education, Government of India. The NAS provides a system-level reflection on the effectiveness of school education.
Book: "Nehru: The Debates that Defined India" by Tripurdaman Singh and Adeel Hussain.
Sun Pharma to launch Merck's Covid pill under the brand name 'Molxvir' in India.
Indian Army revamps Rezang La War memorial in Ladakh.
Civil Aviation Minister Jyotiraditya Scindia launches eGCA.
PM Narendra Modi to launch two RBI initiatives on November 12. The two innovative customer-centric initiatives include the RBI Retail Direct Scheme and the Reserve Bank – Integrated Ombudsman Scheme.