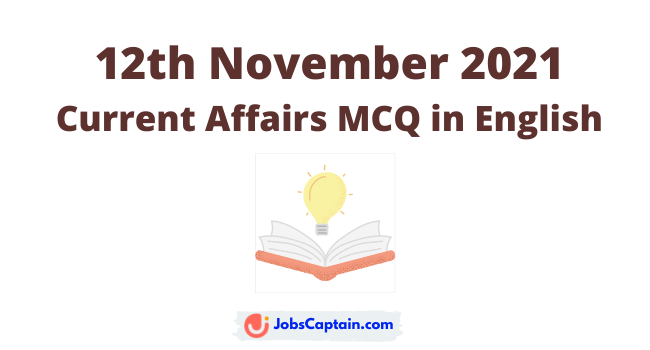 Let's read the Today 12th November 2021 current affairs.
In this post, we covered wide topics like Sports News, Defence News. New Appointments, Political and Financial Matters, National & International Summits, Banking News, New Government Schemes, New Books with Authors, Inauguration News, Passed Away News, etc.
Question: India launches ___________ portal for Electric Vehicles at COP26
(A) E-Amrit
(B) Mahurat
(C) Kalyan
(D) None of Above
Question: _________ becomes 101st member country of International Solar Alliance (ISA).
(A) Pakistan
(B) UAE
(C) USA
(D) None of Above
Question: How many Scientists Receives Swarna Jayanti Fellowships Award 2020-21? 
(A) 25
(B) 17
(C) 20
(D) 10
Question: India Placed at ………… Ranks in the Climate Change Performance Index (CCPI) 2022.
(A) 15th
(B) 10th
(C) 20th
(D) None of Above
Question: According to Brickwork Ratings Projects India's GDP in FY2022 ………..?
(A) 10-10.5 %
(B) 9-9.5 %
(C) 7-8 %
(D) None of Above
Question: What is the new name of the Mumbai-Karnataka region comprising seven districts in Karnataka?
(A) Kittur-Karnataka
(B) Malegpa Mumbai
(C) Siboi-Karnataka
(D) None of Above
Question: Issi saaneq, a dinosaur species which was recently modelled, which was found in which present-day region?
(A) Scotland
(B) Greenland
(C) Oman
(D) None of Above
Question: India and which country have recently signed a bilateral agreement in the field of innovation to further deepen technical cooperation?
(A) Australia
(B) Israel
(C) UK
(D) None of Above
Question: What is the name of the Circuit Train recently launched by IRCTC, to boost domestic religious tourism?
(A) Shri Ramayana Yatra Train
(B) Mahabharata Yatra Train
(C) Velankanni Yatra Train
(D) Dargah Yatra Train
Question: The Reserve Bank of India has launched its first global hackathon named ________.
(A) BANKING 2021
(B) BLOCKCHAIN 2021
(C) HARBINGER 2021
(D) ) LEGAL 2021
Question: IBM Corporation has launched a client innovation centre in which of the following city?
(A) Aurangabad
(B) Bhopal
(C) Dehradun
(D) Mysuru
Question: Who has been re-elected as the President of the International Gymnastics Federation? 
(A) Penpa Tsering
(B) Morinari Watanabe
(C) Thierry Weil
(D) Gyanendro Ningombam
Question: Who is the author of the new book titled "MODERN INDIA: For Civil Services and Other Competitive Examinations"?
(A) Amitav Ghosh
(B) Chidanand Rajghatta
(C) Poonam Dalal Dahiya
(D) Avtar Singh Bhasin
Question: Rohit Sharma has became the ______________ cricketer to score 3,000 runs in men's T20Is.
(A) Third
(B) Second
(C) Fifth
(D) Fourth
Question:  Junio has tied up with which of the following debit card issuer for preteens and teenagers?
(A) RuPay
(B) Mastercard
(C) Maestro
(D) Visa
Question: Which of the following city selected the UNESCO network of creative cities?
(A) Srinagar
(B) Bhopal
(C) Dehradun
(D) Imphal
Question: Who among these has been awarded ICC Players of the Month for October? 
(A) Devon Conway and Sophie Ecclestone
(B) Shakib Al Hasan and Stafanie Taylor
(C) Joe Root and Eimear Richardson
(D) Asif Ali and Laura Delany
Question: Who has been appointed as the next Chief of Naval Staff?
(A) Ajit Kumar P
(B) Atul Kumar Jain
(C) R Hari Kumar
(D) Ajendra Bahadur Singh
Question: Who has become India's wealthiest self-made woman billionaire?
(A) Kiran Mazumdar-Shaw
(B) Falguni Nayar
(C) Divya Gokulnath
(D) Leena Tewari
Question: Which state government has decided to create a database of people aged 30 years and above for early detection and treatment of lifestyle diseases?
(A) Kerala
(B) Maharashtra
(C) Delhi
(D) Telangana
Question: What was the rank of India out of 30 countries in the 1st edition of the Global Drug Policy Index?
(A) 11
(B) 18
(C) 20
(D) None of above
12 November 2021 Special Notes For Competitive Examination
12 November World Pneumonia Day. • Pneumonia is the single biggest infectious killer of adults and children – claiming the lives of 2.5 million, including 672,000 children, in 2019.
Book 1: 'Finding A Straight Line Between Twists and Turns' written by Aseem Chawla. The book provides an in-depth analysis of both national and international of the Indian tax landscape over a decade.
Book 2: "Sunrise over Ayodhya – Nationhood in our Times" written by Salman Khurshid. The Supreme Court in its order on November 9, 2019, directed the central government to hand over the 2.77 acres of disputed land to a trust, set up for the construction and management of a Ram temple.
Novak Djokovic won the 37th Masters Title at Paris 2021. Novak Djokovic (Serbia) has defeated Danill Medvedev (Russia) in the finals.
Dwayne Bravo announced retirement from international cricket. Former captain of the West Indies cricket team has confirmed his
retirement from international cricket.
India's Varun Thakkar & K.C. Ganapathy won GOLD Medal in the Asian Sailing Championships in Oman.
Gulf Cooperation Council (GCC) Secretary-General Dr. Nayef Falah Mubarak Al-Hajraf visits India.
Nepal Army Chief General Prabhu Ram Sharma conferred with the Honorary General Rank of the Indian Army.