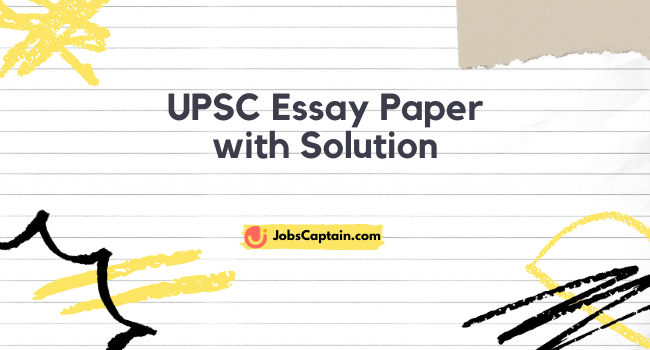 Listed below are the questions for the UPSC main essay paper from previous years. Essay for UPSC gives you a fair idea of what types of essay topics are asked in the exam.
Solving essay writing UPSC question papers will help you to manage your time as you would know exactly what to study and how much to study.
IAS questions give an idea about the syllabus and the way to prepare the subjects.
Essay Syllabus and Question Paper 2010 to 2019 – Download PDF
UPSC Essay Question Paper with Solution
Previous question papers UPSC give an insight into the type of questions that come in the exam. UPSC's mains question paper gives a conceptual understanding of the concept and style of the questions asked by the UPSC.
Previous year UPSC Main Essay Paper PDF
UPSC Easy Old Paper English  – Download Now
CS Main 2010 Main Exam Essay Question Paper – Download Now
2011 UPSC Essay Paper – Download Now – Download Now
UPSC Main Essay Paper in Hindi – Download Now
UPSC Main 2013 Essay Paper – Download Now
2014 UPSC Essay Old Paper – Download Now
UPSC Essay Model Paper – Download PDF
2016 UPSC Main Essay Paper in Hindi – Download PDF
2015 UPSC Essay Paper PDF – Download Now
Sorry friends Answer is not available! If anyone has solved the paper you can contribute and send your material to [email protected]  Here you can get all Essay Descriptive Questions along with Answers
You may also read, Our Latest Current Affairs in Hindi. It will help you in competitive exam preparation.
It is important to solving UPSC Essay question papers because:
To understand the type of UPSC questions asked in the civil services exam.
To know which topics are to be given priority, it is vital to solving the civil services' previous year question papers.
Civil service question papers should be solved to get an answer writing practice for the IAS exam.
Thank you for reading the UPSC essay papers Pdf. Furthermore, if you need any book for UPSC or any other exams, then please do comment below. Our team will get back to you.