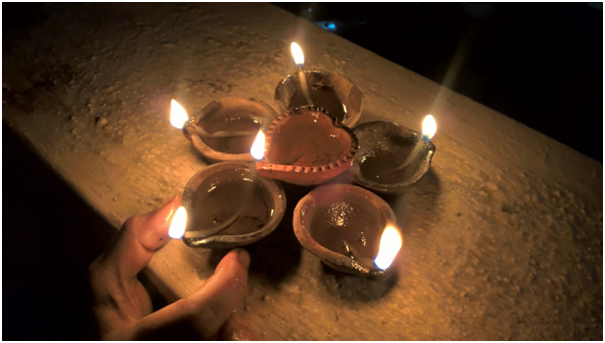 The Supreme Artist…God!!
Lights…, the visible reminder of Invisible light. The Supreme Artist (Say God) who has created this wonders-flooded world must be very color loving painter with colour-brush in her (Or his. No Sexism please.) Hands. Don't you think? I mean, see how she has painted it. You will not find anything static, flat, and monotonous or forever. Each and everything you see/you feel is changing.
There is not even flat surface anywhere in this world. She has created hills and so canyons. She has created Everest and K2 and so the Dead Sea. She has created desserts and also oceans. She has iced glaciers on the top of the hill and also baked volcanoes deep inside an orange shaped earth.
Not even on earth only, If you log in to the gallery of NASA, you will find hundreds of photos of other galaxies, comets, nebulas. All of them are creating a wonderful colorist picture.
Deepawali is one of the very important festivals for us. (Indians) In Deepawali/Deewali, deep/diva(divas) means for an oil lamp. In India during Deepawali, you will find every house lightening with divas.
In ancient time, people used to lighten divas which made of clay, the long wet piece of cotton with very small diameter deepened into oil filled clay-divas.
Nowadays, many people have replaced that divas with LED lighting series. Despite this change, light is still being spread. Here light is more than just illuminating electromagnetic wave, As TS Eliot wrote somewhere,
"Lights…, the visible reminder of Invisible light." 
What I understand is those lights must have some very spiritual connection. Those divas lighten the streets and home, and along with it lighten up the heart of human being. It teaches us to have look inside for a while. To overlook our mistakes and wrongs, also it gives a chance to correct these mistakes and make these wrongs to rights.
Rangoli is an art form which performed during Deepawali. In English, it is known as Kolam. Rangoli includes Rang which means colors. It has a large number of different kind of colors, but I feel that those are not merely blue-red-orange-kind colors. Rangoli contains colors of love and friendship which come from forgiveness and lead to happiness!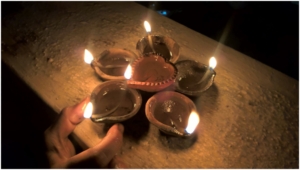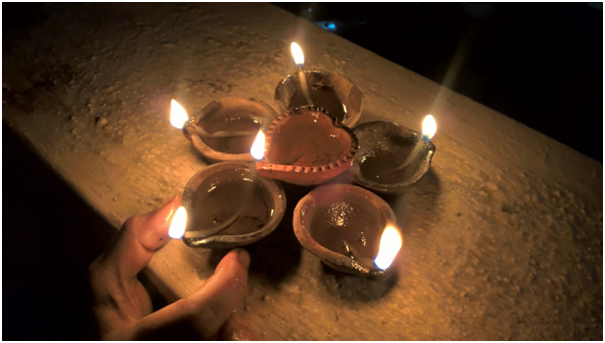 Deepawali actually is last day according to Hindu Year. The following day is known as Nutan Varsh (New Year).
Though many changes have happened in the way of celebrating, but bursting of crackers is increasing years by years. In those deafening sounds, somewhere inside myself, I feel culpability.
In our enjoyment, somewhere we are exploiting this holy earth and its environment which has given life to hundreds of species along with human being.
Let us try to celebrate it with minimum pollution and less harmful crackers.
Written by Keval Gohil