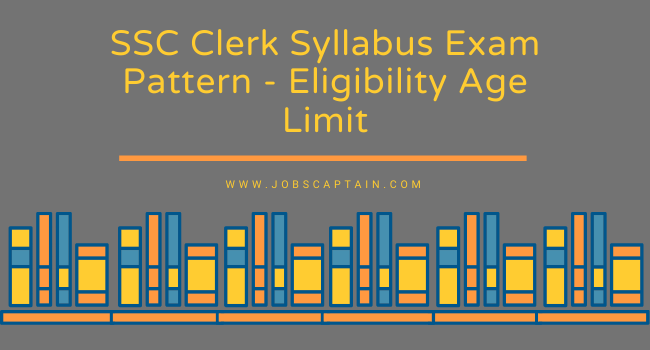 Here Team JobsCaptain provided all necessary information about SCC Clerk Syllabus, Exam Pattern, Selection Procedures, Salary of SSC Clerk, Exam Tips, Download Admit Card and final main exam syllabus and exam pattern. We suggest candidate to first refer the syllabus of SSC Clerk exam and do preparation accordingly.
The Staff Selection Commission conducts SSC Clerk exam every year for recruitment in various Ministries/Departments of the Government of India. SSC provides a smooth and stable career opportunity for the candidates who seek to serve the Indian Government. SSC Clerk exam is one of the most well known highly competitive Exam in India.
It is very important to understand the structure of the exam and the syllabus that needs to be prepared. To understand the pattern of the SSC Clerk examination and the level of difficulty, it is always important to do exam analysis.
List of Post under the SSC Clerk Exam
There are mainly four post under the SSC Clerk Exam, Listed Below:
Postal Assistants/Sorting Assistants or PA/SA
Data Entry Operator or DEO
 Lower Divisional Clerk or LDC
Court Clerk
SSC Clerk Syllabus
1. English Language: 
This section tests the candidates' ability to understand correct grammar usage, vocabulary usage and basic comprehension skills. Here list of topics covered in English Language and Comprehension Section of SSC Clerk Tier-I Exam:
Important English Language Topics: Synonyms, Antonyms, Homonyms, One Word, Substitution, Sentence Completion, Spotting Errors, Sentence Improvement, Idioms & Phrases, Spelling Test, Reading comprehension, Active/ Passive Voice of Verbs, Conversion into Direct/ Indirect narration, Shuffling of Sentence parts, Shuffling of Sentences in a passage, Cloze Passage, Fill in the Blanks
2. General Intelligence: 
This section tests the candidates' ability to think and problem solving skills. The questions asked in this question are mainly the brain teasers and sometimes can be quite tricky to answer. The questions will be of both verbal and non-verbal type out of the following chapters:
Important General Intelligence Topics : Analogies – Semantic Analogy, Symbolic/ Number Analogy, Figural Analogy, Classification – Semantic Classification, Symbolic/ Number Classification, Figural Classification, Trends, Space, Orientation, Venn Diagrams, Drawing inferences, Series – Semantic Series, Number Series, , Figural Series, Problem Solving, Emotional and Social Intelligence, Word Building, Coding and Decoding, Operations – Symbolic operations, Numerical operations, Punched hole/pattern–folding & Un-folding, Figural Pattern–folding and completion, Embedded Figures, Critical thinking
3. Quantitative Aptitude: 
This section will test the candidates' mathematical skills and how good he/she with numbers. For developing proficiency in this section, candidates are required to develop great command over the general mathematical concepts, methods and their applicability. List Here the major topics covered in SSC Clerk Tier-I exam under the Quantitative Aptitude Section:
Important Quantitative Aptitude Topics : Number System, Fundamental arithmetical operations, Algebra, Geometry, Mensuration, Trigonometry, Statistical Charts
4. General Awareness: 
This section is considered to be one of the high scoring sections of SSC Clerk Exam. It aims at testing the candidates' general awareness of the environment around him/her and its application to society. Questions from current affairs taking place around the world and in India will also be a part of this section. List of the major topics covered in SSC Clerk Tier-I exam under the General Awareness Section.
Important General Awareness Topics : History, Geography, Economy, Polity, Current Affairs
If you want to pass SSC Clerk Exam, Then you must read Current Affairs <– Read Here
SSC clerk eligibility
SSC Clerk Application Fee
The required application fee is Rs. 100/-
Exemption: No fee is required to be paid by female, SC, ST, Physically Handicapped, and Ex-Servicemen candidates
SSC Clerk Admit Card
Staff Selection Commission release the admit card for Tier I Exam through official website.
SSC Clerk exam conducted in three Tiers
Tier I (computer-based exam),
II Tier (descriptive exam), and
Tier III (typing test/ skill test).
SSC Clerk Exam Pattern (Tier I)
The SSC Clerk syllabus and exam pattern is set by the Staff Selection Commission.


SSC Clerk Tier 1 exam conducted in online mode.
Questions will be of Objective Multiple Type Choice.
Tier –I of the 12th Pass level Examination would be common for all categories of posts and will be held in one session.
The questions set in Hindi/English in respect of Parts A, B and C.
Scheme of Tier-I Examination for all candidates including Visually Handicapped candidates with visual disability of forty percent and above and opting for availing the assistance of scribe.
SSC Clerk Exam Pattern (Tier – II) / Descriptive Paper [Tier-II] 
According to the latest SSC clerk Exam pattern, the SSC Clerk Tier II will take place in pen & paper mode. If you are secure 33% mark in Tier – I exam than you eligible for tier-II examination.
Topic
Essay writing (200 to 250 Words) and
Letter/Application Writing (150 to 200 Words)
Total Mark – 100
Time – 1 Hour
SSC Clerk : Tier III – Skill Test
Tier-III of the examination will be take skill Test/Typing test which would be of qualifying nature.
Final Selection would be determined on the basis of total score obtained by candidate in Tier-1 and Tier-2.
There are mainly Typing test in English & Hindi. Plus some arithmetic operations in ms excel.
If you successfully crack all 3 Tier with good marks than you get SSC Clerk job in respective department.
SSC Clerk Answer key
SSC Clerk answer key PDF released on the official site of Staff Selection Commission. You can check SSC answer key direct link below to download.
Moreover, All kinds of important Pdf notes and around 10,00,000 questions and complete General Knowledge Material can be found here. Subject wise Download Links for Handwritten Class Notes and Quizzes in Hindi and English.
Subject Wise Study Notes and Quizzes 
| | |
| --- | --- |
| Computer Awareness Notes – Open | General Hindi Notes – Open |
| Reasoning Notes – Open | English Grammar Notes – Open |
| Maths Notes – Open | Economics Notes – Open |
| General Science Notes – Open | Indian Polity Notes – Open |
| History Notes – Open | Today History in Hindi – Open |
| Environment GK Notes – Open | Banking GK in Hindi – Click |
| Geography Notes – Open | Computer Gk in Hindi – Open |
| JEE and NEET Notes – Open | Class 11 & 12 Science – Open |
| English Grammar Quizzes – Play Now | General Knowledge Quiz – Play Now |
These all about the SSC Clerk Exam, Pattern, syllabus, Eligibility, Application fee, how to apply etc. If you like this article, there share with your friends.