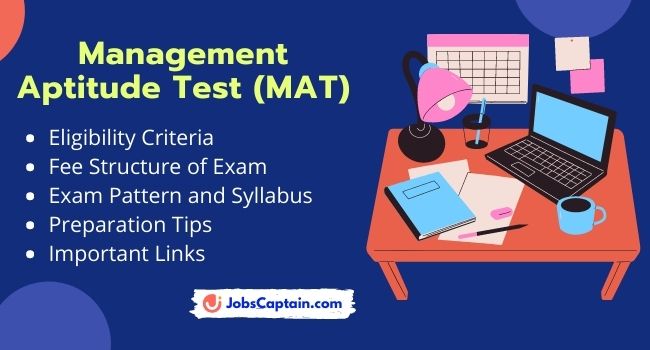 The Management Aptitude Test (MAT) is required for pursuing PGDM or MBA programs in a number of reputed institutes, colleges and universities.
In this test, you will come across 100 analogies on wide subject areas like social science, literature and mathematics to name few.
This exam is conducted by the Center for Management Services (CMS) which is a component of All India Management Association (AIMA). The exam is conducted on quarterly basis. MAT 2021 is conducted about 4 times in a year.
Let's first look at the Management Aptitude Test highlights:
| | |
| --- | --- |
| Exam Name | Management Aptitude Test (MAT) |
| Conducting Body | All India Management Association (AIMA) |
| Frequency | 4 Times a Year |
| Examination Mode | Computer-Based Test, Paper-Based Test, Internet Based Test Mode (IBT) |
| Exam Conducted in | February, May, September and December |
| Time Duration | 2 hours 30 minutes |
| Registration Mode | Online |
| Type of Questions | Objective Type (Multiple Choice Questions) |

Eligibility Criteria
---
You must have a Bachelor's degree in any discipline from an affiliated university or equivalent. Those awaiting their final year's results or appearing for the final year exam can also appear in the exam.
No minimum marks limit is set for this exam.
No minimum age limit is set by the exam conducting authority.
Mode of Test and Fee
---
| | |
| --- | --- |
| Options | Fee Structure of MAT |
|  Computer Based Test (CBT) | Rs. 1650/- |
| Paper Based Test (PBT) | Rs. 1650/- |
| Remote Proctored Internet Based Test (IBT) | Rs. 1650/- |
| For PBT + IBT | Rs. 2750/- |
Nature of MAT 2021
---
Scheme of the examination or exam pattern of Management Aptitude Test (MAT) given below.
| | | | |
| --- | --- | --- | --- |
| Section No. | Section | No of Questions | Time (Minutes) |
| 1. | Language Comprehension | 40 | 30 |
| 2. | Mathematical Skills | 40 | 40 |
| 3. | Data Analysis and Sufficiency | 40 | 35 |
| 4. | Intelligence and Critical Reasoning | 40 | 30 |
| 5. | Indian and Global Environment | 40 | 15 |
| | Total | 200 | 150 |
Preparation Tips for MAT
---
We provided here preparation tips to start MAT preparation at home.
In MAT test, general aptitude of the candidate is tested in various areas such as language comprehension, data analysis and sufficiency, intelligence and critical reasoning, mathematical skills, World History etc.
Under mentioned points will prove highly helpful to you in preparing for the exam in a most effective manner:
Study the pattern of questions asked on the exam by referring to model test papers and previous years' question papers.
Keep on refreshing your vocabulary by learning new words; particularly the words which are frequently used in the exam pattern.
Watch your speed and notice the time you take in attempting each section and budget your time as per need.
Follow a strategy of attempting 'easy' questions first over 'difficult' ones. Answer all the 'easy' questions first and then return back to difficult questions in the last. Do not allow extremely difficult question consume too much time.
The best way to budget your time is 'PRACTICE'. Practice as much as possible before you appear for the test, with sample test papers or previous years' question papers. This will improve your speed and you can get familiar with the pattern of the exam.
You need to be careful while skipping any of the questions, so that you mark your answers in the right grid. It is better that you circle those questions which you are skipping.
Cramming just days before the test is never recommended. The best bet over the preparation pattern is that you follow a planned strategy for exam preparation, so that you are able to complete your syllabus well in advance. Thus, you will remain calm and confident instead of mugging up things.
Do not indulge in any kind of chatting related to the test during the breaks. It may result into self-doubt and increase your anxiety.
Most of the students are not satisfied with their test after the test time is over, but it is all due to exhaustion of the long day.
Never cancel your score unless you were critically sick on the exam day or you were not at all prepared.
Finally, the key to success in any competitive exam including MAT is 'NEVER EVER PANIC'. Concentrate on your goal and move steadily towards it to achieve it.

Important Links for MAT
---
| | |
| --- | --- |
| Registration for MAT 2021 | Link |
| Admit Card | Click Here |
| MAT Result Link | Click Here |
| Latest News and Update regarding MAT | https://mat.aima.in/ |
Document Required
---
When you are filling online application form, below documents are required.
Valid Email Id
Personal Details
Academic Qualification Details
Image of scanned candidate photograph in jpg/jpeg format and size should be 40 KB to 150 KB
Image of scanned signature in jpg/jpeg format and size should be 10 KB to 150 KB
Net Banking/Debit/Credit Card details for making an online payment
Thank you for reading MAT 2021 eligibility criteria, exam pattern and syllabus, fee structure and important preparation tips.
Must Read Our Guidance Section on Various Courses.
Further if you need any help regarding Management Aptitude Test, than please do comment below, our expert will sure help you.