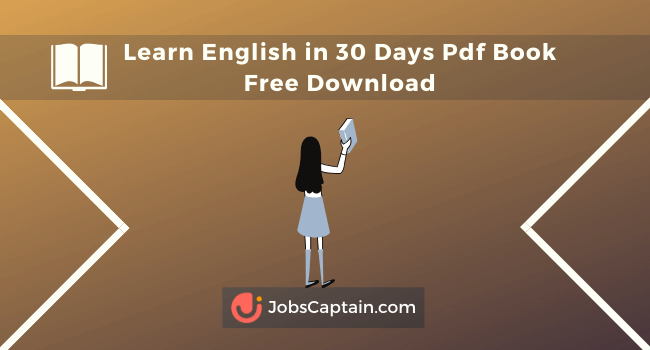 Before diving into advance learning English, you should check our learn English in 30 days Pdf Book. So let's get started with basic English speaking!
Learn English in 30 Days PDF
Here we provide the best pdf book of Learn English quickly. Team JobsCaptain give you one suggestion Learn to think in English. If you can think in English, your conversational skills will speed up.
Content of Learn English in 30 Days
Chapter I English Grammar
Day 1
Two Methods of Learning Grammar
Sentence
Part of Sentences
Sentence Fragment
Four Basic Sentence Structures
Chapter II Parts of Speech
Day 2
Nouns
Different Kinds of Nouns
Three Properties of Nouns
Fifteen Rules in forming the singular and plural noun
Exercise
Rules in Forming Possession
Day 3
Pronoun
Five kinds of Pronoun
Forms of the Personal Pronouns
Day 4
Possessive Pronoun
Classification of Gender
Exercise: Pronouns and Antecedents
Day 5 Verbs
Forms of Verbs
Four Kinds of Verbs
Three Parts of Verbs (The principal)
Day 6
Tenses of verbs
Six Basic forms (tenses of verbs)
Day 7
Six tenses of the verb TO BE
Six Tenses of the Regular Verb CARE
Six Tenses of the Irregular Verb EAT
Day 8
Six Tenses in Progressive Forms of Verbs
Day 9 Two groups of Verbs
Verb CARE
Exercise: Tense Usage
Day 10
Thirty Basic Rules in Subject-Verb Agreement and Grammar
Day 11
Verbs: Voice
Moods of Verb
English Modals
Day 12
Agreement of Subject and Verb
Exercise
Agreement with Collective Nouns
Agreement of Verbs with Indefinite Pronouns
Day 13
Special Cases of Agreement
Day 14
Complements of Action Verbs
Complements of Linking Verbs
Day 15
Prepositions
Two Groups of Prepositions
Day 16
Cases of Nouns and Pronouns
Three Cases in English
Cases of Nouns
Cases of Pronouns
Possessive Case of Nouns and Pronouns
Day 17
Adjectives
Three Uses of Adjectives
Kinds of Adjectives
Pronouns as Adjectives
Day 18
Adjectives have Comparison
Day 19
Adverbs
Kinds of Adverb
Degree of Comparison
Day 20
Preposition
Prepositional phrases
Types of Prepositional Phrase
The Correct Use of Prepositions
Day 21
Conjunctions
Types of Conjunctions
Exercise2: Prepositions and Conjunctions
Interjections
Chapter III Clauses
Day 22
Two Kinds of Clauses
Types of Dependent Clauses
Adverbial clauses
Subordinate Conjunctions
Kinds of Adverbial Clause
Exercise: Error Detection
Subordinate Conjunction is commonly used in adverbial clauses of the various types
Day 23
Adjective Clauses
Restrictive and Nonrestrictive Clause
Noun Clauses
Noun Clauses Function
Chapter Classifying Sentences based on Clauses
Day 24Using Comma and Semicolon
Chapter Verbal's
Day 25
Three Verb Form of Verbal
Participle verbal
Four kinds of Participles
Day 26
Verbal Analogy Tests
Two Distinct types of knowledge
Principles of Taking Verbal Analogy Tests
Exercise: Verbal Analogy and Relationship
Day 27
Gerunds
Infinitives
Split Infinitives
Chapter VI Punctuation
Day 28
Types of Punctuation
Period
Question Mark
Exclamation Mark
Quotation Mark
Apostrophe
Day 29
Comma
Colon
Semicolon
Parenthesis
Dash
Day 30
Capitalizations
List of Troublesome Words
Answer Key
Conclusion
Download books for Learn English in 30 Days.
English Grammar Master in 30 Days – Download PDF
Learn English Now – Download [With Your English Practise Plan]
Spoken English Learn Quickly
Free Download Spoken English Learned Quickly PDF Book in English. Read self-study English courses used by professionals and university students.
It will help you speak English comfortably. Read Best English learning books pdf.
Free English Grammar E-Book
Download or Read English Grammar Book PDF for rules and exercises. Learn free grammar lessons on tenses, modal verbs, passive, reported speech, conditionals, relative clauses, indirect questions, gerunds, infinitives and many more given in the below pdf book.
Here we provided the best book for learning English Grammar pdf book.
Free English Grammar E-Book Level 2 – Download
I Still Can't Speak English by Jason West
A motivational "I Still Can't Speak" pdf book created by Jason West is now available for free here. Download this awesome pdf book from the given link.
I Still Can't Speak English by Jason West – Download
Thank you for reading Learn English in 30 Days Pdf. We hope this article is helpful for learning English. Please share with your friends. If you are facing any problems downloading the above books, please comment below.
Disclaimer – JobsCaptain is not the owner of all these pdf books on "Learn English in 30 Days PDF", Neither has It Been Created Nor Scanned. We Only Provide the Material Already Available on The Internet or in Public Domain. If Any Violates The Law or there is a Problem Please Contact Us – at [email protected]