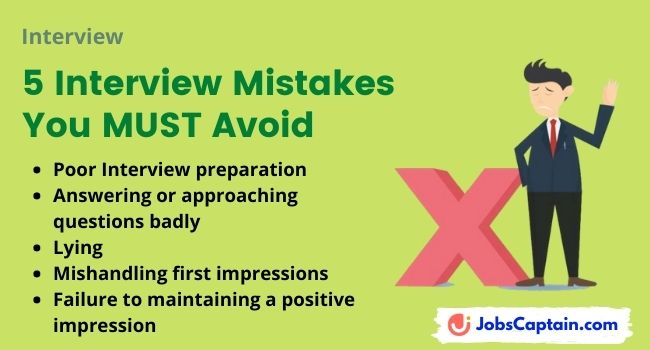 The greater joy of any job seeker is making it during the interview. However this is not always the case and sometimes candidates fail to make it simply because of they did not pay attention to the questions or worse still told a lie.
Follow Tips and Trick to crack Any Interview.
I would like to share with you five (5) mistakes which as a candidate you MUST avoid at all costs. Right?
Poor Interview Preparation
---
Failure to gather enough information on what the role and the prospective employer entail is an unforgivable career sin punished by interview failure. Especially with so much information available online. This level of ignorance portrays you as uninterested party.
Your motivation for applying for the any job will be questioned and the recruiter will undoubtedly question whether you have the necessary enthusiasm and passion. Failing to prepare thoroughly could mean missing the chance to provide vital evidence that could help land you the job.
Ensure that before you proceed for the next interview, you have gathered and understood every detail about the role and the prospective employer.

Approaching or Answering Questions Badly
---
Answering questions poorly could mean talking for too long  or not long enough by giving typical YES or NO responses with no explanations.
Sometimes it could be answering the wrong questions since you didn't hear the question right and not asking the interviewer to clarify. Of course, this can be down to nerves or a lack of
interview experience or sometimes just sheer arrogance.
To avoid this pitfall learn to get across the information that will get you the job. Recruitment consultants can help in this area by rehearsing with you on how to answer questions right.
In the event that you didn't get the interviewers' question right, do not hesitate to ask him/her to repeat it. However you should be careful not to make it a habit on all questions that come your way. You do not want your concentration ability to be put in doubt.
Lying
---
This could be in form of claiming more credit for an achievement than wasn't the case. It is also not uncommon to interview candidates who lie about their medical history or the reasons for leaving a job.
Sad to note is the fact that sometimes the interviewer also lies to the candidates by not disclosing the truth about the stability of their company, or underestimate the amount of time the candidate might need to work.
Either way, lying is bound to end in distrust. A candidate will rarely stay in a company upon discovering that she/he was not given the right information and likewise no employer will entrust a role to a candidate who lied during the interview.
As a job job-seeker, learn to be honest and tactful with the prospective employer to earn their unwavering trust.

Mishandling First Impressions
---
Creating a false first impression like turning up late, not apologizing for lateness, not dressing appropriately, chewing gum, smelling of alcohol or cigarettes, not switching off mobile phones, not making a firm handshake, eating French fries (chips) while waiting… or just a complete lack of social skills could be disastrous. Surprisingly these are all quite common.
It is imperative to know that no matter how you carry yourself, it only takes a few seconds for the interviewer to make up his/her mind about you. A poor impression, often, non-verbal signals can silently result into the interviewer turning the remaining session into a process of confirming the first impressions and prejudices. Ensure that your first impression is strong and positive.

Failure to Maintaining a Positive Impression
---
You should learn to stay positive throughout the whole interview process. This means not badmouthing previous employers and not disclosing inappropriate information that would be deemed injurious to or by your previous employers. Appearing edgy and defensive when asked for evidence to back up achievements doesn't work in your favor, either. And stay consistent about why you left a job.
Interviewers will always want to pick the best-qualified and experienced candidates. However, they also want to choose people who will fit culturally, who actually want the job and are hungry for the chance to use their talents in their organisation effectively.
Failing to project that positive impression usually means that they will choose someone else who does, even if it means that they compromise in other areas like teachable technical skills.
7 Important Soft Skills Every Job Candidate Should Have
Above all 5 Interview Mistakes You MUST Avoid for getting good job.