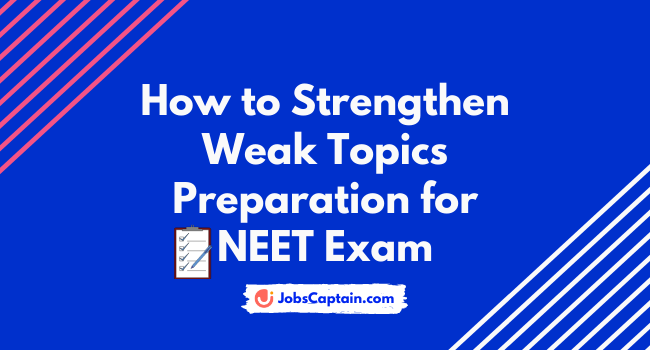 NEET being one of the toughest exams in the country comprises of certain topics that need that extra bit of attention. A majority of the students spend time of such topics trying to understand them and master them.
How to deal with such topics that can be a weak-point in the syllabus for the students? Well, you needn't be scared or panic when you come across these topics. Here, we give you a few ideas on how you can handle and further strengthen the weak topics in the NEET syllabus.
NEET online classes are the place to find expert help and coaching for such topics. The faculty will help you with tips and tricks to strengthen your weak topics.
Enlist Tough to Simpler Topics for Better Practice
Let's start with the basics! Make a list of all the topics that you feel need extra practice for a better understanding. Start from the simpler topics descending to the toughest topics you feel you might be weak at. This will help you draw a road-map of how you should handle and complete such topics within the time you have left for the exam.
Start with the topics that are short and easy to complete. This will help you build up your confidence. Keep a constant pace and attempt the tougher topics once you are thorough with the simpler ones.
Make a Timetable
Making a timetable will help you organize your time and decide which topics needs extra attention and which topic can be completed in a lesser duration of time. Time management is critical for such exams.
Segregate your weak topics over the week so that you can go through each of them at regular intervals. Chalk out a timetable where you can dedicate more amount of time on the lengthier topics. Make a point to include a part of each topic into your daily timetable so that there are no lags.
Make Notes
The prescribed books and notes are a great help while preparing for NEET. But you should be able to have study material that you can connect with easily and understand by just giving it a glance.
Make notes of your own. When you are noting points down, it will register in your mind. Try to include diagrams, flowcharts, pie charts or anything pictorial that will give an overview of the topic. This way the notes are not mundane or boring for you to study.
Refer Examples
Examples give us different scenarios of the same topic. Studying different examples, you will be able to apply the concept of a topic in more than one way. For subjects such as Math and Physics, concepts can be used in a variety of possible ways.
Studying a wide range of examples will help you see the problem in different ways. Your mind will be able to process the data in more than one way. This will help you to find the best, easiest and fastest way to find the answer.
Discuss with Faculty and Friends
Faculty are experts who have small and effective tips and tricks to understand difficult topics in a more beneficial way. Discuss the tough points of a topic with your coaches to get a better perspective as well as the correct way to approach the problem. Try to get additional ideas and thoughts as to how you can study the topic to understand and learn it better.
You should also consider discussing such topics with your friends. They might have some tricks up their sleeves too!
Attempt Mock Tests for Practice
As they say 'Practice makes a man perfect!'
There a several books and websites that provide mock tests and questions for practice. Attempt as many tests as you can before the exam. Take one topic at a time and attempt questions for the same.
Several websites and NEET online classes provide the latest pattern of the exam and question sets according to them. Here, you can attempt the questions and track the amount of time you require for the same. You can find a number of JEE and NEET books that have practice problems. Attempt the unique ones first and then you can attempt more once you have the confidence.
Repeated Revisions
Revisions are a vital part of the preparation. Take up revisions whenever possible. Revisions will help you figure out which topics need more focus. This way you can make sure that every topic is thoroughly covered.
Conclusion
Though NEET is one of the toughest exams today in the country, with proper guidance and enough practice you can crack it easily. Online NEET Preparation will provide you with expert help, latest study material and umpteen practice and doubt solving sessions to facilitate the best preparation environment.