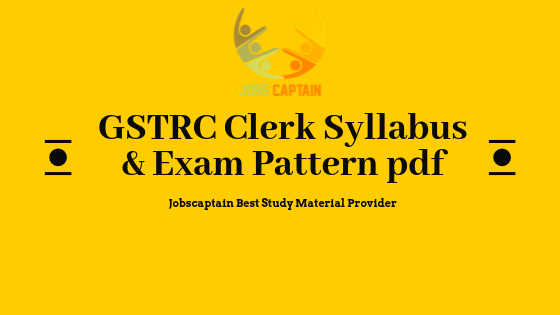 Get here Complete GSRTC Clerk Syllabus. Here we provide the official GSRTC Clerk Exam Syllabus 2022 is released by the organization of Gujarat State Road Transport Corporation (GSRTC) at www.gsrtc.in along with the recruitment notice.
Registered candidates can download the GSRTC Syllabus of Traffic Controller, Junior Assistant, Traffic Inspector, Junior Accountant, Assistant Traffic Inspector & Clerk Posts in addition to the exam pattern which is provided free of cost and in pdf .
While you need the exam plan for the preparation purpose, follow this page which the GSRTC Exam Pattern is mentioned. All GSRTC Exam Topics are released on this web page. Candidates start their preparation properly for gaining knowledge about the subjects.
GSRTC Clerk Exam Pattern
 S.NO
Type of Exam
Subjects
Total Marks
1.
Objective Type
General Studies
40 Marks
2.
Gujarati Language
10 Marks
3.
Reasoning
20 Marks
4.
Quantitative Aptitude
20 Marks
5.
English
10 Marks
GSRTC Clerk Exam Syllabus For General Studies
Chemistry.
Biology.
Geography.
Art & Culture.
Economy.
Countries & Currencies.
Famous Books & authors.
Famous Personalities.
States & Capitals.
Scientific Research.
Physics.
Current Affairs in Gujrati – National & International.
General Polity.
Politics.
Countries & Capitals.
Famous places.
GSRTC Traffic Controller Exam syllabus – Gujarati Language
Adverb.
Vocabulary.
Articles.
Error Correction.
Subject-Verb Agreement.
Verb.
Idioms & Phrases.
Tenses.
Grammar.
Synonyms.
Fill in the Blanks.
Sentence Rearrangement.
Unseen Passages.
Comprehension.
Antonyms.
GSRTC Junior Assistant & Other Posts Reasoning Syllabus
Visualization.
Analysis.
Statements & Arguments.
Decision Making.
Figural classification.
Problem Solving.
Number Series.
Blood Relations.
Statements and Conclusions.
Odd Man Out.
Seating Arrangements.
Space.
Coding & Decoding.
Visual Memory.
Arithmetic Reasoning.
Spatial Orientation.
GSRTC Junior Accountant & Other Posts English Exam Syllabus
Fill in the blanks.
Usage of Articles.
Para Completion.
Direct & Indirect Speech.
Antonyms.
Grammar.
Error Detection.
Adjective.
Error Correction.
Idioms & Phrases.
Vocabulary.
Correct use of words.
One word Substitutes.
Synonyms.
Active voice & Passive voice.
Sentence Arrangements.
Reading Comprehension.
Passages.
Prepositions and Conjunctions.
Verb & Adverb.
GSRTC Traffic Inspector & Other Posts Exam Syllabus For Quantitative Aptitude
Simplifications.
Averages.
Time & Distance.
Profit & Loss.
Probability.
Permutations & Combinations.
Problems on Ages.
Boats & Streams.
Problems on squares, cubes.
Simple Interest.
Ratios & Proportions.
Allegations & Mixtures.
Least Common Multiple (LCM) & Highest Common Factor (HCF).
Compound Interest.
Discounts.
Time & Work.
Geometry.
Fundamental Operations.
Percentages.
Partnerships.
Number System.
Mensuration.
To Download GSRTC Syllabus 2019 PDF – Click Here