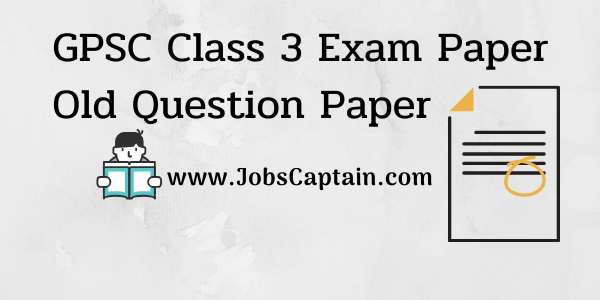 Are you looking for GPSC Class 3 Exam old paper? Here we provide a free GPSC Exam paper, These Question paper is very useful to pass out the Exam.
First of all you need to know about the Exam pattern and also about the syllabus. You should know which topics cover in GPSC class 3 exam.
GPSC Gujarat Public Service Commission (GPSC) is one of the Tough exams in Gujarat. Many Student career academies and many other prepare from the home. Who prepares from the home, Team Jobs Captain responsible for it, we provide day-to-day important material in PDF file.
GPSC Class 3 Jobs include exam like Gujarat RTO inspector, Police Inspector, Nayab Mamlatdar, Deputy Mamlatdar, Chief Officer, Account Officer Etc.
We update all information about Current Affairs and in our Daily GK page we update all things like Constitution, India-Gujarat Geography, Sports GK, Gujarati Sahitya and Vyakaran, Science GK, Maths etc.
Get here previous years 2017, 2015, 2014 old exam paper.
GPSC Class 3 Exam Paper
Gujarat Public Service Commission has organized the recruitment through Gujarat Administrative & Civil Service 1, 2 and Class 3 for various posts to fill many vacancies.
GPSC Deputy Section Officer (DySO) / Deputy Mamlatdar, Class-3 (08-12-2019) – Question Paper  |  Answer Key Coming Soon
Class – 3 Gujarat Public Service Commission Paper Download here
G.P. Service Commission  Old Paper Download
Gujarat Public S.C. Previous Paper Class – 3
Gujarat Public Service Commission Class-3 Old Paper
Public Service Commission (Gujarat) Paper
Download Previous paper of GPSC
Gujarat Public Service Commission Paper (Class 3)
Keep visiting our website jobscaptain.com to check GPSC Class 1, 2 and 3 Recruitment latest details based on the official announcement. You can get study Materials for GPSC Class 3 exam as per 2020's exam pattern. We have published Study Materials for the Gujarat Public Service Commission exam in pdf format.
All current affairs questions in GPSC Class 1-2-3 Exam were asked from JobCaptains Daily Current Affairs in Gujarati. We are also working different tutorials for all subjects including English Gk in Gujarati, Maths GK (Quantitative Aptitude), Reasoning etc… will be available soon at JobsCaptain.com.
We are trying to cover all syllabus, we will also update this material on a regular basis. Stay connected with us, start your preparation now & Crack GPSC! Best of Luck.