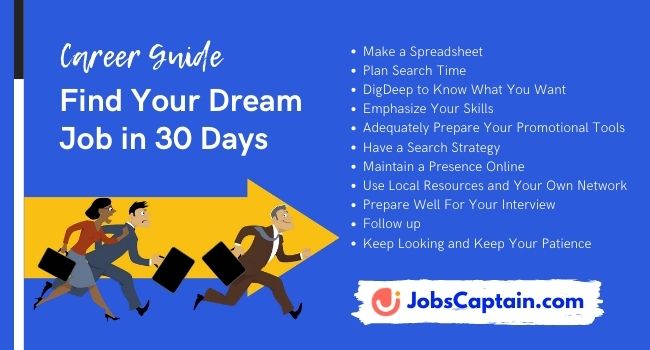 Hello, We hope you all are doing well in 2020. Getting a Job in year 2020 is looking to hard, today we share about how you will get your dream job in 30 days.
Looking for a new job can be a tough and long journey – especially if you're not prepared and don't have a clue where to start and how to do it smartly.
Read Here more important article on Career.
However if you follow these steps, you'll have a great opportunity at scoring a new job in 30 days.
Make a Spreadsheet
Excel is your friend in the organization game. And organization is the key to getting a job fast. Keep track of company names, position title, links to the job postings itself, application materials, due dates, plus the date you applied, follow-up dates, and notes.
You could still use any other tool available but the goal should remain to keep all your job search details organized and easily referenced.
Plan Search Time
Once you have a game plan and an organizational system, you have to organize your search time, and spend 30 minutes a day on it. No one wants to devote an entire day to updating their resume.
Be realistic and check off a few tasks every day. A quality planned 30 minutes of concentrated work every day will move you that much closer to the finish line.
Dig Deep to Know What You Want
To guide your job search, ask yourself some key questions: What don't you like about your current job? Why do you want to change jobs? Think about your values and which kind of work environments comfortable you best. And don't forget to consider your desired salary, working conditions, work environment, etc.Try to aim for places that match up with your innate talents and tastes first.
You'll be a better fit right out of the gate.
Emphasize Your Skills
Make a list of the skills and qualities that set you apart from the crowd, that which makes you exceptional. Pinpoint your main skills – you will need them in the next step.
Adequately Prepare Your Promotional Tools
Your resume, LinkedIn profile and cover letter are all promotional tools for selling yourself. Let this tools tell of your career exploits and what you bring on board. This is your chance to represent the major achievement for every job you've had.
Have a Search Strategy
Now that you've identified your job search goals and the skills that make you a beneficial aspirant and polished up your promotional tools, it's time to narrow down your job search.
In other words, target the areas where you'd like to work: would you prefer to work for a small, medium or large company? In the public or private sector?
Maintain a Presence Online
Ensure you create a profile on Facebook, Instagram, Twitter and LinkedIn. Make sure you have these accounts and that they are active and up to date. Make sure you're using them correctly and are working consistently toward building your personal online brand.
Use Local Resources and Your Own Network
The one step you'd probably like to avoid is probably the most important. Sometimes all the difference is made in who you know and who knows you. You could be a relationship away from the job you so want.
Think of it as initiating mutually beneficial relationships. Keep in mind what you have to offer! It's not just a one-way street.
Conduct a separate survey of the people around you, track down people who work in the target sector you've identified and try to contact senior managers who work there.
Remember a large percentage of jobs are never advertised, so you have to be resourceful.
Prepare Well For Your Interview
Do you sufficient research on the desired organizations and probably the individuals you may face during an interview. Linkedin would be a great ally at this point.  This will help in forming the kind of questions you could a ask at the end of the interview.
Asking questions at the end of the interview demonstrates genuine interest and serious intent.
Follow up
Once the interview is over, they'll generally promise to be in touch "soon." Don't let this sort of evasiveness stop you from reaffirming your interest and following up with your interviewer. Tell them you appreciated meeting with them and that you're eagerly awaiting their response.
Then follow up with the same. Send a handwritten thank you note—you'd be surprised at how effective this can be! Then follow up with a phone call if you haven't heard back in two weeks or so.
Keep Looking and Keep Your Patience
Despite the best efforts, some great outcome may take longer that expected, do not give up. Keep looking and keep you patience.
When searching for a job, "you have to keep looking; don't focus all your energy on a single job. If you're consistent and keep honing your tools, in time, your efforts will be rewarded.
Thanks for reading 11 Steps To Help You Find Your Dream Job. If you have any problem in career, please do comment below, we will try to help you.
Share this article with your friends.