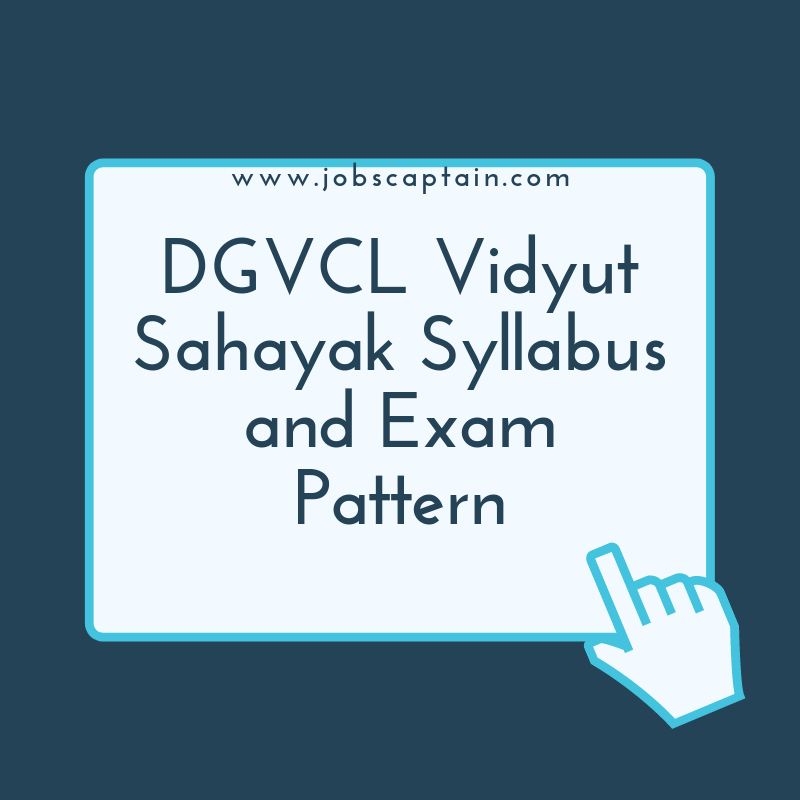 Dakshin Gujarat Vij Company Ltd. has recently announced about the Recruitment of  Vidhyut Sahayak (Junior Assistant, Jr. Engineer-Civil, Jr. Engineer- Electrical and, Jr. Engineer-IT). DGVCL Vidyut Sahayak (Junior Assistant) Exam Date & Exam Center will be announced soon at online. Meanwhile, In this article you can get Dakshin Gujarat Vij Company Ltd Junior Assistant & Junior Engineer Syllabus 2019-20 and study material.
DGVCL is going to direct a composed test for the enrollment against these empty posts. Those connected competitors who are numb-skull about the plan/example and Syllabus of this composed test and stress over their arrangements.
They may get the latest prescribed exam pattern and syllabus for the exam of above mentioned posts from here. The DGVCL 2019-20 Syllabus will help you to beat the all questions with correct answers if you will prepare as per the offered syllabus.
Junior Assistant (Vidyut Sahayak) Exam Pattern 2020-21
General Knowledge – 10%
English Language – 20%
Maths & General Science – 15%
Analytic & Logical Reasoning – 15%
Computer knowledge – 20%
Gujarati language – 20%
Junior Engineer (Vidyut Sahayak) Exam Paper Pattern 2019-20
This includes job post like Jr. Engineer-Civil, Jr. Engineer- Electrical and, Jr. Engineer-IT
General Knowledge – 10%
English Language – 10%
Technical Subjects – 60 %
Computer Knowledge – 10 %
Gujarati Language – 10 %
Vidhyut Sahayak (Junior Assistant) Syllabus
General Knowledge
Knowledge of current events of National and International importance and such matters of every day observation and experience in their scientific aspects as may be expected of an educated person who has not made a special study of any scientific subject. Must cover other topic like
Geography, Famous Books & Authors, places
Literature, Civics, Environmental Issues
Indian History, Sports, Biology,
General Science, Famous Days & Dates, Rivers, Lakes and, Seas, Inventions and Discoveries
Indian Parliament, Tourism, Indian Politics, Current Affairs, Artists, Countries and Capitals, Indian Economy
Heritage site on India.
English Language-Grammar
Verb
Preposition
Adverb, Spotting Errors
Subject verb agreement, Error Correction/ recognition (Underlined Part, Phrase in bold)
Tenses, sentences rearrangement, fill in the blanks with articles
Comprehension, answering questions based on unseen passage, vocabulary
Synonyms and antonyms usage, vocabulary & grammar
Proficiency in the language, Idioms and Phrases Joining Sentences, Substitution, Sentence Completion, Synonyms,
Para Completion, Active Voice and Passive Voice, Antonyms, Passage Completion.
Maths
Arithmetic
Elementary algebra geometry
General trigonometry
Menstruation
Simple & Compound Interest
Decimal Fraction
Pipes and Cistern
Ratio and Proportion
Time and Distance
Allegation & Mixture
Probability
Simplification
Boats & Streams
Time and Work
Logarithm, H.C.F and L.C.M., Permutation & Combination, Average, Height & Distance, Square Root and Cube Root, Ages etc.
General Science
The syllabus under this shall cover Physics, Chemistry and Life Sciences which is Related to the DGVCL Posts.
Analytic and Logical Reasoning
Arithmetical Reasoning
Statements & Conclusions
Coding-Decoding
Embedded Figures
Clocks & Calendars
Number Series
Blood Relations
Statements & Arguments
Decision Making
Cubes and Dice
Alphabet Series
Data Interpretation
Mirror Images
Non-Verbal Series
Computer Knowledge
Operating Systems
The hardware of Computer
MS Word
Computer Basics
MS-DOS
MS Office, MS Excel and PowerPoint
Gujarati Language
Gujarati Sahitya
Vocabulary
Grammar
Comprehension
Antonyms
Idioms & Phrases
Fill in the Blanks
Synonyms
Tenses
Usage of Words
DGVCL Engineering Posts
Civil Engineering
Structural Analysis
Transportation Engineer 1 & 2 (Road)
Building Planning
Soil Mechanics
Professional practice
Hydraulic Structure
Town Planning
I.S.
Valuation
Quantity Estimation
Building Code, etc.
Electrical Engineering
Switchgear & protection (MC/LV) & LT Switchgear design and testing etc.
Analysis of Dist. Transformers, Meters & Testing
Distribution HT/LT Line parameters.
Non-conventional Energy sources like Wind, Solar, Biomass etc.
Functions of capacitors & reactors.
Performance of line fault analysis.
Measurement of Electrical Power.
Power Engineering.
Low Voltage constraint & resolving thereof.
Distribution Network Installation & load studies.
Present Power Sector scenario in India and others Electrical Engineering topics etc.
IT/ Computer Engineering
Knowledge of C++, ASP.NET,ADO.NET, Java & JavaScript, PHP, MS SQL Server
UML and Object Oriented designing
Networking with LAN/WAN
Manageable switch/router & wireless LAN with the network security, firewall & anti-virus.
Operating Systems – Window OS client & server & Linux OS- client & server.
Web Services, Window Services, JSON, jQuery
Job seekers who make a proper preparation with the help of DGVCL Syllabus and exam Pattern, they clear the written test. However, Candidates who are applied for the Dakshin Gujarat VCL Vidyut Sahayak Posts, those applicants begin readiness by utilizing theories DGVCL Syllabus and Exam Pattern which is given by the authorities of Dakshin Gujarat Vij Company Limited (DGVCL) from now onwards.
Candidates are advised that they should have to keep in touch with Official Website of DGVCL Junior Assistant Syllabus regularly for more updates regarding information about Exam and its Syllabus.