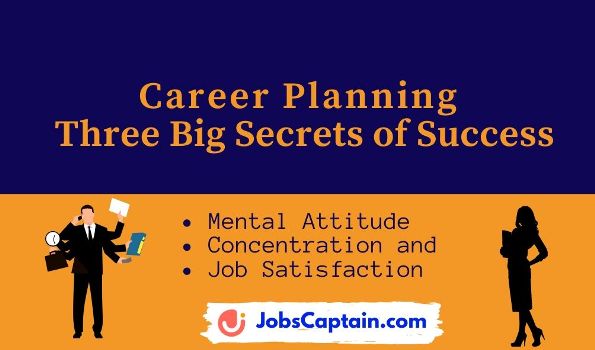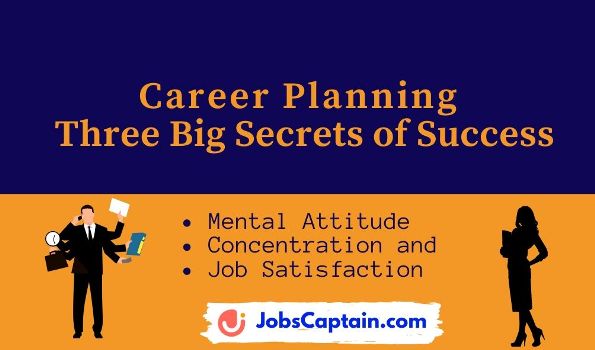 The three big secrets of success are your mental attitude, concentration and job satisfaction. Combined into a unifying force, they act as magic-wands. The three attributes stem from your own thinking. They are the seeds of thought.
James Allen say in "As a Man Thinketh",
A man is literally what he thinks, his character being the complete sum of all his thoughts. As the plant springs from the seed, so every act of man springs from the hidden seeds of thought.
What you make of your life and career depends mostly on your mental attitude and not so much on aptitude or readiness to learn or natural ability. Attitude is a collection of opinions hardened into a studied position. It is more important than aptitude in the matter of career advancement.
You can regard the routine study and effort as boring round of familiar, uninspiring chore. It is easy to brush  it away as unnecessary framework for achievement. In the same way, you can take either a positive or negative attitude to your success and failure.
You can dismiss success as fluke, unlikely to happen again. Or you may regard it as an opportunity for future and further achievement. It is your attitude that matters.
You can allow failures and setbacks to brake your progress, looking them as proof that you cannot succeed. You may even invent an alibi that you aimed too high.
Alternatively, you may take the positive line of learning. Obviously, the right attitude is the positive one. This attitude leads to achievement.
Yes, you can acquire this attitude. All you need to do is to break the hold of the negative. You cannot cultivate the positive attitude if your mind is dominated by the negative thoughts. You cannot achieve anything if you do not have the courage to try. Replace the negative with positive.
Assess your abilities. Know your strong as well as weak points. Strengthen your plus points. Fill in the deficiencies. List the qualities that in your own estimation make you a unique person. This will help to make you feel more positive about yourself.
Watch your words. Use bright, optimistic expressions about your own self; steer clear of discouraging and disparaging. Draw attention to the positive. Turn your back on back-biting. When a person is being painted black, do not join the chorus. Rather, try to put in a good word.
Keep distance from chronic nags. They always speak destructively. Do not discuss with them your future programmes and plans.
Positive mental attitude also means refusing to cave-in when things go wrong. There is nothing bad in failing. Rather, give yourself a chance after gaining from the experience of failure.
[Career Planning's Secrets of Success]
The right attitude turns even the worst of negative, crippling failure to a positive, thrilling success.
Even a blazing sun cannot burn a hole in a tissue-paper unless its rays are focussed and concentrated on the spot. The fact is that you have the spark that can ignite success. You also have the mental ability to take you to new heights. All that is required is a positive attitude to help you focus and concentrate your energies and brain-power.
It is the incomplete or badly done jobs that let you down. Discipline your mind to help ward off distraction and concentrate on the job in hand. Harness imagination and visualize to realize. Direct your wayward mind into the pre-determined stream, shut out the irrelevant and see yourself finishing successfully.
Lack of concentration means failure to hit the bull's eye, which leads to waste of energy, time and effort. It also leads to shattering of the self-confidence.
Now, lets talk about job satisfaction. A satisfied worker has always been found to be more productive. The sense of accomplishment, doing well on the job and enjoying every bit of it makes one feel competent and contended.
Salary, of course, is the primary incentive for doing a job. But, other factors also have an important role to play. Meeting challenges and being productive and creative leads to inner wellness. A job that you enjoy builds a sense of competence and self-esteem. Many people also cite the companionship of co-workers as a reason to work.
Which factors are most important depend on a individual, his or her background, expectations and goals.
Read here more article on Career Guide.
Thank you for reading "Career Planning – Three Big Secrets of Success", If you have any question regarding career do comment below.